Assembling Hurdy-Gurdy
The Ugears Hurdy-Gurdy comes with everything needed for assembly. All the pieces are precut into the plywood boards and are easily removed for assembly following the detailed instructions provided.  The only non-wood parts, by necessity, are the two strings that rub against the crank powered wheel and the rosin used to wax it.
The assembly of the Hurdy-Gurdy includes the several stages. Firstly, you put the smaller parts together to form the large blocks: the body, wheel, crank, head, tuning pegs, keyboard, melody strings – which will altogether complete the whole model, without glue or special tools.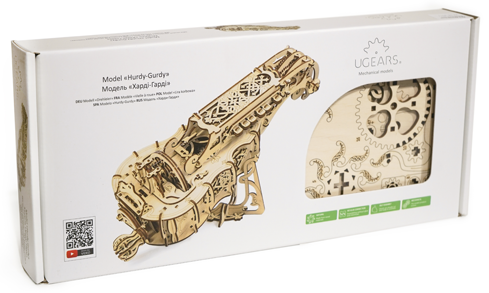 Estimated assembly time of the Ugears Hurdy-Gurdy is 4-5 hours for beginners and less time for professional builders. Assembles without glue or special tools and  without toothpicks. Number of component parts: 292
Tuning
The model has a melody string for playing melodies and a bourdon string for a background sound. 6 keys correspond to 6 notes that are played by pushing the key while rotating the crank. The released keys provide one more, seventh, note. We recommend to tune the melody string to D note using a free online chromatic (guitar) tuner. The second (bourdon) string is tuned by tuning the peg in unison to the melody string (our recommendation – to the same D note) or in any melodic interval (quart, quint, octave). The construction kit includes pieces of rosin to wax the wheel and improve the sound.
You can adjust the height of both strings (melody and bourdon string) turning the small wheels on the bridge. For a more clear sound you can switch off the bourdon string using a little lever in the keybox.