UGEARS make a thoughtful gift for just about anyone in your life. Great for hobbyists, families and friends, students and children of all ages.
Our mechanical models and puzzle boxes come in three skill levels: EASY, MEDIUM and ADVANCED. Take a minute to look through our catalogue of over 90 mechanical models, educational STEM Lab kits, children's coloring models, U-Fidgets and game devices—you're sure to find the perfect present for yourself or others! There are wonderfully complex puzzles for adults, educational toys for teens and older children, and coloring models to suit even the youngest builders.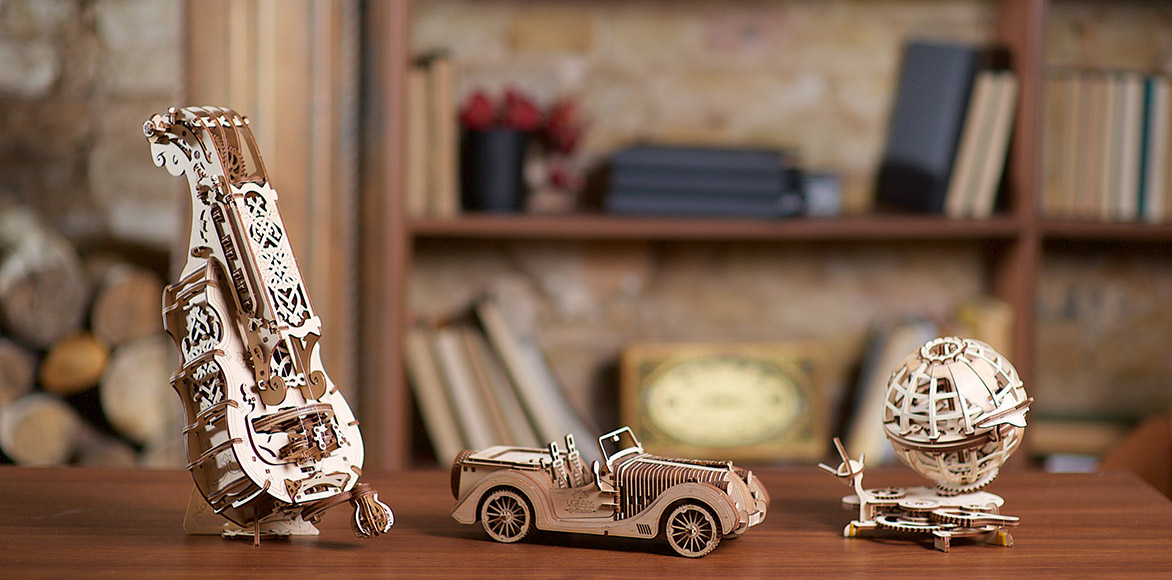 Our mission is to give people of all ages, especially families, the enjoyment of creating something beautiful together. UGEARS products require no glue, but we like to say there will be bonding—the bonding of family and friends working together to bring these mechanical marvels to life.
Popular models include the V-Express Steam Train, Dream Cabriolet, Hurdy-Gurdy, Horse Mechanoid, Treasure Box, Research Vessel and so many more. Check out our full catalog of mechanical models, STEM lab kits, fidget devices, toys and crafts for children, all designed for easy assembly.

PERSONALIZED GIFTS – ENGRAVING
UGEARS is now pleased to offer personalized engraving on certain models (Dream Cabriolet, Antique Box, Hurdy Gurdy, Etui, Roadster, Safe). Choose the name or phrase you want added to your UGEARS mechanical model or puzzle and we'll engrave it during manufacture (see examples). Your personalized UGEARS model comes ready for assembly with your name or message included. An added personal touch—great for when you give UGEARS as a gift!

CORPORATE GIFTS
UGEARS has a wide range of sophisticated wooden models that make for a classy company or corporate gift. Show your clients, suppliers, partners or employees that you value them with a unique gift—a UGEARS mechanical model or puzzle box. Most models are suitable for engraving with your company name or slogan. Please contact our team at distrib@ugearsmodels.com to discuss available options. Please note the minimum order quantity for engraving is 50 models.