Surprise your Dad with Great Father's Day Gifts from Ugears
Get ready for Father's Day! Ugears is here to help with our top 7 gift ideas for dads this Father's Day. Whether you want to show love to your dad or grandfather, or congratulate a friend, these wooden mechanical 3D puzzles are just the thing…because dads love toys too!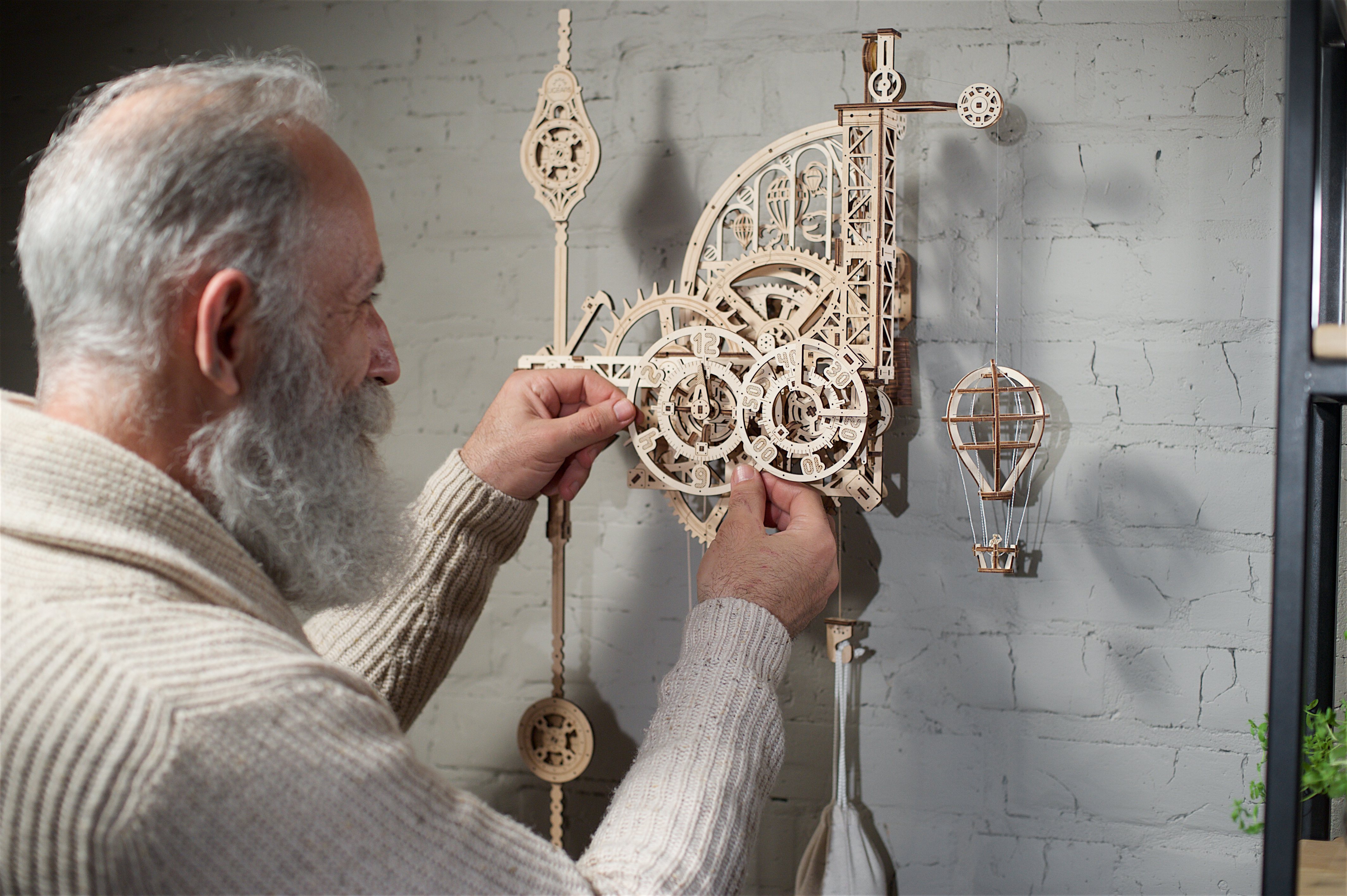 Fathers always seem to be building things (family, home improvements, career), making things, or wanting to fix and improve things. Fatherhood is a big job, with many tasks, responsibilities, and time commitments. Dads need a chance to relax and unwind with a fun hobby or pastime. This Father's Day why not give Dad a gift he will enjoy building with his own hands, then enjoy sharing with the family—a fun mechanical model. Who knows, he might even discover a potential new hobby!
Ugears creates cool wooden mechanical 3D puzzles that move without batteries or electricity, with gear sets powered by rubber bands, springs (in some models), and gravity. Our designers and engineers create models that let you see how mechanisms work and teach you about the movement of gears, pistons, drive shafts, clockworks, and more. Ugears models are not only interesting to assemble, but fun and fascinating to play with. We bet that your dad, uncle, grandpa and friends will absolutely love our DIY model kits, automatons, robots, wooden puzzle boxes and STEM Lab model kits.
The Ugears collection already has more than 100 fascinating, ingenious, charming models to fit every taste, age or interest. There are wooden model cars, planes, trains, ships, robots, automatons (read our blog post "What are automatons" to learn more), and puzzle boxes with secret opening mechanisms. Choose an original Father's Day gift for the dads in your life!
Assembling Ugears models, and then playing with them, with children or grandchildren, will allow Dad to relax, take a break from the daily bustle and work routine, and show his creative talent. Or why not involve the whole family in the creative process, helping children to develop their mechanical competence, problem solving skills, and ability to follow instructions, by working alongside their fathers?
We think Dad is up for a challenge, so here are 5 advanced-level puzzles you can give him this Father's Day. If these sound too ambitious, our collection features many easy and intermediate level models that are suitable for beginners or those looking to grow their modeling skills.
TOP 5 advanced-level Ugears models your dad will love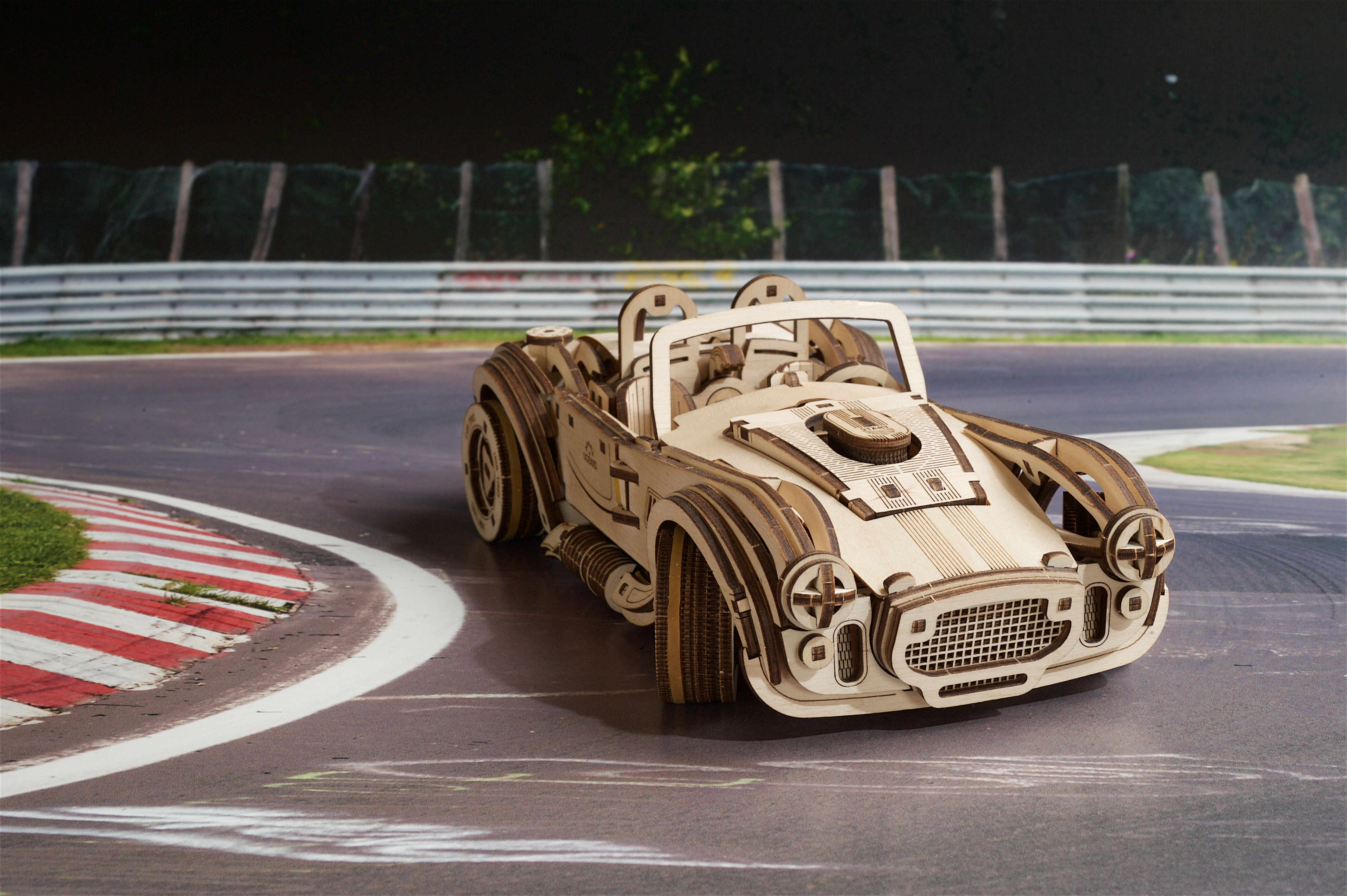 Drift Cobra racing car
Ugears has created a fleet of cars from different eras, each with its own unique features. The Drift Cobra racing car is one of our newer models, and it's got our fans around the world excited. To be honest, we don't know of another model on the market that can drift or keep up with this muscle car, with its spring-driven engine.
Key Features:
✅ The first Ugears car to use a spring motor, not a rubber band engine as in our previous models. The spring provides strength and prolongs the running time.
✅ In drift mode, the Cobra peels out and drifts through turns. In normal mode it can cover 8 meters on the straightaway. The model is wound with a knob under its body.
✅ The car is equipped with a gearbox, with forward, backward, and neutral gears. The front wheels can be turned for drifting. The doors, hood, and trunk can be opened.
The Drift Cobra racing car consists of 370 parts. Estimated assembly time is 9 hours, and the level is Advanced.
SkyWatcher Tourbillon Table Clock
Ugears also has an excellent collection of clocks, from decorative mini-clocks to actual functioning timepieces. The SkyWatcher is a working table clock that our designers and engineers embellished with an ingenious tourbillon movement. The tourbillon gives this clock the appearance of a celestial observatory. The face of the clock features rotating drums instead of a standard dial, making this a true original.
Key Features:
✅ The tourbillon has three pivot axes: around the vertical axis, the horizontal axis, and around the central axis of the inner sphere.
✅ You can independently adjust the timekeeping to make the clock run faster or slower.
✅ Spring-driven clockworks allows this celestial observatory to run for up to 3 hours on a single winding.
The SkyWatcher Tourbillon Table Clock consists of 338 parts, with an estimated assembly time of 15 hours. Advanced level.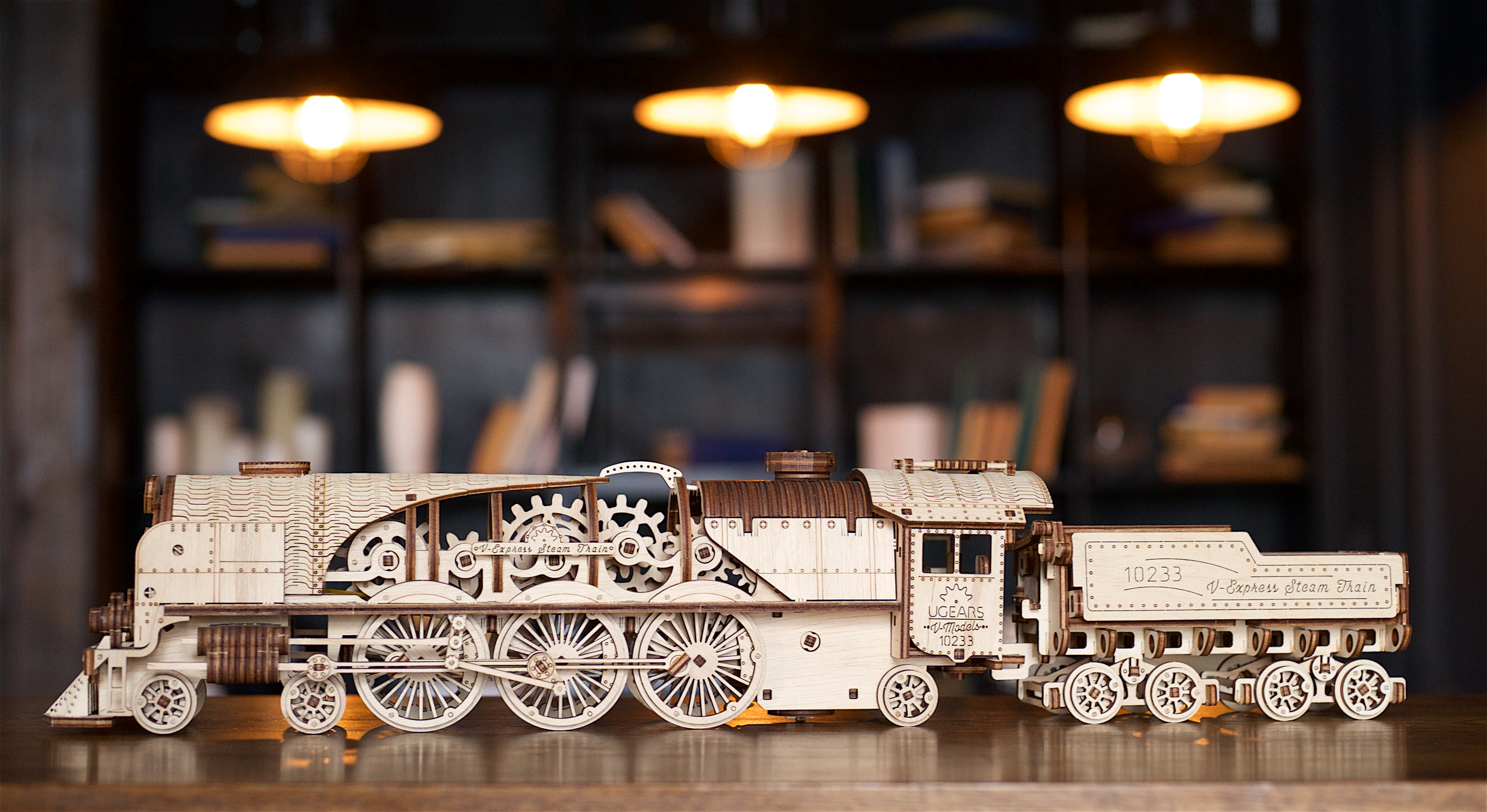 V-Express Steam Train with tender
This legendary train by Ugears is one of the favorite models among our worldwide family of builders. A powerful and impressive locomotive chugs down the rails with an engine driven by rubber bands. This model also has a tender for carrying and delivering small loads (sweets, notes, office supplies) across your apartment or office.
Key Features:
✅ Has three modes: forward, backward, and neutral. Able to drive 4 meters on a single wind-up.
✅ This model shows the workings of pistons and the main mechanical components of a real locomotive.
✅ The locomotive has a coal tender which closes with a miniature latch.
The V-Express Steam Train with tender has 538 parts. The estimated assembly time is 10 hours, and the level is Advanced.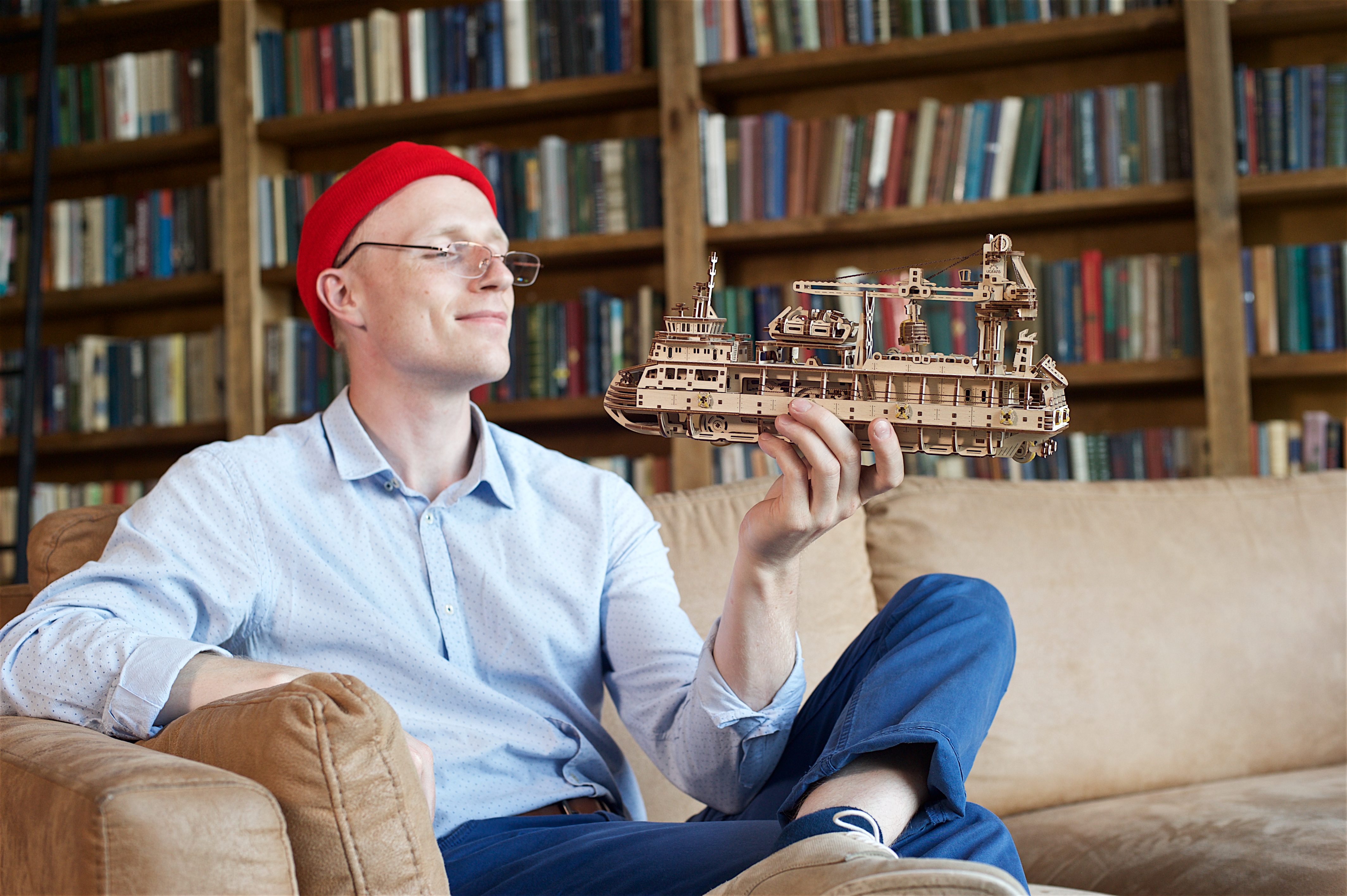 Research Vessel
This really cool sea-going research vessel will captivate you with its design and abundance of features. The model is equipped with many of the elements that real scientific research ships have: a mini cutter, a boat, a hold with an opening hatch and a folding ladder, as well as a bathyscaphe for exploring the underwater world.
Key Features:
✅ The model works through a rubber-band engine and pendulum which makes the vessel's movements smooth and imitates the sound of a real diesel engine.
✅ The vessel has three modes: forward, rotational and automatic tacking. You can switch modes manually using a special lever.
✅ A swivel crane is installed on your ship as a separate unit, which you can use to launch the bathyscaphe as well as return it to a special retractable platform.
The Research Vessel consists of 575 parts, with an estimated assembly time of 10 hours. Level: Advanced.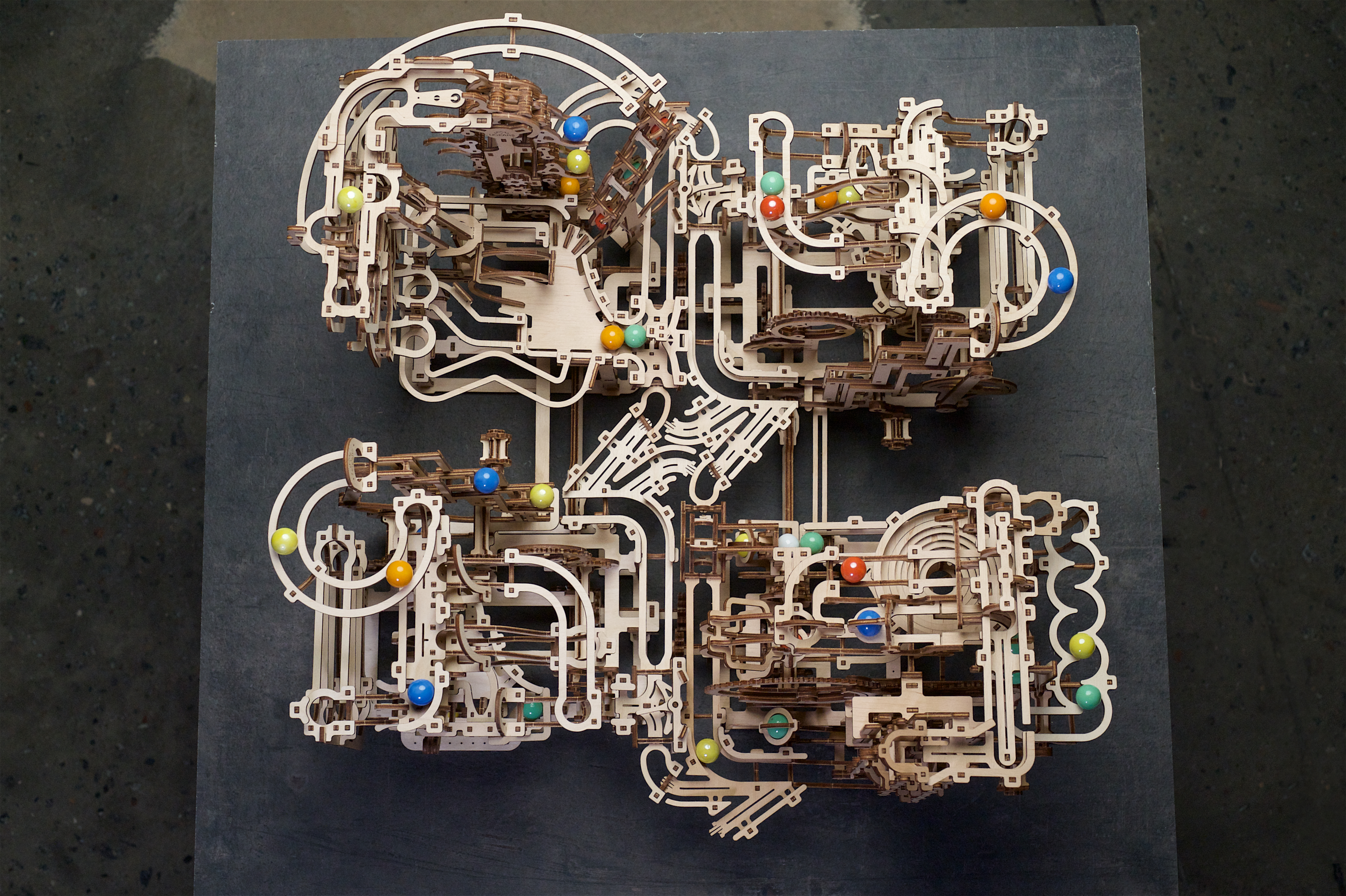 Marble Runs
At Ugears we are proud of our collection of modular marble runs. So far we've released three Marble Runs: the Chain Hoist, Stepped Hoist, and Tiered Hoist. Each is its own self-contained miniature adventureland amusement park, but the best part is these marble runs are modular, meaning they can be connected two or four at a time into one giant marble run! Families can have endless fun watching the marbles fly down the various tracks and through challenging traps and obstacles, only to be lifted back up top for more adventures!
Key Features:
✅ Each Marble Run consists of a marble elevator and three separate runs with interesting elements.
✅ To put the mechanism in motion just turn the handle clockwise. The hoist will collect and lift the marbles to the top of the run to begin their exciting journeys.
✅ You can connect 2 or 4 models using the special connectors included in the kit. The escapement at the end of the runs can send the marbles back to the original hoist, to the adjacent marble run, or switch back and forth between the two (you can control this with a special weight).
Each Marble Run has between 315 to 400 parts. The estimated assembly time is 5 - 8 hours, and the level is Advanced.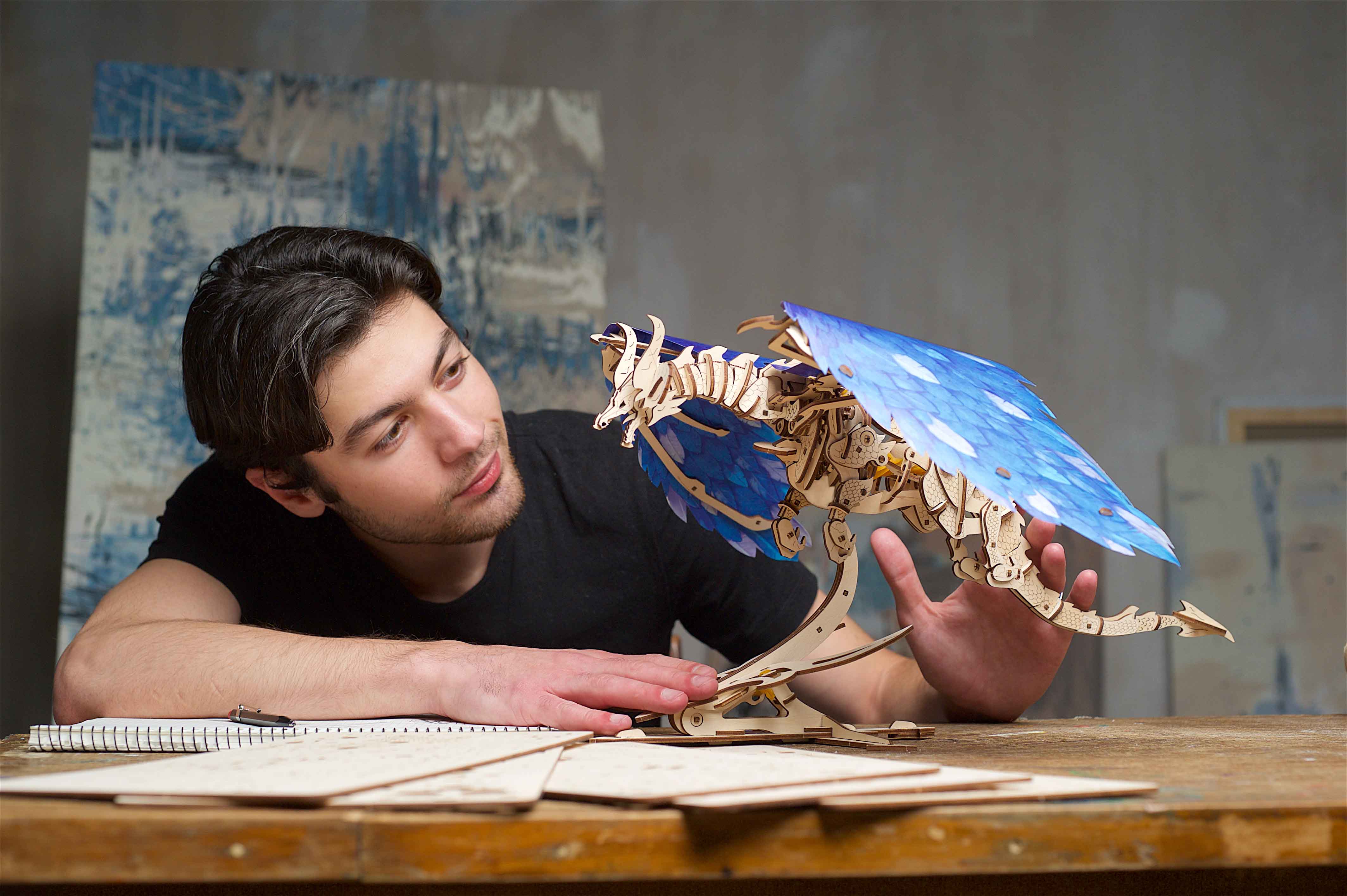 All Ugears 3D puzzles, regardless of the model or number of parts, are assembled without glue or any special tools. Parts are carefully laser cut into a plywood board from which they can be easily removed for assembly. All you need is sandpaper and wax (both are included) to smooth and lubricate the gears for optimal functioning. If any parts break during assembly our support team will gladly send you replacement parts free of charge. Just send us an email— our support team is standing by 7 days a week, ready to help!
Each model kit comes with detailed, illustrated instructions in 11 languages (English, German, Spanish, French, Italian, Polish, Ukrainian, Chinese, Japanese, Korean, and Russian) to guide your assembly. Even if you've never assembled mechanical 3D puzzles before you can do it by following the instructions carefully. Try building some of our easier models first, then work your way up to intermediate and advanced models as you develop confidence, skill and greater mechanical competence.
A personal gift for Dad
We also offer personalized, laser-engraved inscriptions on some models. We will be happy to engrave a word, name or phrase for your dad or grandpa to make your gift extra personal and special. Laser engraving is done directly during the model manufacturing process. Available models for engraving include the Dream Cabriolet, Antique Box, Hurdy Gurdy, Mechanical Box, Roadster and Safe.
Read more about this option in our blog post "Engraving is the perfect way to make a unique gift".
Buying Ukrainian = helping Ukraine
For more than 100 days, Ukraine has been defending itself against Russia's war of aggression. Our Ukrainian armed forces and ordinary citizens have taken up arms to defend our homeland, our families, our democracy. We are also volunteers, helping to treat and care for the wounded, to feed the hungry, deliver humanitarian aid to those in harm's way and care for the displaced. Others do their best to continue working at their jobs to support our country's economy—everyone makes their contribution to the coming victory.
Members of our Ugears team are among those defending Ukraine in the trenches. Others are volunteering full time in various capacities, while others remain at their jobs, designing and producing beautiful mechanical models under extremely challenging circumstances during the week, then dedicating their weekends to helping the war effort. From the beginning, our company has felt a strong obligation to help both defenders and the civilian population. We have allocated 1 million euros to help defenders, families, children, and elderly people affected by the Russian assault. You can join these efforts too: 5 euros from every purchase at our international online store ugearsmodels.com will be donated to provide food, medicine, groceries, and other assistance.
***
Special Father's Day discount: from June 6-19 enjoy 15% off on 15 different Ugears models we think dads will enjoy (the full list is here). Happy Father's Day from Ugears!