What are automatons?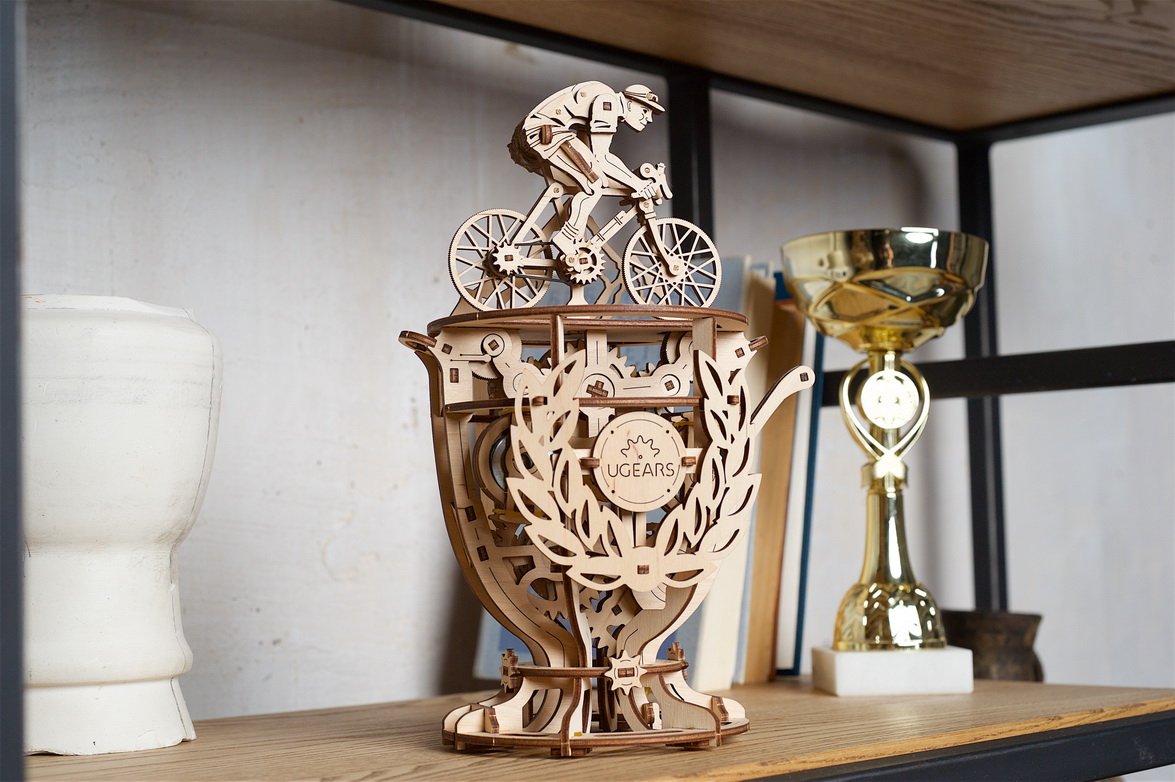 First robots in history
From ancient times people have sought to simplify their lives with the help of technology, or built intricate mechanisms simply for entertainment. Various cultures have created simulacra of the creatures or things around them, from the charming (e.g., a toy replica of the carousel in the city's central square) to the fascinating and frightening (e.g., a moving statue of an ancient Greek god).
Skilled engineers in ancient Greece created wooden flying doves, fountains with moving elements, city wall clocks with pendulums, walking statues of characters from ancient Greek mythology (for example, Daedalus), and even mechanical maids who poured wine.
These figures were mostly created for the entertainment of the rich, but they can rightfully be considered the first robots in history. Until the twentieth century such creations were known as "automatons" or "automata" (then Czech writer Karel Čapek gave them name "robots"). Automatons are mechanical figures that can perform certain actions and repeat the movements of creatures or objects from everyday life.
Can you imagine building an automaton yourself? With the Ugears Automatons collection you assemble the pieces of a 3D puzzle robot step by step—first, smaller parts are joined together to form larger blocks, like a head, body or limbs, which are then joined to complete the whole robot. As you build the wooden model you will learn basic principles of engineering and mechanical action while enjoying seeing your automaton take shape, with its amazingly life-like movements. You become a co-creator, helping to breathe life into a mechanical creation.
Ugears makes 3D wooden puzzles and mechanical construction sets that move without electricity or batteries. Our DIY kits are powered by springs, gears, rubber bands, and gravity, taking you into a fantastical steampunk universe. There are more than 100 models in the Ugears catalogue of 3D puzzles, DIY model kits, wooden puzzle boxes, and STEM Lab model kits, including real automatons and robots that aren't just stationary objects—they can walk and even run!
Check out these amazing DIY models from our Ugears Automatons collection, each with its own unique features and functionalities, then choose one to build!
Ugears automatons and robots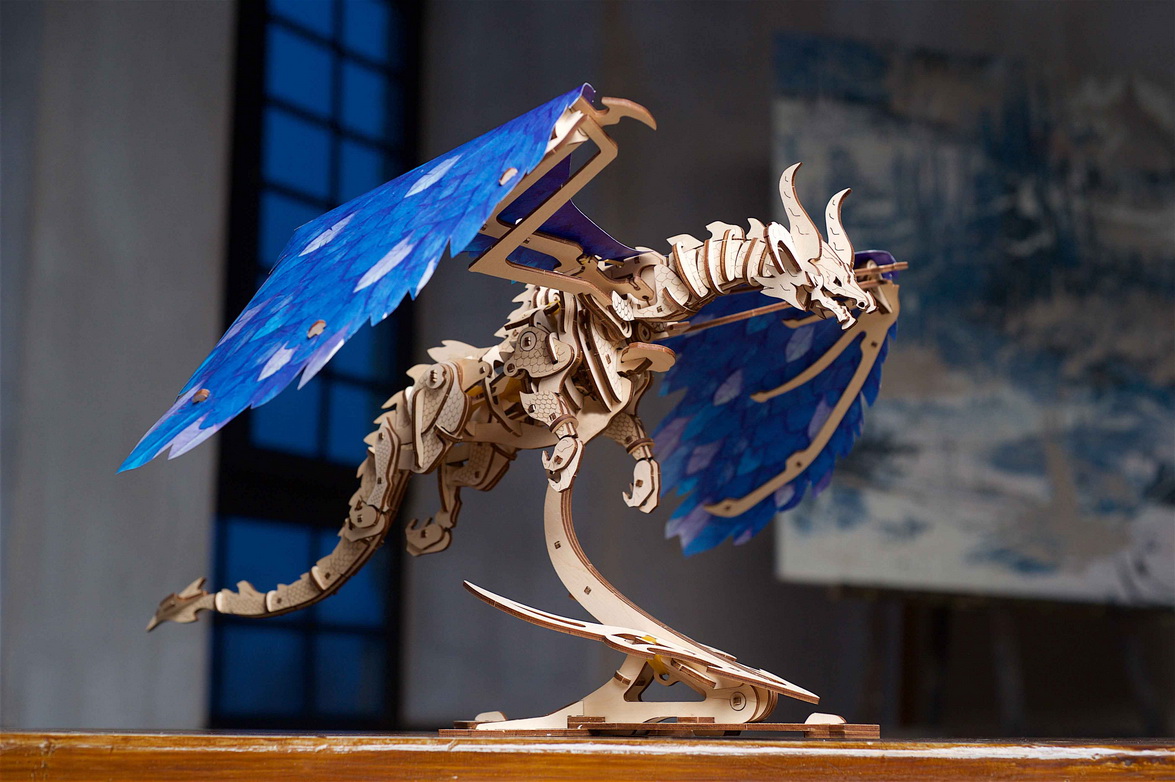 The Windstorm Dragon is one of our most popular, epic, and mysterious models. This fantastic beast immediately mesmerizes you with its fearsome face and large blue wings, capturing your imagination with its realistic movements. This wooden automaton has an open design so you can examine every detail and look inside to the creature's beating mechanical heart.
Top 5 features of this model:
The automaton is powered by a rubber band motor located in the Dragon's chest
Scales on the Dragon's body are laser-engraved
Wing bones are made of wood while the feathery skin is made of a strong Tyvek material
To set the Dragon in motion turn the key in its chest clockwise several times, then press the start/stop lever
The Dragon can be suspended on a string or placed on a special stand
The Ugears Windstorm Dragon model kit consists of 320 pieces. This amazing 3D puzzle takes about 6 hours on average to assemble.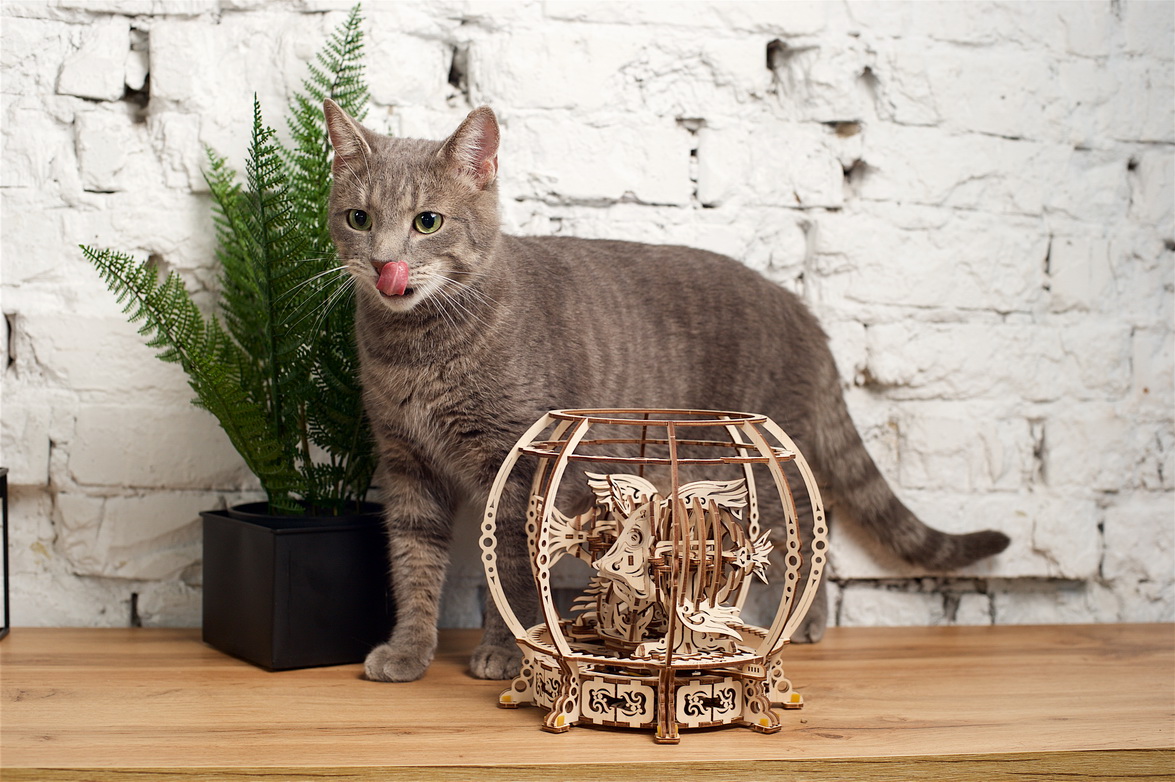 Many children have looked after small goldfish in a glass bowl filled with water, trying to remember to feed them and change the water regularly. Enter the Ugears Mechanical Aquarium—two automatonic tropical fish chasing each other around a thicket of algae, wherein lies a surprise: a tiny seahorse, hiding from its crazy neighbors!
Top 5 features of this model:
The first Ugears model to operate using a spring instead of a rubber motor
Fish and algae rotate at different speeds and in different directions, in a smooth, undulating underwater dance
The mechanism has an internal pendulum for smooth and adjustable movement
To set the Aquarium in motion make about 25 half-turns of the ratchet knob located under the model, then flip the switch from STOP to SWIM
Fish and algae move for about 40 seconds, and can be stopped at any time
The Ugears Mechanical Aquarium kit consists of 325 pieces. Average assembly time for this engaging and delightful 3D puzzle is 6 hours.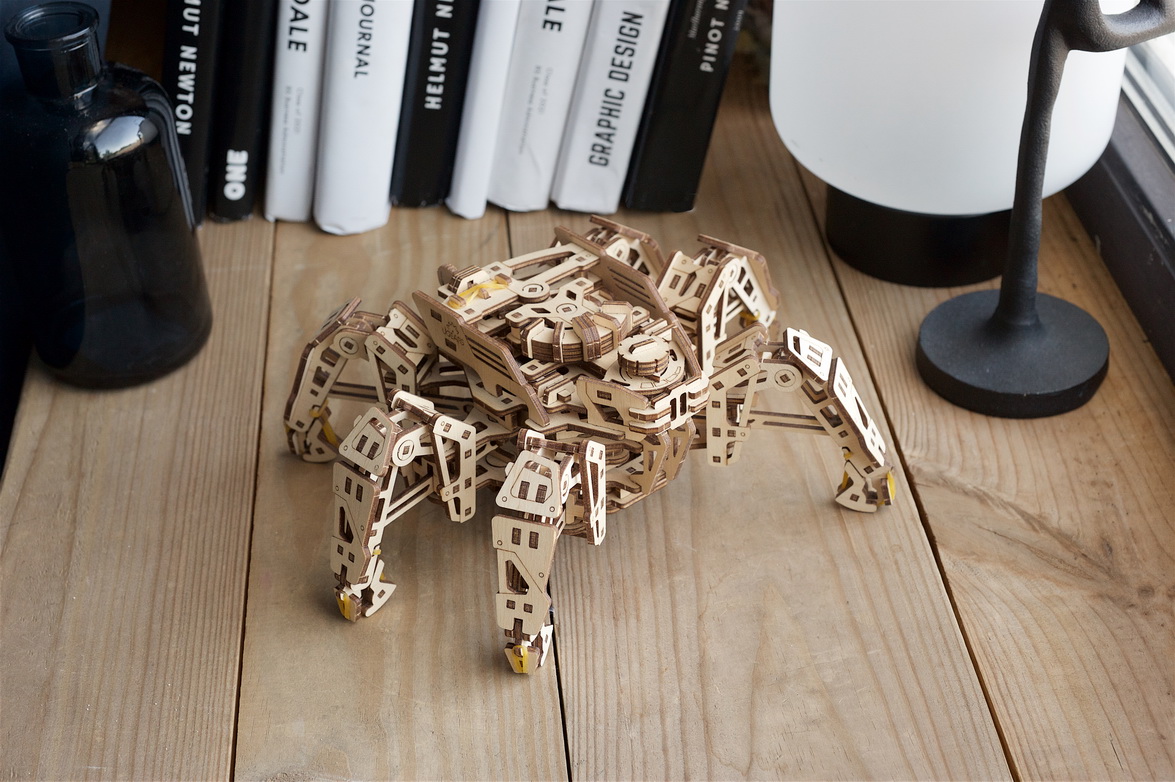 A hexapod is a creature that moves on six legs (feet). Ugears engineers have created not just a mechanical insect, but an imaginary robotic rover for exploring extraterrestrial worlds. The 3D puzzle Hexapod Explorer can crawl, walk, or skitter up to 3 m in distance while overcoming rough terrain or obstacles 1-2 cm high. It can also frighten the socks off your friends and family (not to mention pets)!
Top 5 features of this model:
The Hexapod has a powerful spring for longer action and model life
The Hexapod supports its weight only its own six feet, without any auxiliary supporting wheel or stand (a common limitation in other models)
Variable speed control that can even be switched while the Hexapod is moving
The robotic Hexapod Explorer is wound with a ratchet key located on its belly
The agile Hexapod can traverse uneven surfaces and overcome obstacles in its path
The robotic Ugears Hexapod Explorer DIY kit consists of 388 pieces, and it requires about 8 hours to assemble this super cool 3D automaton.
***
All Ugears automaton model kits and other construction sets are made of high-quality natural wood composite. No glue or special tools are required for assembly: simply snap the pieces together. Every Ugears 3D wooden puzzle, mechanical model, puzzle box, robot, automaton and kinetic sculpture has its own unique steampunk design.
Everything you need for assembly comes included in the box. The pieces are laser pre-cut into high-quality plywood board, for easy removal and assembly. Each of our Ugears DIY kits comes with illustrated, step-by-step instructions in 11 languages ​​(English, Spanish, French, German, Italian, Ukrainian, Russian, Polish, Korean, Chinese, and Japanese).
Our customer support team is available 24/7 and we are happy to answer your questions and replace broken parts free of charge.
Ugears 3D construction sets are an excellent gift idea and will make an original, thoughtful gift for your friends, family, colleagues, or for children's birthdays. Throughout their history, automatons have been designed to impress visitors, and any of these Ugears automaton models will make a stylish addition to your home and office decor, and be a sure-fire conversation piece.
Visit our online catalog to find more information and to see the fantastic range of Ugears wooden mechanical construction sets. With more than 100 models to choose from, at various skill levels (Easy, Medium, Advanced) you're sure to find just the right model for you or a friend. You needn't worry if you or your loved one has no experience in modeling—start off simple and work your way up to the more complex model kits.
We believe life is richer when you learn new things, discover interesting hobbies, and can share the fun with friends and relatives of all ages. Building Ugears DIY models is a terrific, educational hobby enjoyed by people in 85 countries across 5 continents.
Start building your collection of Ugears automatons and other fine models today!