Romantic Valentine's Day Gift Guide from Ugears
In this guide you'll find the top 5 Valentine's gift ideas from Ugears, to surprise and delight your loved ones.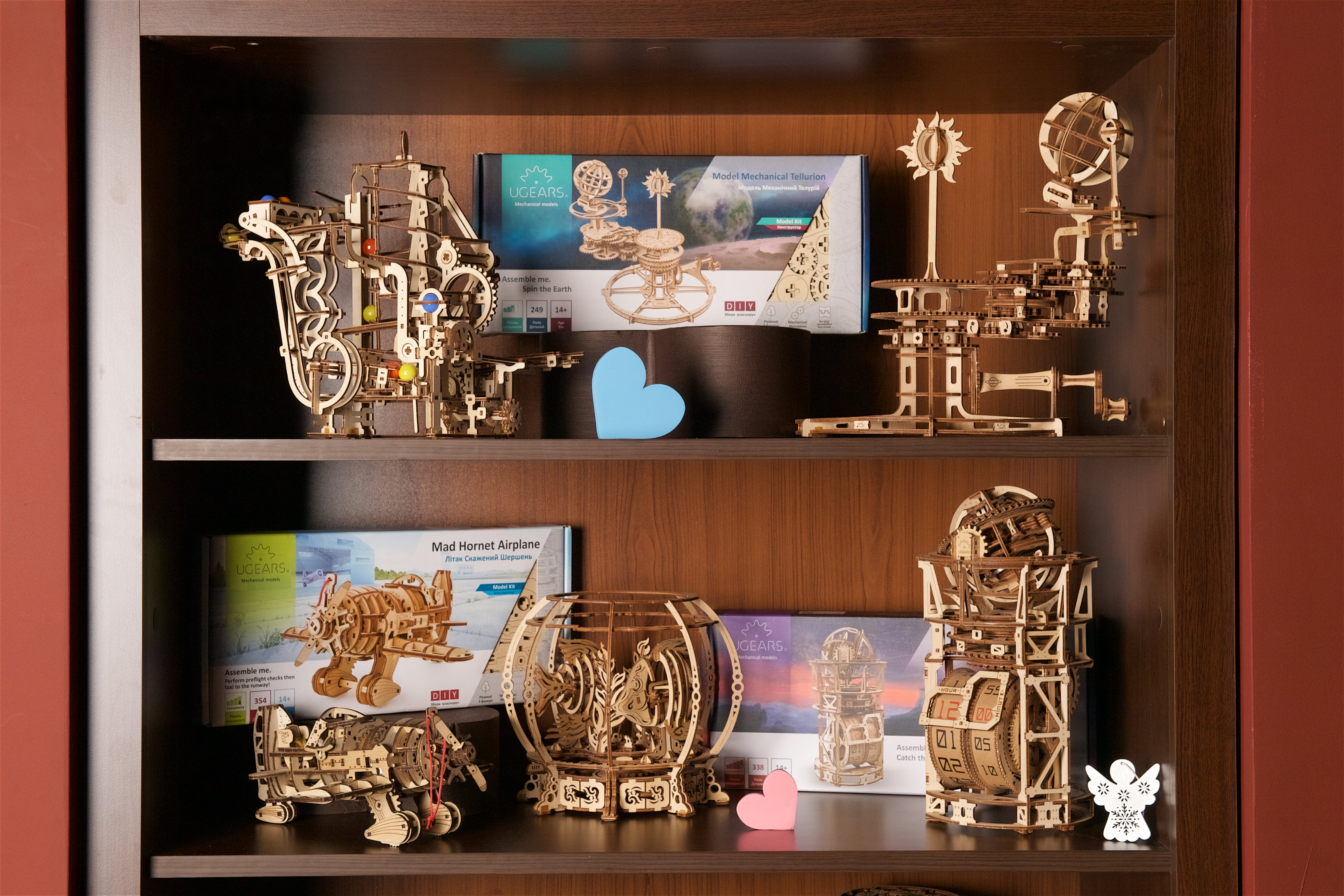 Valentine's Day is coming, a holiday of love, tenderness, and romance celebrated all over the world. On this day, it's customary to show our feelings to those we love with a special gift that's carefully chosen. This often presents a dilemma: what to give our beloved? Flowers, chocolates, jewelry, dinner at a restaurant? Those are certainly popular choices, but maybe a little overdone, and without much originality or personality.
What if you could give the gift of a new hobby? Or something beautiful you made with your own hands? Now that would be an original, personal gift! We have the answer to your Valentine's Day conundrum: give the wonder of mechanics by Ugears!
Ugears has stylish and interesting wooden mechanical 3D puzzles to fit every taste. You assemble the model yourself—a fun project for couples!— then watch how it moves and works without batteries or electric power, using only rubber bands, springs or gravity. Our catalogue has a wealth of stylish and recognizable designs, with puzzles of different difficulty levels, suitable for everyone from beginners to experienced hobbyists. Choose a model that suits your interests and experience level, then build it with your loved one—doing a project together brings you closer and creates a warm memory.
In this guide we present the top 5 Valentine's Day gift ideas from Ugears. If you don't see something that grabs you right away you can always go to our international global online store ugearsmodels.com and choose from over 100 models—you're sure to find something to your liking.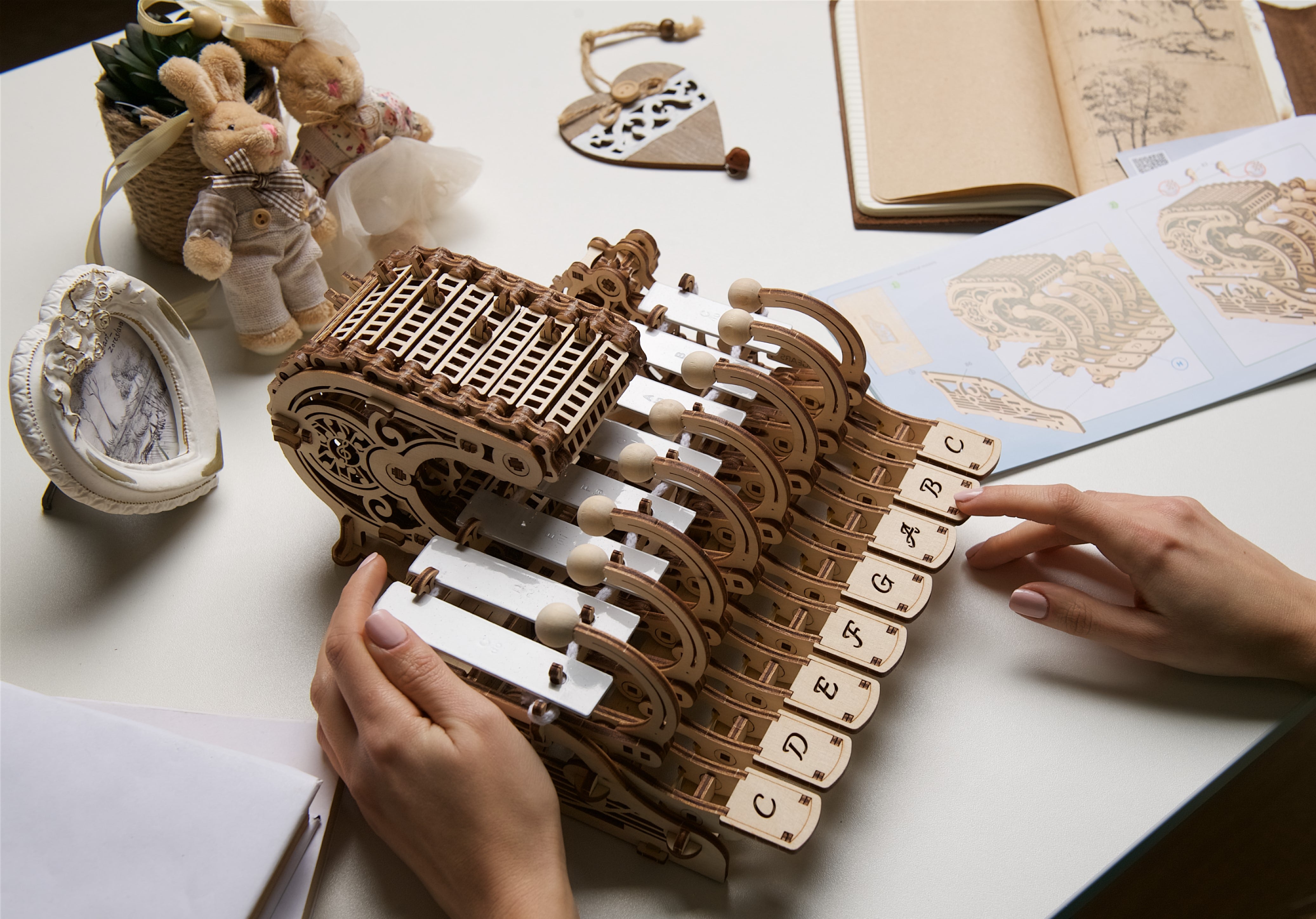 One of the newest models in our collection, the Mechanical Celesta is both an interesting wooden 3D puzzle and a functional musical instrument. We designed this model especially for everyone who loves art, music, and original pieces of home decor. You can play the instrument in two ways: use the keyboard to strike metal plates, creating musical notes in an octave range from C to C, or pre-program the special player piano drum, turn the handle, and listen in amazement as your Celesta plays popular tunes or your own compositions! Anyone can make music!
The model's instruction manual comes with a few tablatures (musical arrangements) for the Celesta. You can also go to the Ugears Fan Club on Facebook to find tablatures from our worldwide fans, as well as the Ugears Youtube Channel where you'll find a wealth of tablatures from talented modeler and composer Riccardo Zenca.
The model has 573 parts and is rated "Medium" difficulty level. Estimated assembly time is 8 hours. This Valentine's Day, make music together with your loved one!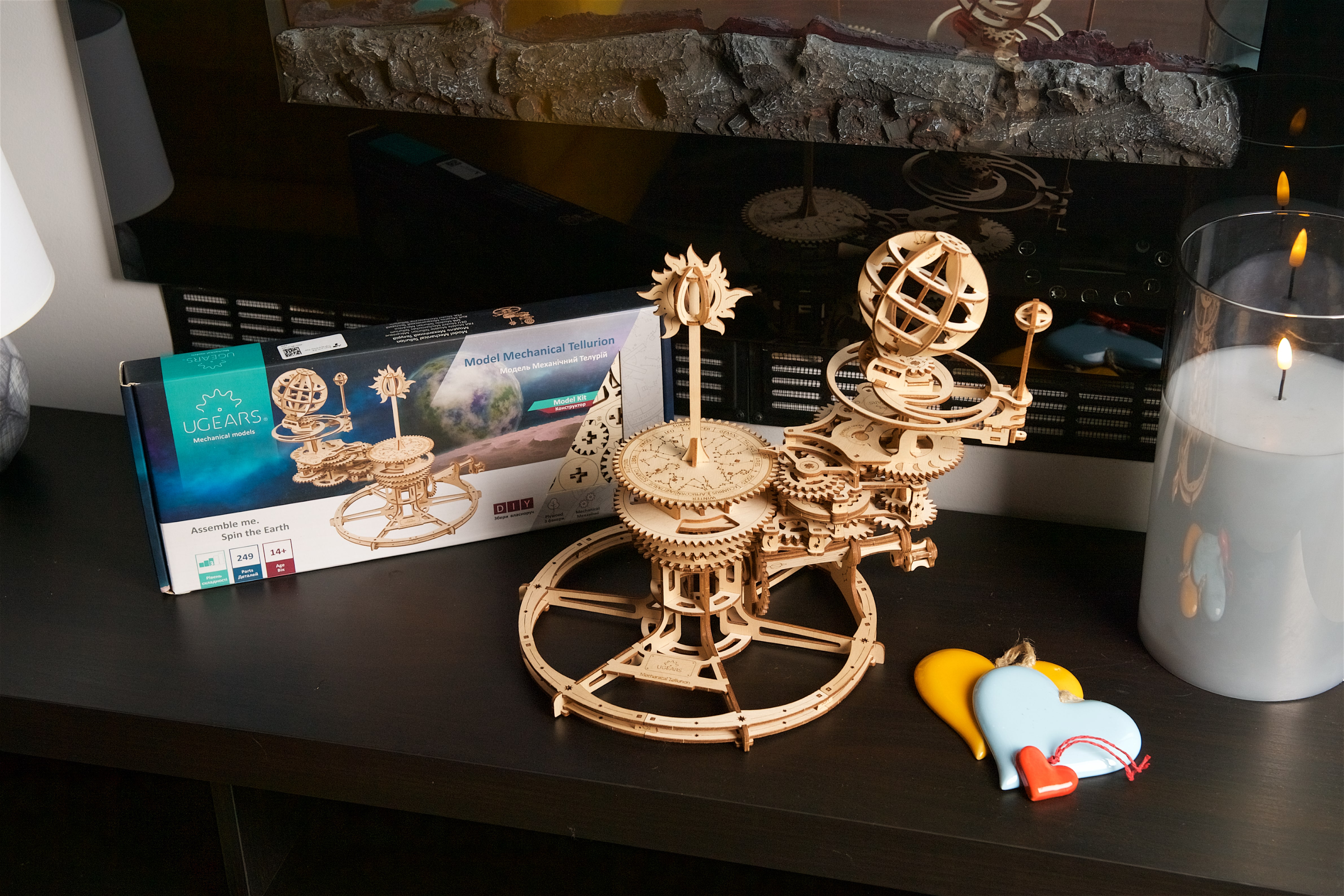 Poets have always spoken of giving the entire earth, the sun, the moon and the stars to their beloved. Imagine your loved one's surprise when you actually do it! The Mechanical Tellurium by Ugears is an amazingly accurate representation of the interactions between the Sun, Earth, and Moon, demonstrating their romantic cosmic dance.
Turn the handle to put the gear system into its precise motions. One revolution of the handle = one revolution of the Earth around its axis = one day. Point to any spot on the Earth's surface, observe the position relative to the Sun and visualize sunrise and sunset, the transition of day into night. The Ugears Tellurium shows the waxing and waning of the moon, the passage of the seasons and also gives a good graphic representation of the zodiac, showing the sign and constellation under which you were born.
This DIY model has 249 parts and is rated "Medium" difficulty level. You can assemble it by yourself in 5 hours, but it will be faster and more interesting for two people to do it together! Next time you gaze up at the moon together, you'll have a new perspective!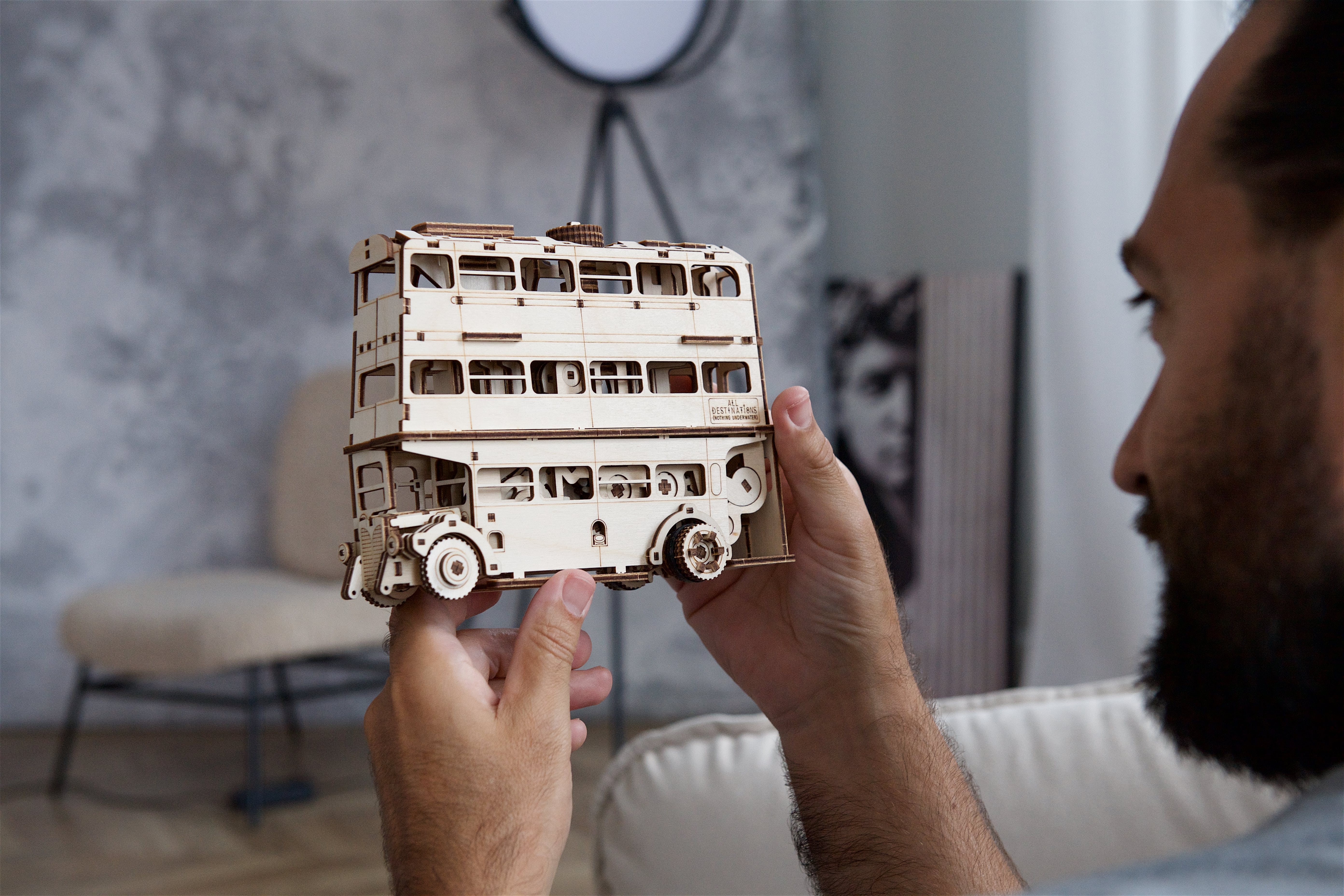 Couples are often united by a common interest or passion, and for many young couples that's the Harry Potter™ series of books and movies they grew up with. Ugears has four fascinating DIY models in its Harry Potter™ collection for fans of the wizarding saga and fans of modeling and cool mechanics. Here we focus on just one of those models, but one we know will be a cool and unique gift for any Potterhead: the Knight's Bus™.
In the J.K. Rowling books and movies the Knight Bus rode around London rescuing young witches and wizards whenever they got into a scrape and needed quick transport. The bus flew through the streets at breakneck speed, unless it needed to pass through traffic, when it would narrow itself to squeeze between cars, in slow motion.
Our model, believe it or not, retains this definitive feature—it can narrow and expand its body while changing its speed, with a twist of the Magic Manipulator button on top of the model. Real magic from Ugears! Turn the button counterclockwise and the bus will become narrow to squeeze between cars in heavy traffic. Turn the handle clockwise to expand the bus to its true size. In its normal (non-narrowed) size, the bus travels surprisingly fast. In its narrowed state, the internal gearing makes it move slowly.
The model has 268 parts and is rated "Medium" difficulty level. Build it together with your loved one over the course of several evenings, or if you're the hobbyist or more mechanically-inclined one in the relationship, build it and present it to your sweetie as a ready-made surprise. You can then paint it together in colors of your choosing.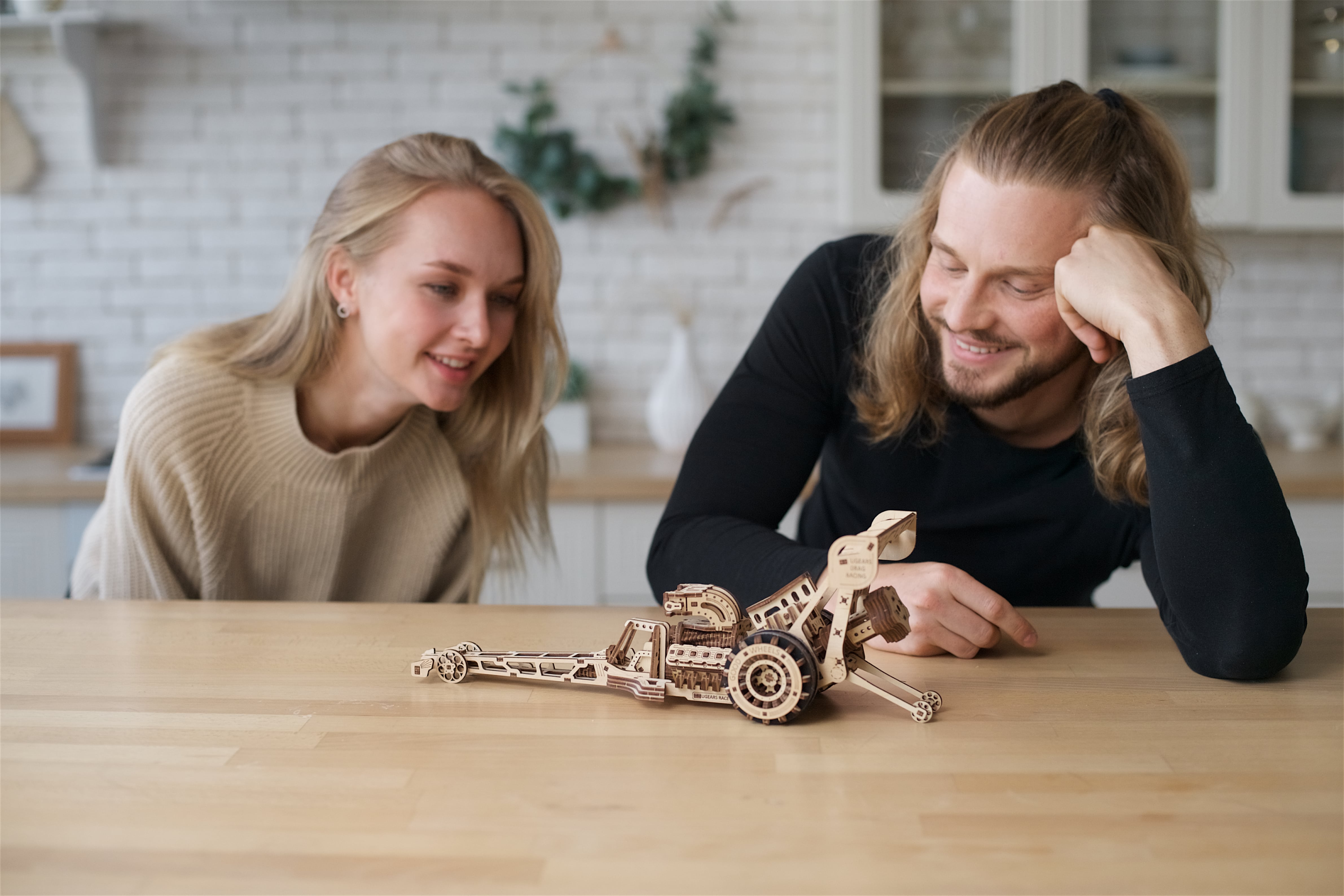 For fans of adrenaline, excitement, and ultra-fast driving, we created the powerful Ugears Top Fuel Dragster. If your loved one loves the atmosphere of drag racing, finds speed and crazy thrilling racing a turn-on, or if you just want to put a little va-va-vroom into your relationship, then this gift is just what you need!
The Top Fuel Dragster by Ugears is spring-powered, has a start/stop button, interchangeable ride modes, and is able to lift up on the rear wheels when peeling out, just like real drag racers. Its open design reveals the beauty and amazing inner mechanics of this DIY model race car.
To operate the model, set the start/stop switch to the stop position and then turn the handle on the back of the Dragster model about ten times clockwise. Place the car on the floor, and holding it with one hand, toggle it to the start mode and then release and watch in amazement at the raw acceleration! The model has 321 parts and an "Advanced" difficulty level, for experienced modelers. We estimate it will take you about 8 hours to assemble your Dragster, but you'll be able to admire it and show it off to your friends for much longer.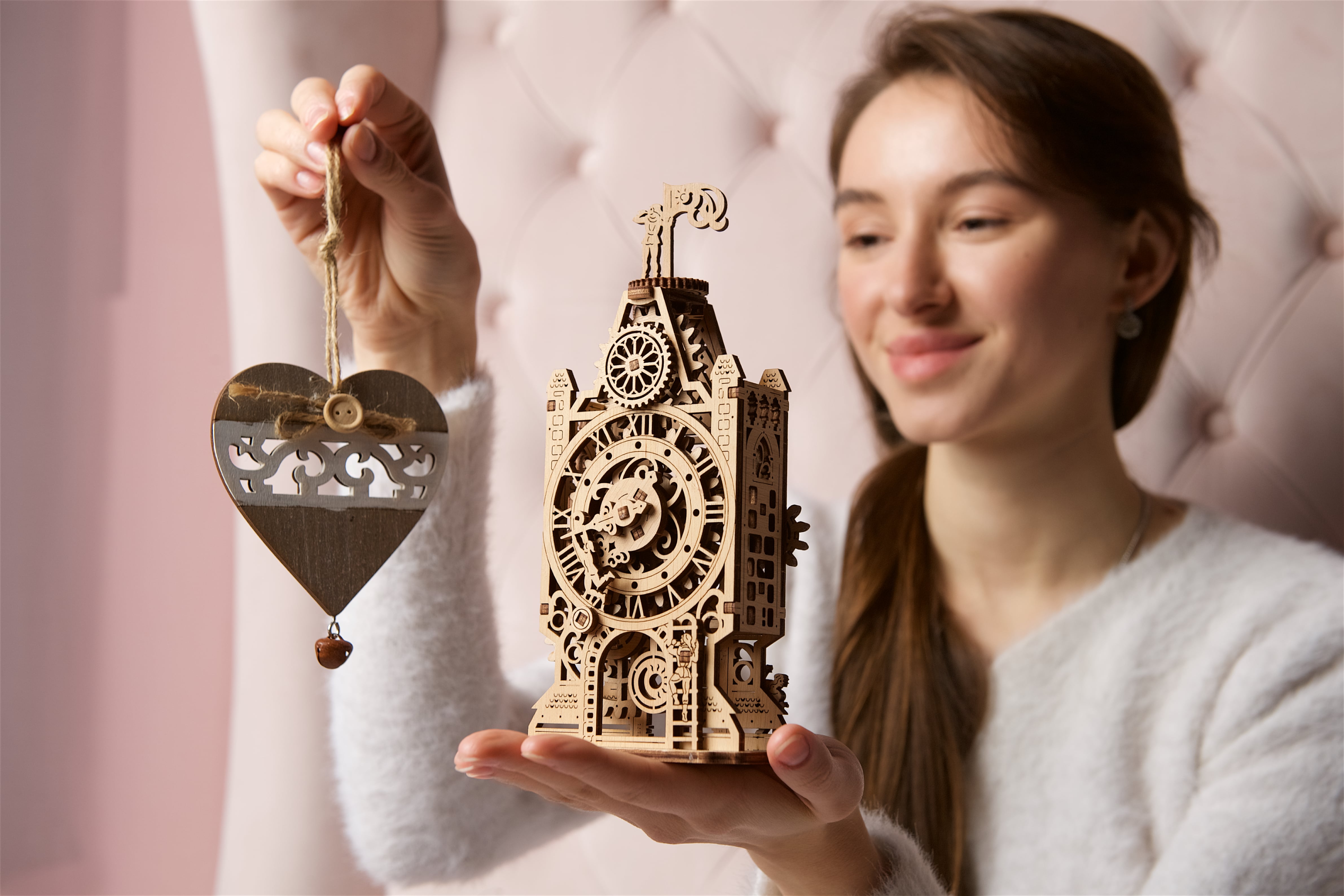 What could be more romantic than having a cup of coffee with the person you love in a cozy town square near an old clock tower dating to medieval times? Imagine all the couples who have gazed up at that clock together. The Old Clock Tower model by Ugears is a charming mini model suitable for beginners, with loads of atmosphere.
The Clock Tower has a dial, pendulum, and a weather vane up top. Rotate the big gear to set the clock hands, pendulum, and weather vane in motion. You'll love the four fun characters we've placed on or around the tower, each with their own backstory. Assemble it together then take turns inventing different stories to tell each other about who the characters are and why they're there.
We created this mini-model to take you away on a romantic trip of the imagination, to a town square somewhere in the old country, maybe to remind you of a wonderful trip you took together or maybe as a dream you can share together of your upcoming vacation. Each time you look at the model sitting on your shelf you get a fresh, pleasant reminder.
The Old Clock Tower model has 44 parts and is rated "Easy" level, requiring only 1 hour of assembly time. Check out all the other mini-models in our collection for other simple projects you can build together with your valentine. Maybe these can be the start of a fun new hobby for one or both of you!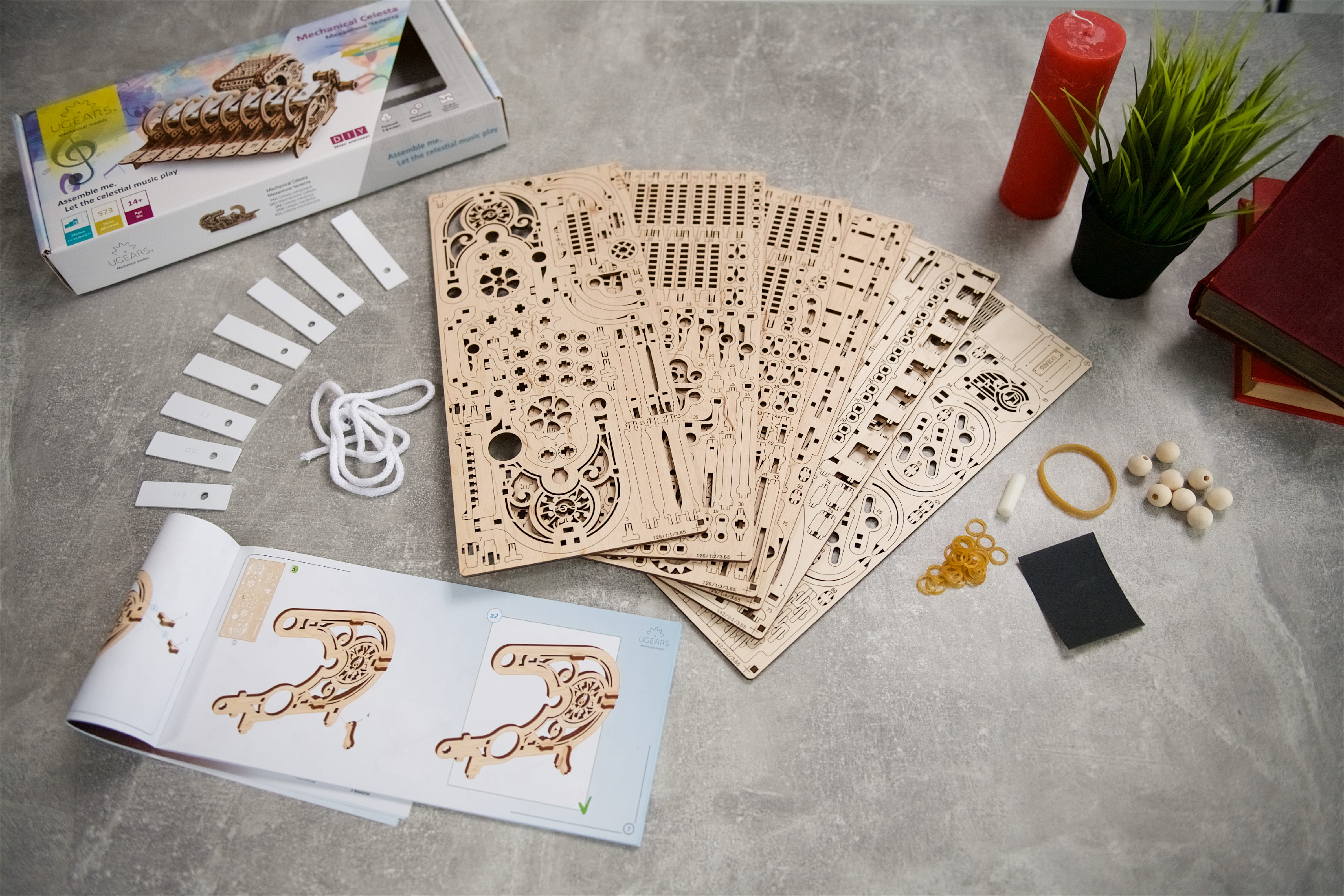 All mechanical 3D puzzles by Ugears are assembled without glue or tools. Everything you need for assembly is included in the box. The parts are carefully laser pre-cut into art-quality composite wood boards, from which they are easily removed and connected together. Each kit comes with a piece of wax you can use to lubricate the moving parts. You will also find instructions in 11 languages (English, German, Spanish, French, Italian, Portuguese, Polish, Korean, Chinese, and Japanese).
Our customer service is a throwback, in the best possible way: we believe in helping each and every one of our fans, personally. If you are having trouble with your build, or you break a piece during assembly just let us know and we'll be happy to help, with troubleshooting or by sending you the necessary spare parts, completely free of charge!
From all of us at Ugears, happy Valentine's Day! Love will save the world!