Spring is in the air! No matter what the weather is, you know it is right around the corner because Valentine's Day is almost here – and the hunting season for the perfect gift is open! This is where the Ugears model kits come in: an ideal solution, a unique clever design with personalized engraving.
"You are smart and beautiful, you make me smile and we get through tough stuff together, and you are absolutely unique" – is there any gift that can say all that? Probably not, but Ugears gets close enough to take on the mission to express how you feel. This season of love comes with a special offer from Ugears mechanical models: some of our models allow adding personalized engraving, so you can add a phrase of your choice to impress your valentine. Pick a 3D-puzzle kit from the following Ugears models and we will be happy to make a custom engraving on the model for you: Dream Cabriolet, Roadster, Antique Box, Etui, Safe, and Hurdy Gurdy. Take a look at the examples below to inspire an idea of your future gift.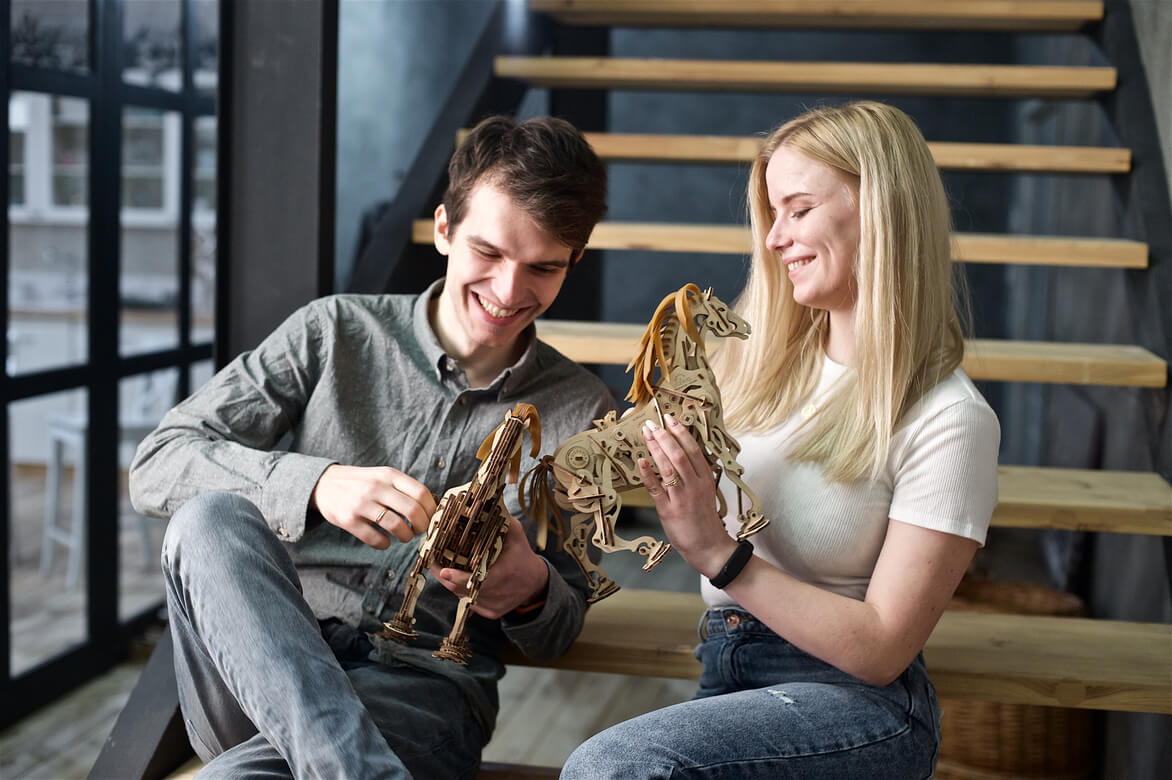 Dream Cabriolet, a car model kit, is one of our favorite gift ideas. Everything about this model cries "Romance", it is even in its name. Detailed and realistic, this unique model is based on the magnificent luxury cars from the 50s of the past century. If you want to dive into an earlier car industry era, turn your attention to the elegant and exquisite Roadster. This vintage sport car is fast and fun, it has plenty of moving parts and is very fun to assemble.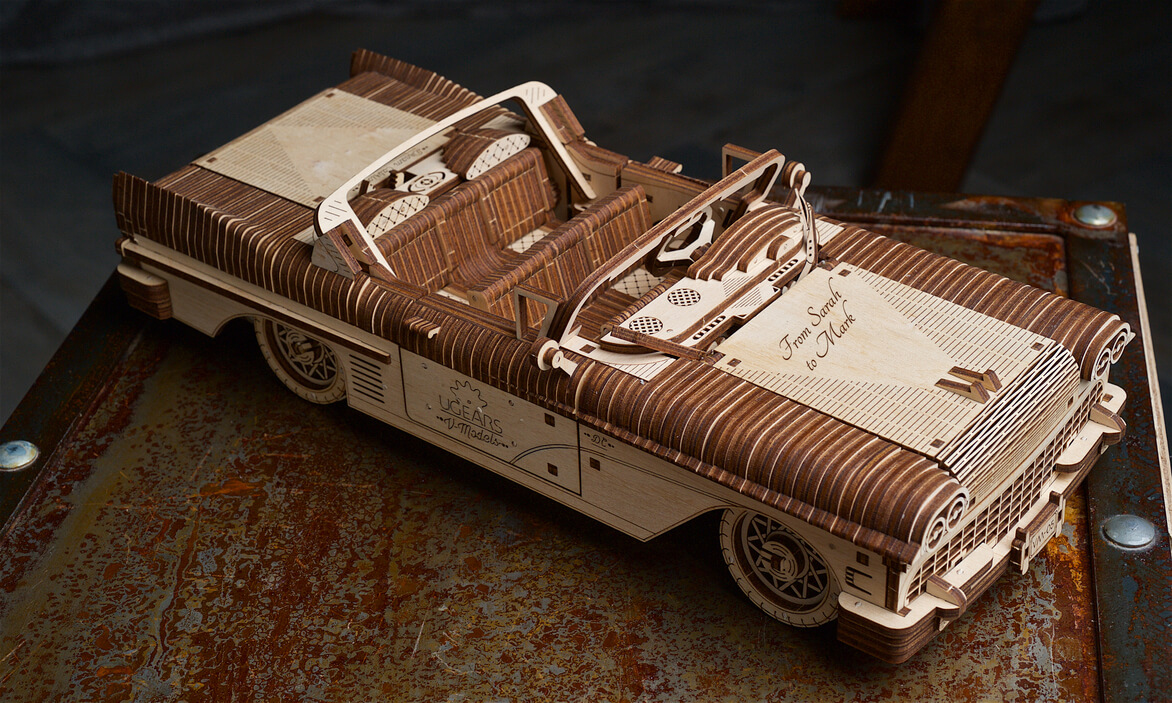 Both vehicles are amazing pieces of clever mechanics, no wonder they are popular with model car kit enthusiasts from all over the world. While the Ugears models sleek bodylines look pretty fascinating, the moving pistons of the 8V engines are drop-dead awesome. The only thing that can make these marvels on the wheels better is a personal message you will have engraved on them.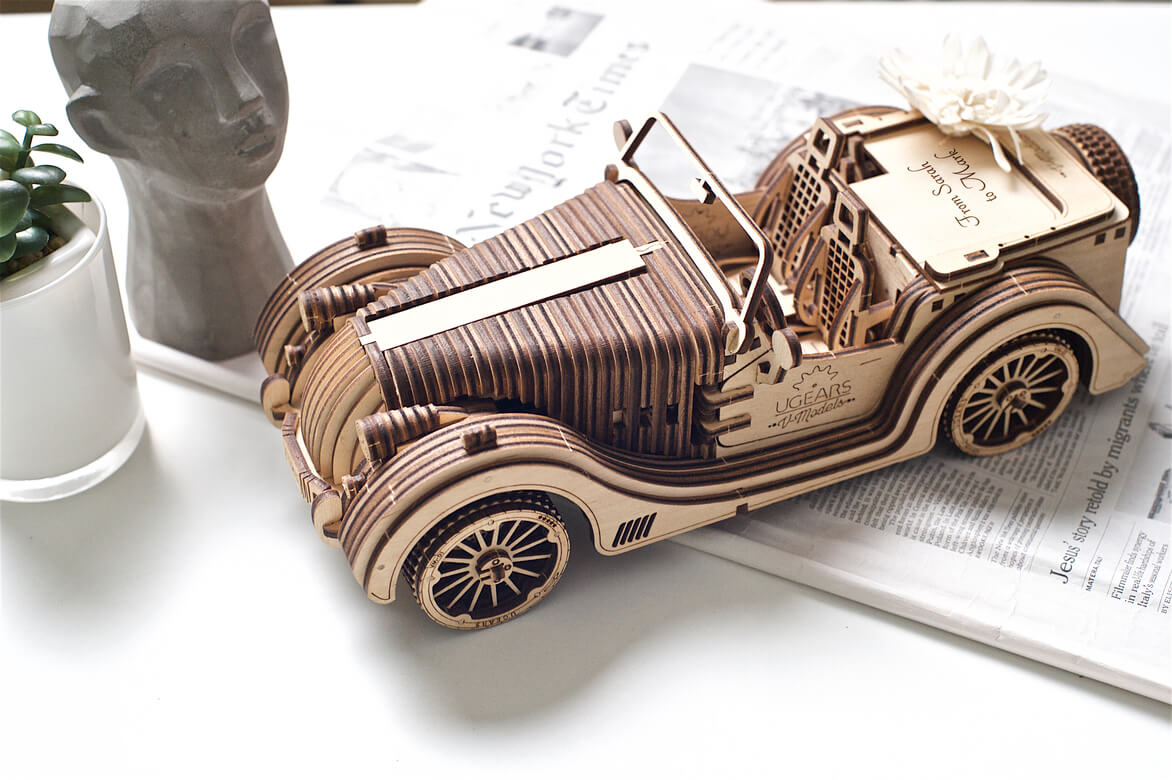 If you are on a more practical side, you might like our very Ugears-style storage ideas. "Storage" doesn't sound very inspiring, but trust us, this is not the case. In this category we want to offer our lovely delicate Antique Box model kit, or a pretty and useful business card holder Etui, and the fun and original Safe. All three models have the personalization option and make absolutely gorgeous gifts.
The Antique box is a small handsome chest covered with fine floral carvings and oriental elements. It is designed to keep jewellery, knick-knacks, or any other little items you'd like to store away securely. One may think, there are hundreds of pretty little jewellery chests available, what does the one Ugears created have to offer except beautiful wooden design? The Antique box comes with a mechanism, of course. Pull the lid and it will open like an exotic flower, showing six compartments. Two extra hidden compartments will reveal themselves when you find a secret button!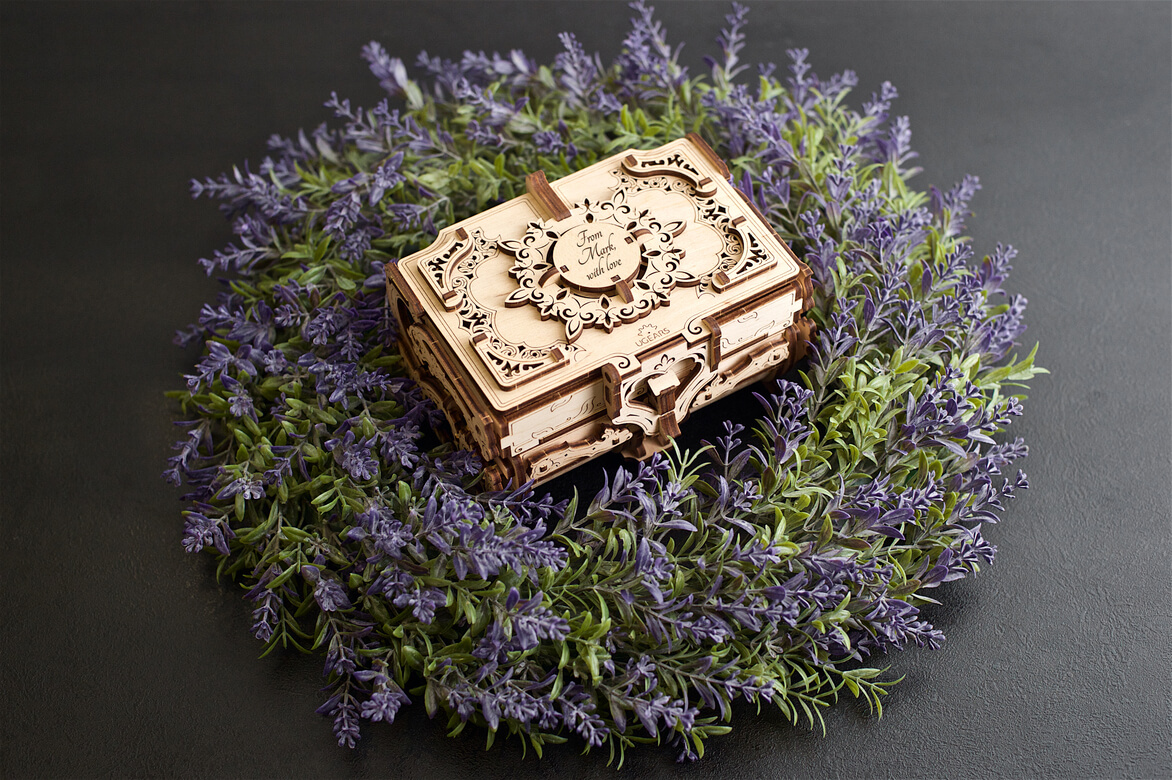 The Etui is an original business accessory and a perfect gift for a beginner-assembler. It will take you 1-2 hours to get from a model kit to a beautiful assembled masterpiece and after that your working day will never be boring again! The simple but clever mechanism of this model tilts and opens its lid to reveal the contents of the box. The box's dimensions are made to accommodate a stack of business cards, but any small stationery like paper clips, erasers or pencil sharpeners can fit in it nicely.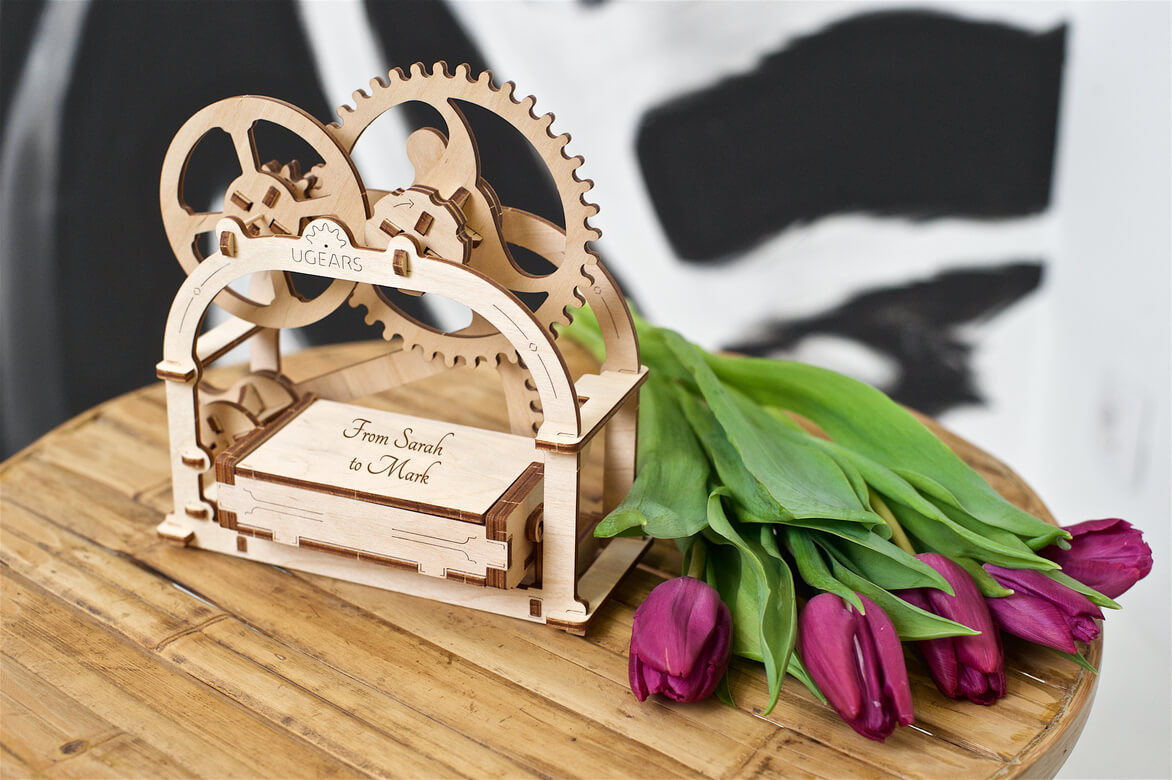 Unlock the secret of a fun time with the Safe mechanical model kit! This mechanical puzzle box has a proper three-digit code lock. It can be a gift itself or a fun way to present a gift. Put something inside, come up with a code and play crack-a-safe following the instruction manual.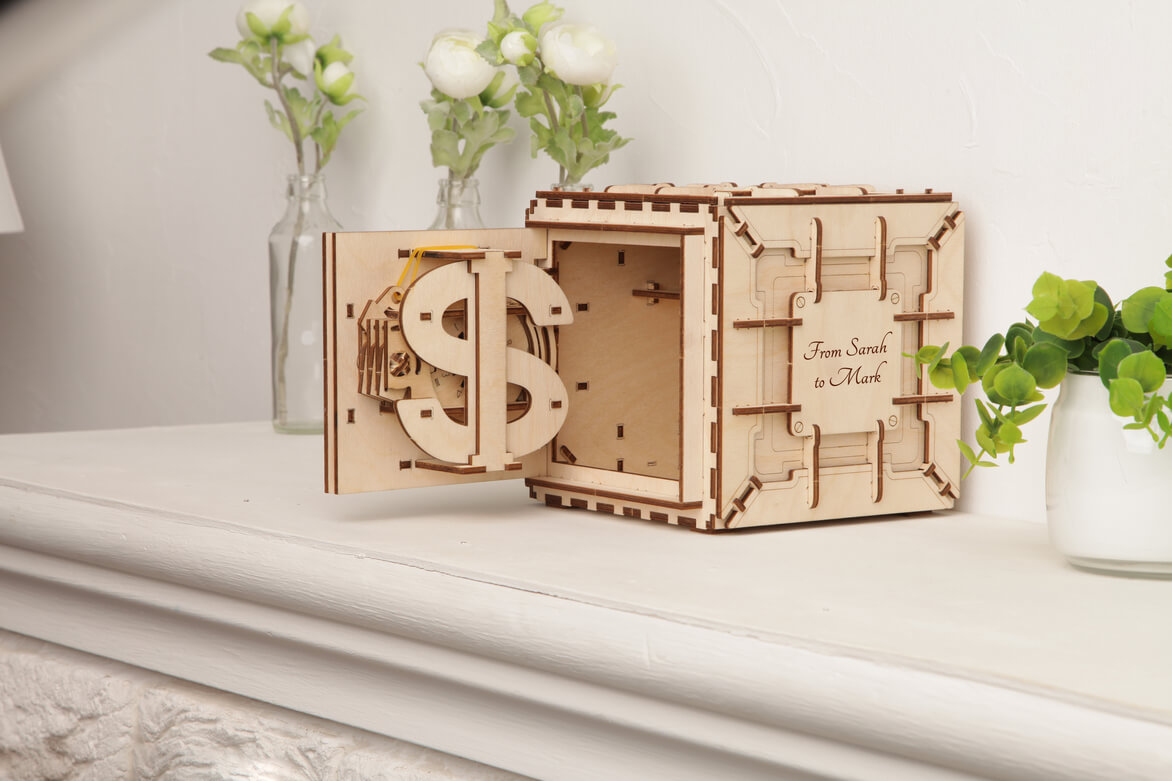 For all music lovers there is the Hurdy Gurdy, a very special model, one of a kind, the only full-fledged musical instrument in the Ugears collection. This complex and beautiful model inspired by Celtic and Scandinavian medieval craftsmanship and married to the ingenious ideas of Ugears engineers is the best gift to tune up your special day! The instruction manual comes with sheet music that you can learn to play very quickly. Make a unique engraving on the delicately carved body of the Hurdy Gurdy to make it even more unique. What music lover wouldn't like a custom musical instrument?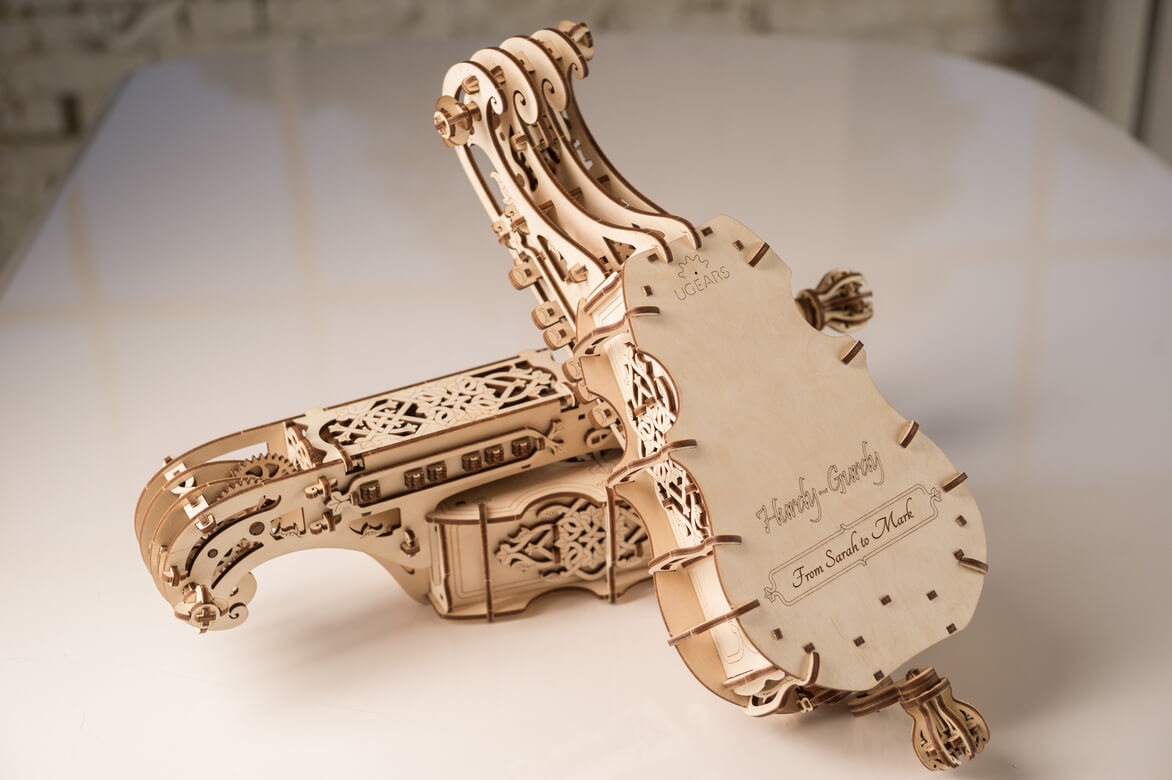 All the models come with everything you need for assembly: a set of plywood boards with precise laser cutout parts, full-color, detailed step by step instruction manual, and several spare parts.
We don't attach gender to our beautiful wooden puzzles and truly believe they can be a wonderful gift for men and women, boys and girls, and any person that appreciates some fun and clever brainteasers, and fascinating mechanics. But if your Valentine is not into DIY, you can always assemble the puzzle by yourself and present it as a ready-made mechanical gift – with handsome and unique engraving!
Have a Happy Valentine's day! Wishing you joy, romance, and to never forget that there is no need for a special date to celebrate love – express your feelings any day of the year with kindness, attention, respect, and a perfect gift from Ugears.