The holiday season is a time to be jolly – but also a chance to sum up the most exciting projects of the passing year and plan for the future. With that in mind we want to take a close look at the beautiful range of 2019 models once more. And when it comes to plans – they remain the same: we want to keep surprising you with more mechanical novelties while providing convenient and comprehensive service and support!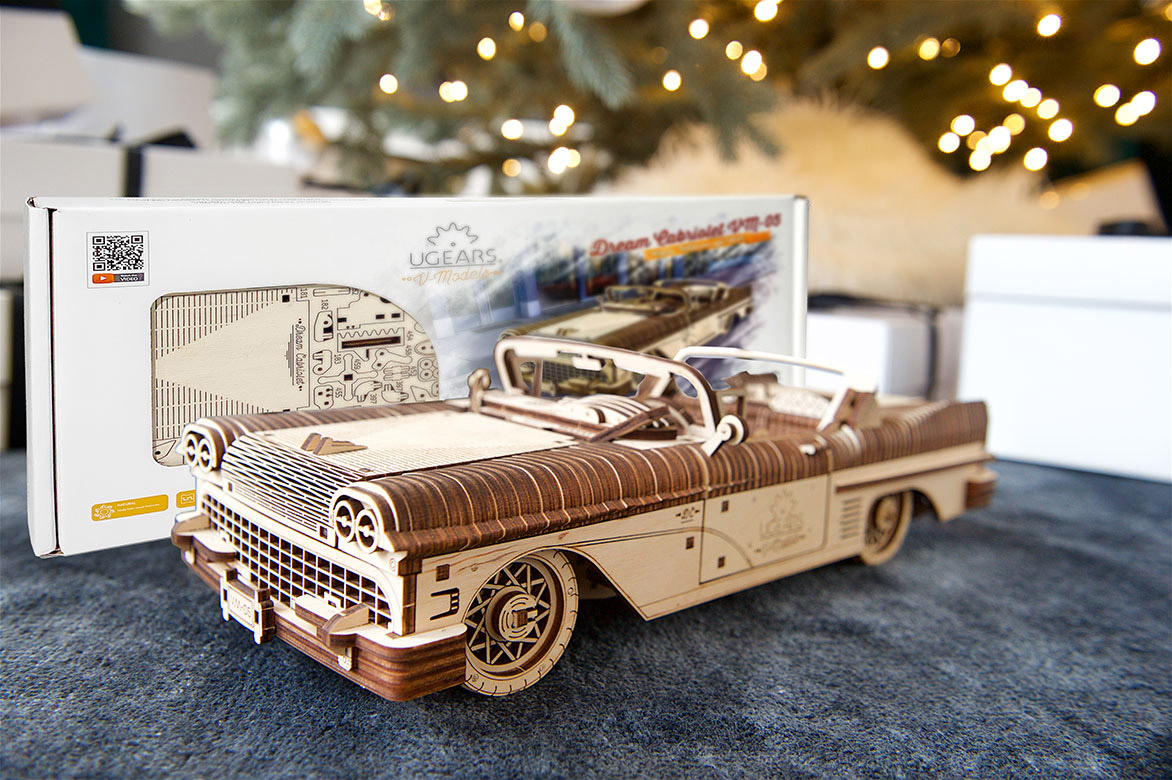 Let us start with the Dream Cabriolet VM-05 – a classic model carrying the spirit of freedom, rock-and-roll, and road trip adventures of the 1960s. Putting together this magnificent, highly detailed automobile you will experience its unique features inside and out: not only you will get to enjoy the iconic retro design of the car but also observe the work of a miniature but fully functional V8 engine under its hood. Just by the steering column you will find a gearshift which switches between your Cabriolet's driving modes: forward, reverse, and idle. Your cool retro convertible features realistic moving windscreen wipers, window-lift mechanisms, and an opening trunk with a latch. A fun little extra that comes with the car are a set of accessories: a working tire jack and a box of tools.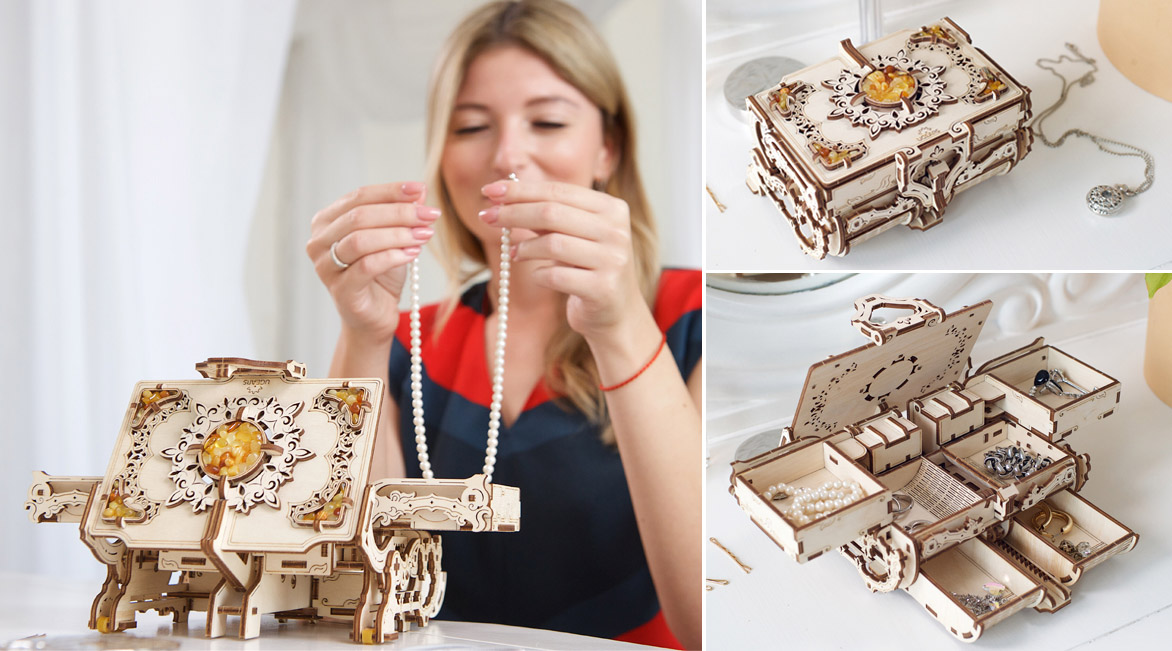 This year we experimented with alternative media and as a result produced a mechanical wooden chest encrusted with natural amber. The Amber Box model will become a real treasure of your collection and a convenient sorter for your jewelry and knick-knacks.
Despite its average size, the chest can accommodate quite a few small items: the model has 8 compartments, two of which are hidden. The assembly of the Amber Box is a relaxing and fun process that both inspires and helps you to loosen up.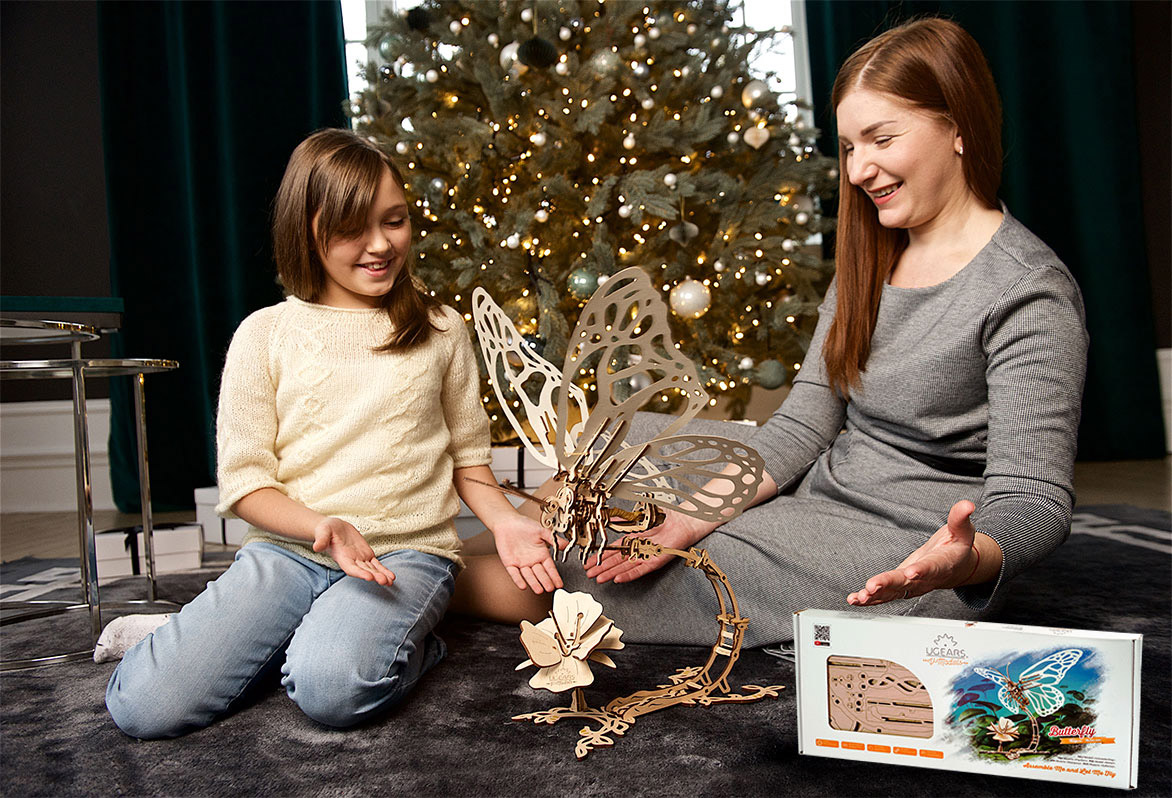 The Kinetic Mechanical Butterfly is a wonderful model that will amuse children as well as adults. This gracious mechanical automaton moves its wings closely imitating the flutter of a real-life butterfly. The model comes with two sets of wings – beige and colorful ones – so you can choose one to your liking or match your home's design best. A flower that also comes in a box is a useful and handsome extra that completes the scene and can also be used as a key holder or a fancy small tray for small miscellanea.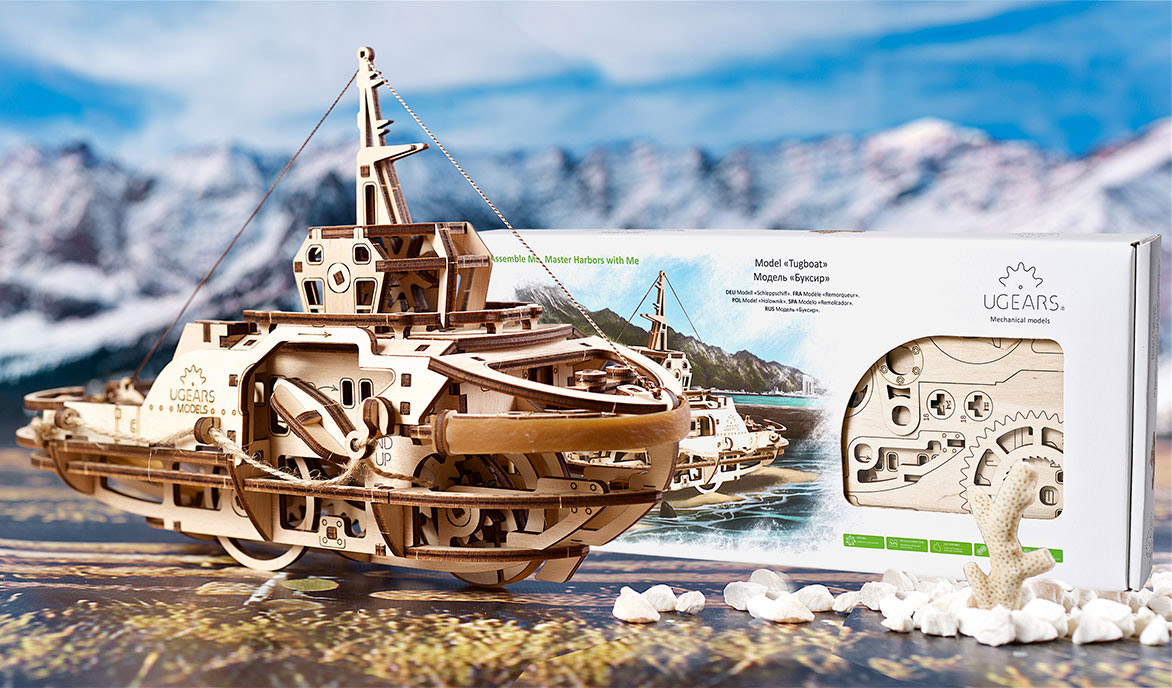 The Tugboat's ingenious mechanism grants this little marine model an absolutely unique way of moving. Due to the clever mechanics this industrial steam-punk style model moves as a boat rocking on the waves.
The Tugboat is very interesting to assemble and to observe the work of the gears. Watch the mechanism driven by a rubber-band motor. It is powered by the tension of the rubber connected with a bearing. The reduction gear transfers energy to the drive wheel and further to the asymmetrical wheel pair. The pendulum slows and evens the motion of the tugboat.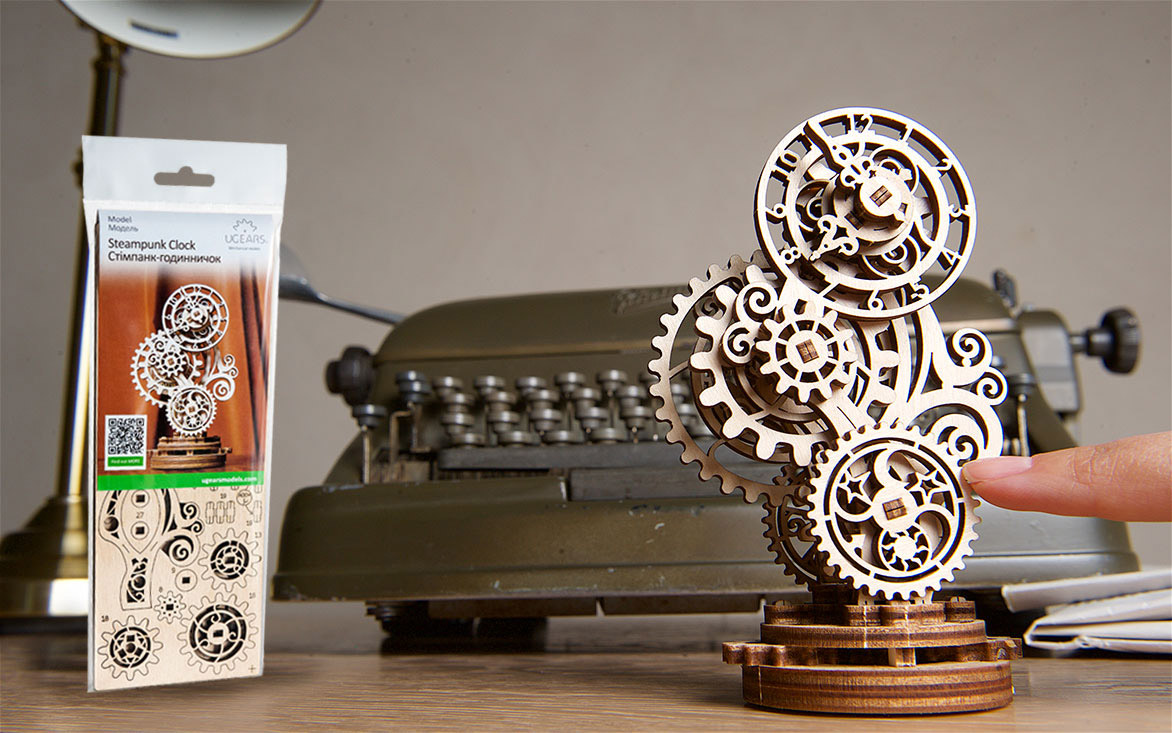 The Steampunk Clock is exactly what its name implies – it is a beautifully designed clock, the main representation of a steampunk style. The model is easy to assemble, so if you are new to Ugears' clever mechanical puzzles, it would be a good one to begin with. The design elements of the clock include beautiful lace-like ornaments of the Sun, stars, and the Moon in different phases. The hands move with their own speed each independently from one another. The Steampunk Clock will look amazing on your desk and can become just the right answer to the question «what to give a person that seems to have everything?»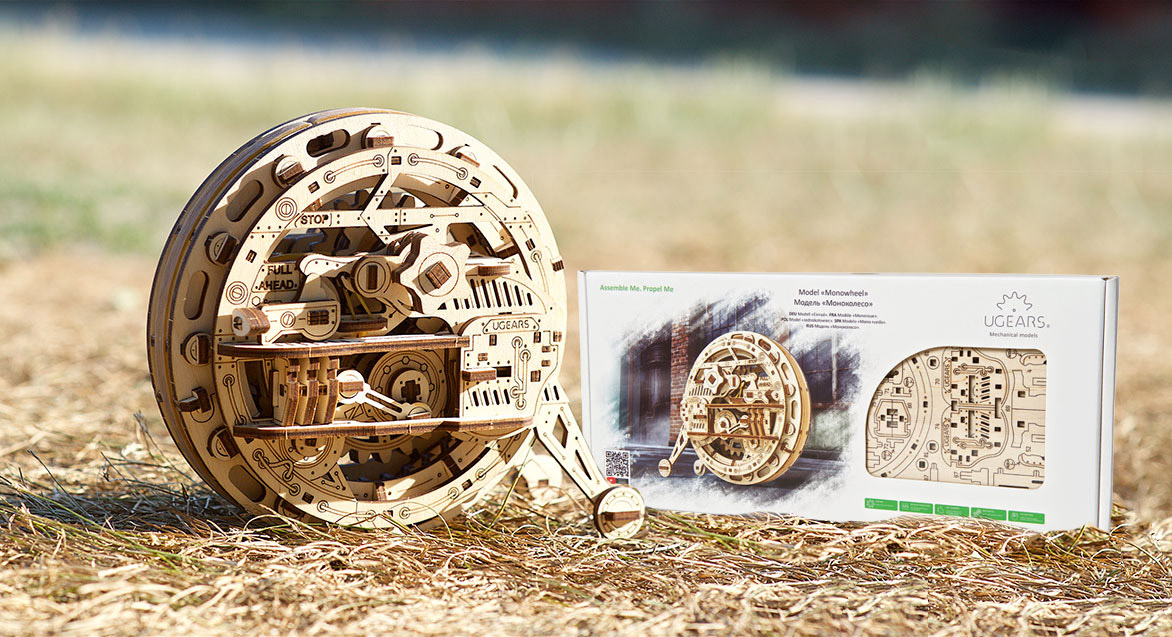 The neat lines of the Monowheel are meant to symbolize urbanization and technology. This original model rolls on an outer rim propelled by a stationary internal module. Its elements work similarly to the steam engine powering the rotating details. The Monowheel is built in a skeleton steampunk style, which means you can see and enjoy the beauty of the moving gears.
The model has two working modes with its feet locked or unlocked. The wheel rolls 1.5-2 meters or 5 meters in each of the modes. Make sure you test your Wheel on different surfaces – on the pavement, on the ground, etc. Play bowling with your Monowheel – the fun is guaranteed!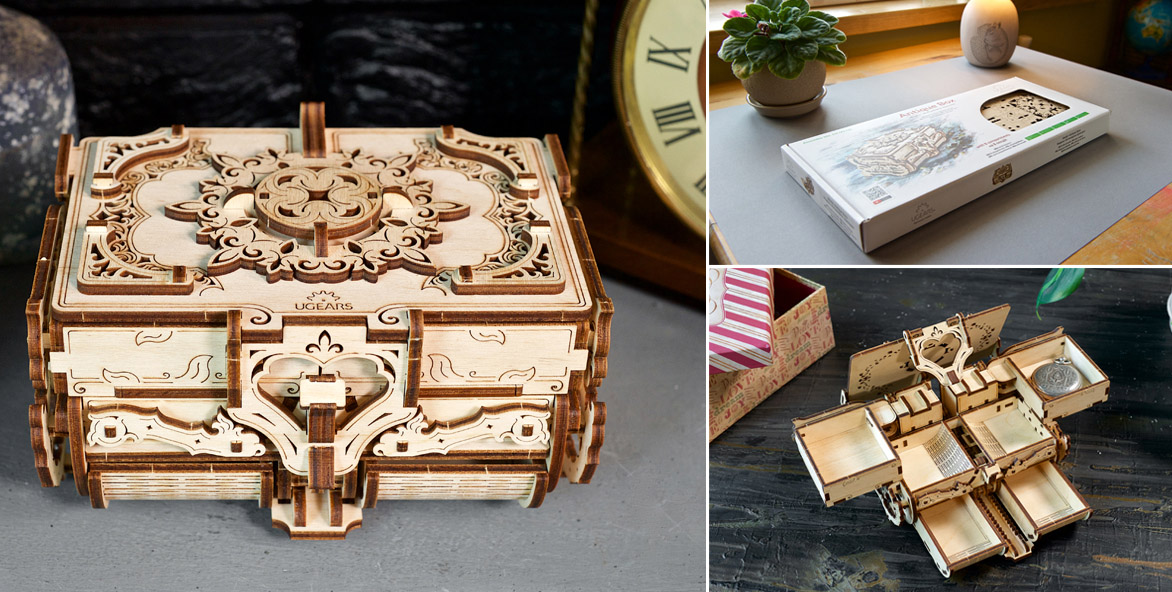 Delicate and capacious, the Antique Box is designed to please you with its handsome decorations and help you sort your treasures. And if you choose to give it as a present – it is promised to bring the most positive response. Intricate curved elements and a beautiful heart-shaped lock are made to surprise and amaze.
The model has 8 compartments including two secret sections that will have you thinking before you can find the way to open them. Use them to keep your most valuable treasures safe.
The Antique Box is best for keeping your jewelry or to be your needlework box. It is also convenient to store small repair parts and fixtures or small family memorabilia.
Assemble the Antique Box for your loved ones and surprise them with an original gift.
Such banality as a pencil organizer is a boring and ordinary thing – unless it's a Ugears Wheel Organizer. The model has a clever mechanism with moving parts designed to take your thoughts off overwhelming routine, and find your new inspiration while meditative rotations of the gears lighten your mind.
The model's base is a planetary mechanism connected to a wheel resembling the control wheel of a ship. It turns both clock- and counter-clockwise. Grab hold of your wheel, captain, and spin it to choose one of the pencils or pens. These are sitting in six available slots and the mechanism will deliver the one you need to you.
The model is easy to assemble and suits both children and adults. Bring some positive vibes to your working place with your original stationery item!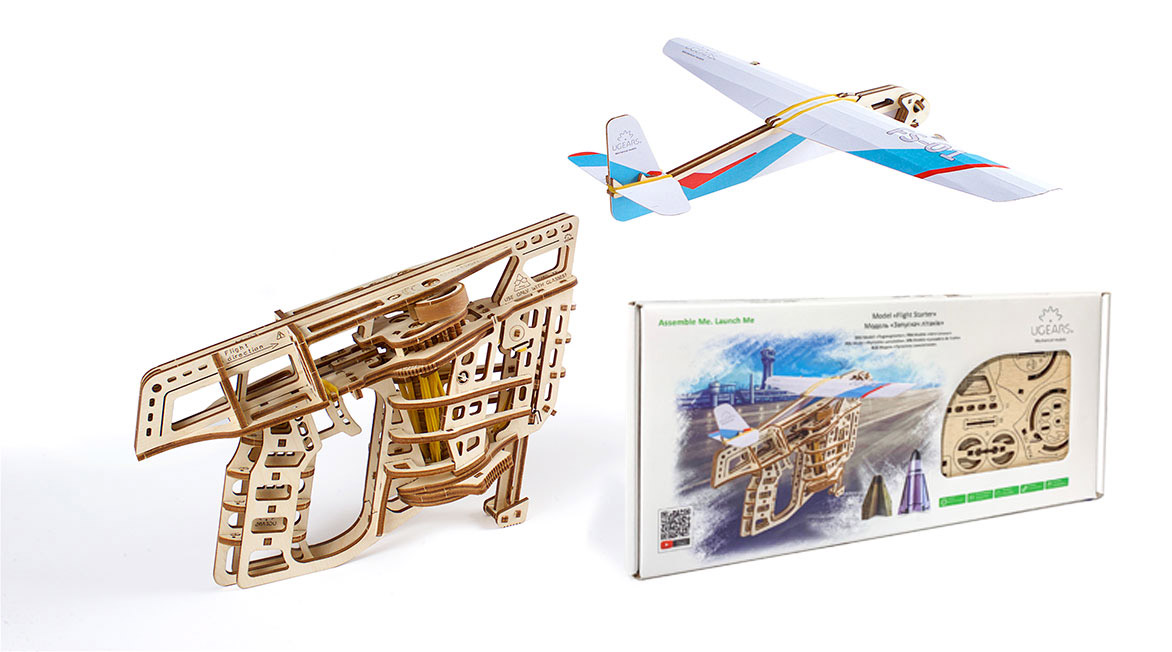 The Airplane launcher is one model that carries loads of fun time! Spend some quality time with friends and family: fly your glider or your custom paper planes to one another or try to hit a target. Take your new play-time companion outside and watch the planes soaring free in the air. This will be quite a long flight – your Flight Starter is equipped with a rubber-band motor that gives powerful momentum to the planes.
You will find three types of aircraft in the box: 2 paper plains and one solid glider made of wood and cardboard.