Engraving is the perfect way to make a unique gift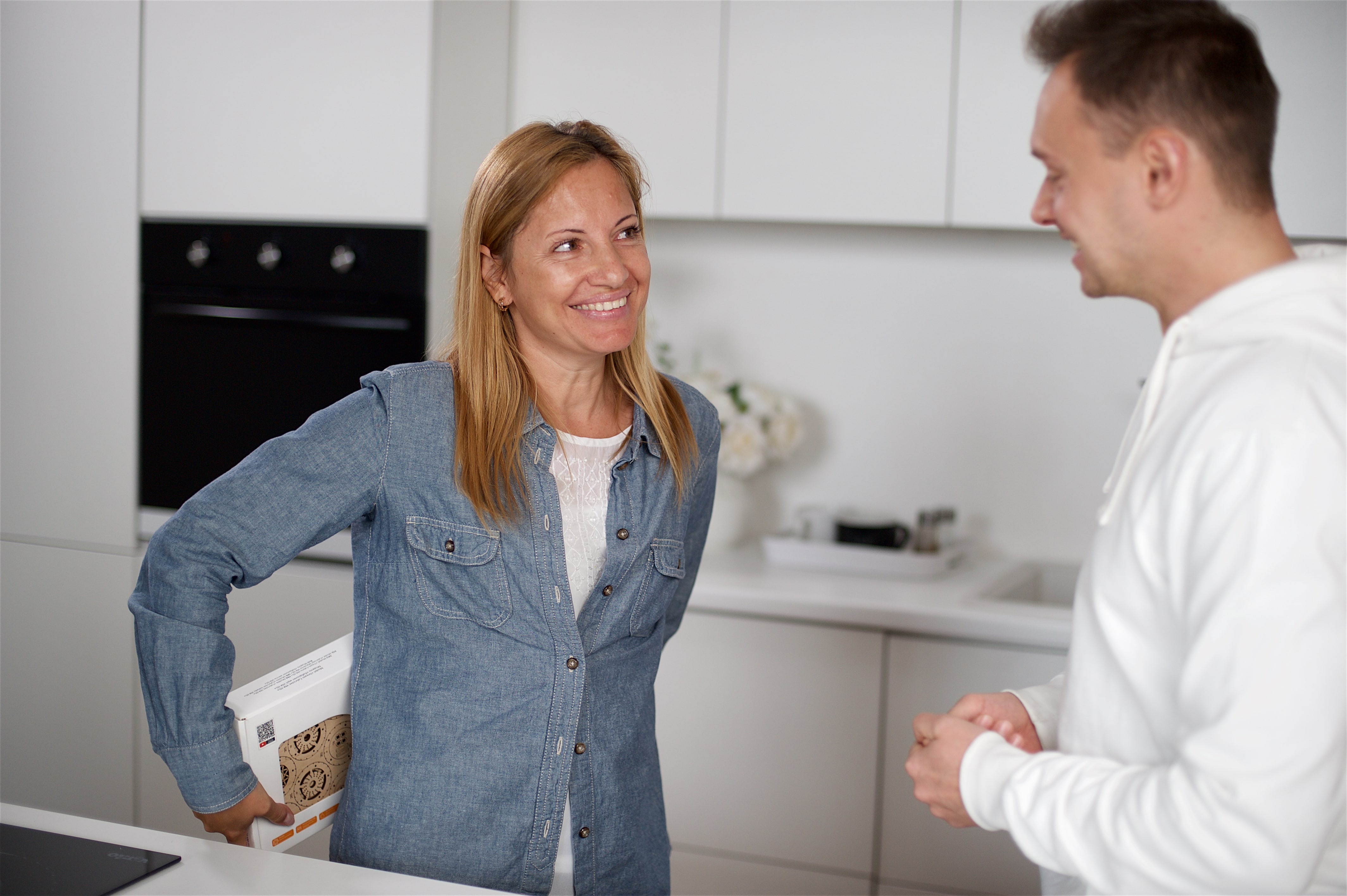 Everyone loves to receive gifts. But giving gifts is even more pleasant—scientists have proven it. At Ugears we love making great gifts for every age and interest, and now we can help you make those gifts extra personal.
Cars, planes, ships, watches, boxes, mythical creatures—there are models for every taste in our catalog of 3D wooden mechanical construction sets. Our models move without batteries and can be assembled without glue. Thousands of modelers around the world have discovered Ugears are a wonderful gift for people of all ages and interests.
Now you can make your Ugears gift even cooler by personalizing it, with laser engraving right on the model! Engraving makes a gift extra special, extra personal, and allows you to express your feelings, remember a key event, or show your loved ones you are thinking of them.
We are pleased to offer engraving on certain Ugears construction sets. Tell us what you want inscribed, and we will engrave it on the model kit during the manufacturing process. Personalized engraving can be ordered on the manufacturer's official website: ugearsmodels.com.
Here are some of our top models on which personalized engraving is available: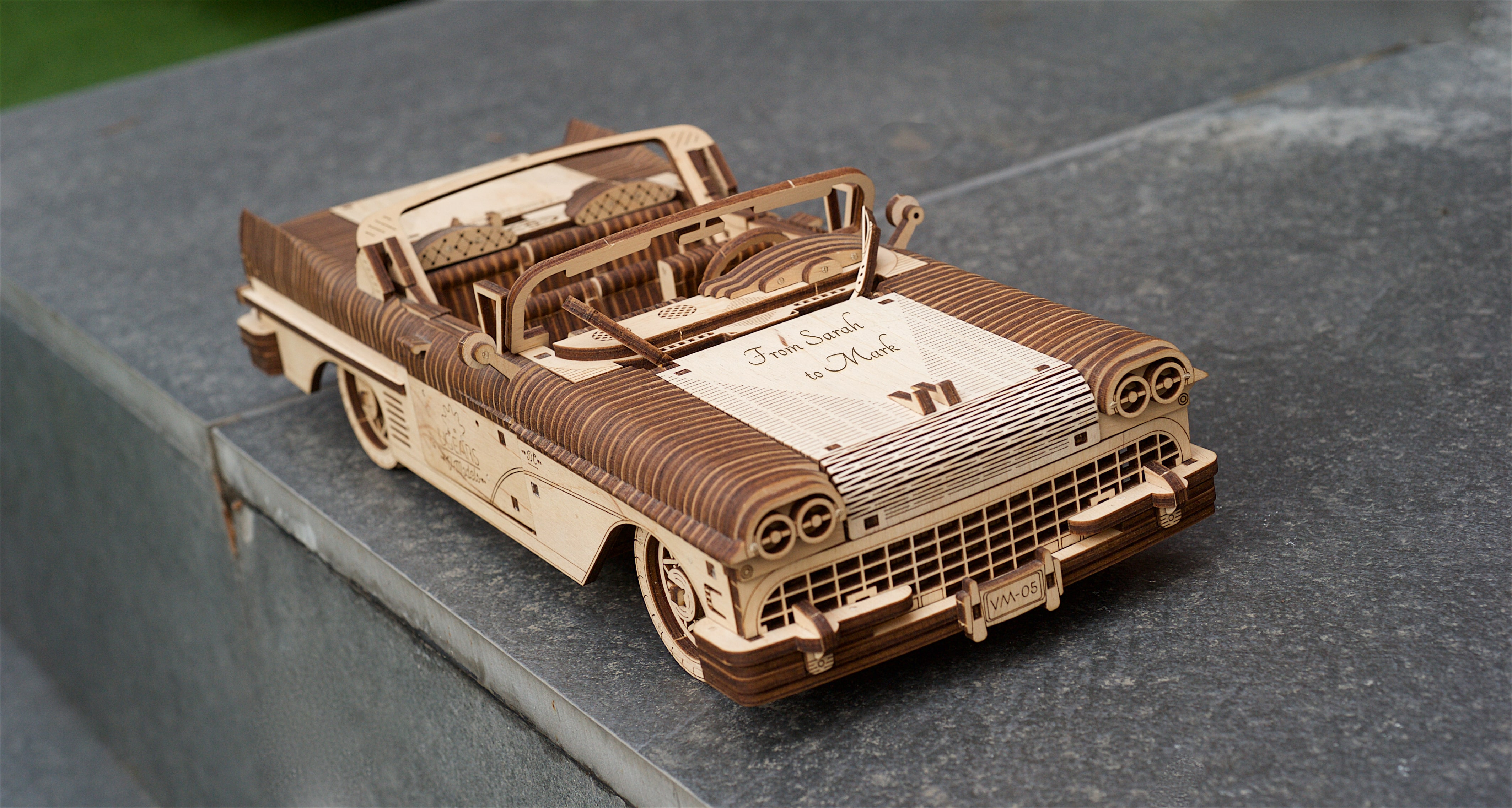 Dream Cabriolet VM-05
The beautiful, stylish Dream Cabriolet VM-05 is powered by a rubber band motor, like many of our most popular Ugears models. This classy convertible is equipped with a functional V-shaped 8-cylinder engine, and has forward, reverse, and neutral gears. Watch the movements of this amazing piece of automotive modeling by placing it in neutral gear.
The front wheels of the Dream Cabriolet turn and steer the model. Both axles are sprung for a particularly smooth ride.
The model consists of 739 parts, and takes about 13 hours to assemble. Difficulty level: Advanced.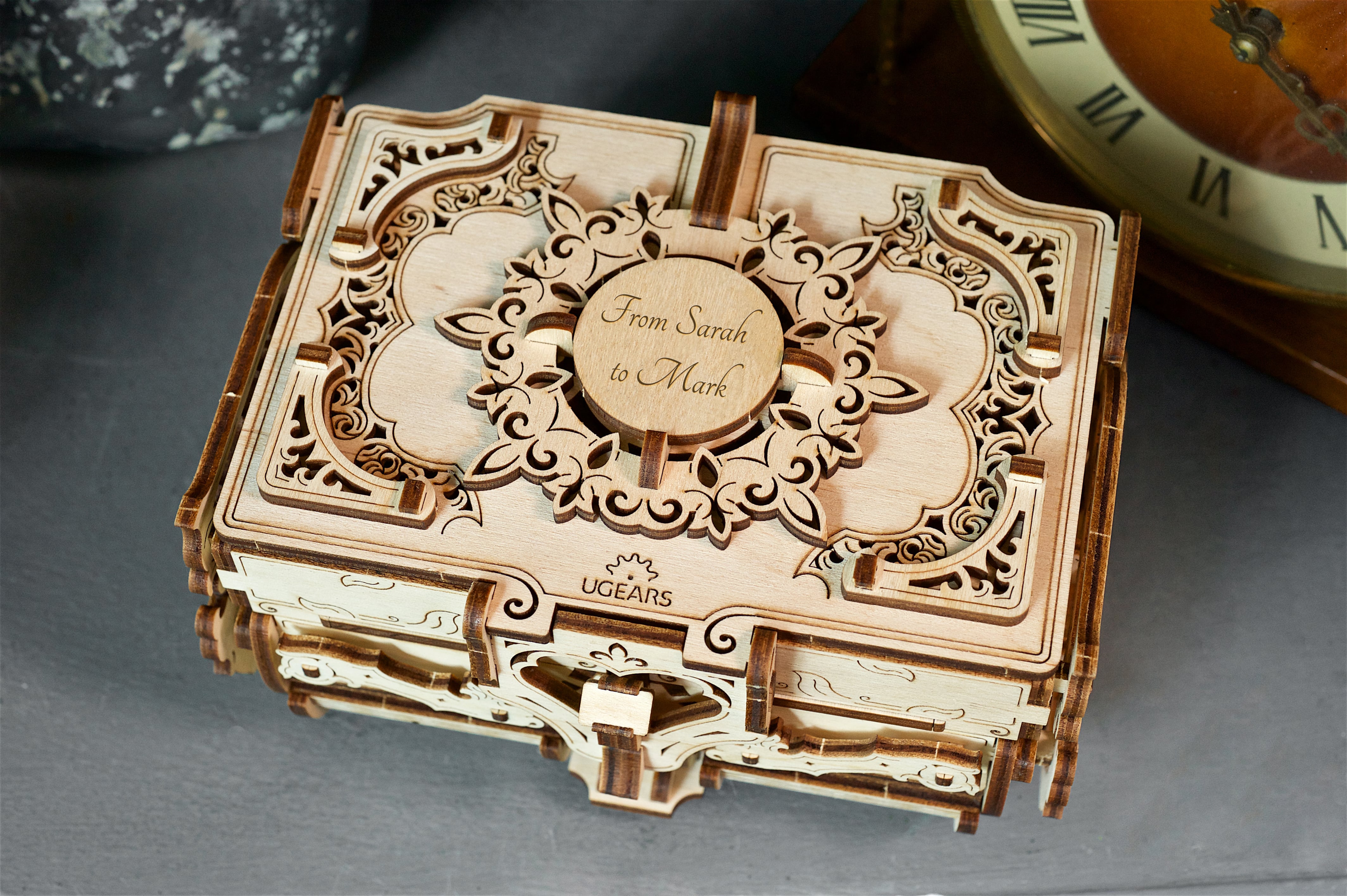 Antique box
The Ugears Antique box is a stylish and sophisticated storage and display box for jewelry, love letters, and other precious things. The model is decorated with exquisite carvings, combining floral ornaments with oriental motifs. The Antique box features a clip latch so its contents remain in place during transportation.
The box opens like a flower when the lid is lifted and the mechanism is engaged. There are six main compartments for small treasures, with two additional boxes that open when you press a special button.
The Antique box consists of 185 parts, with an estimated assembly time of 2-3 hours. Difficulty level: Medium.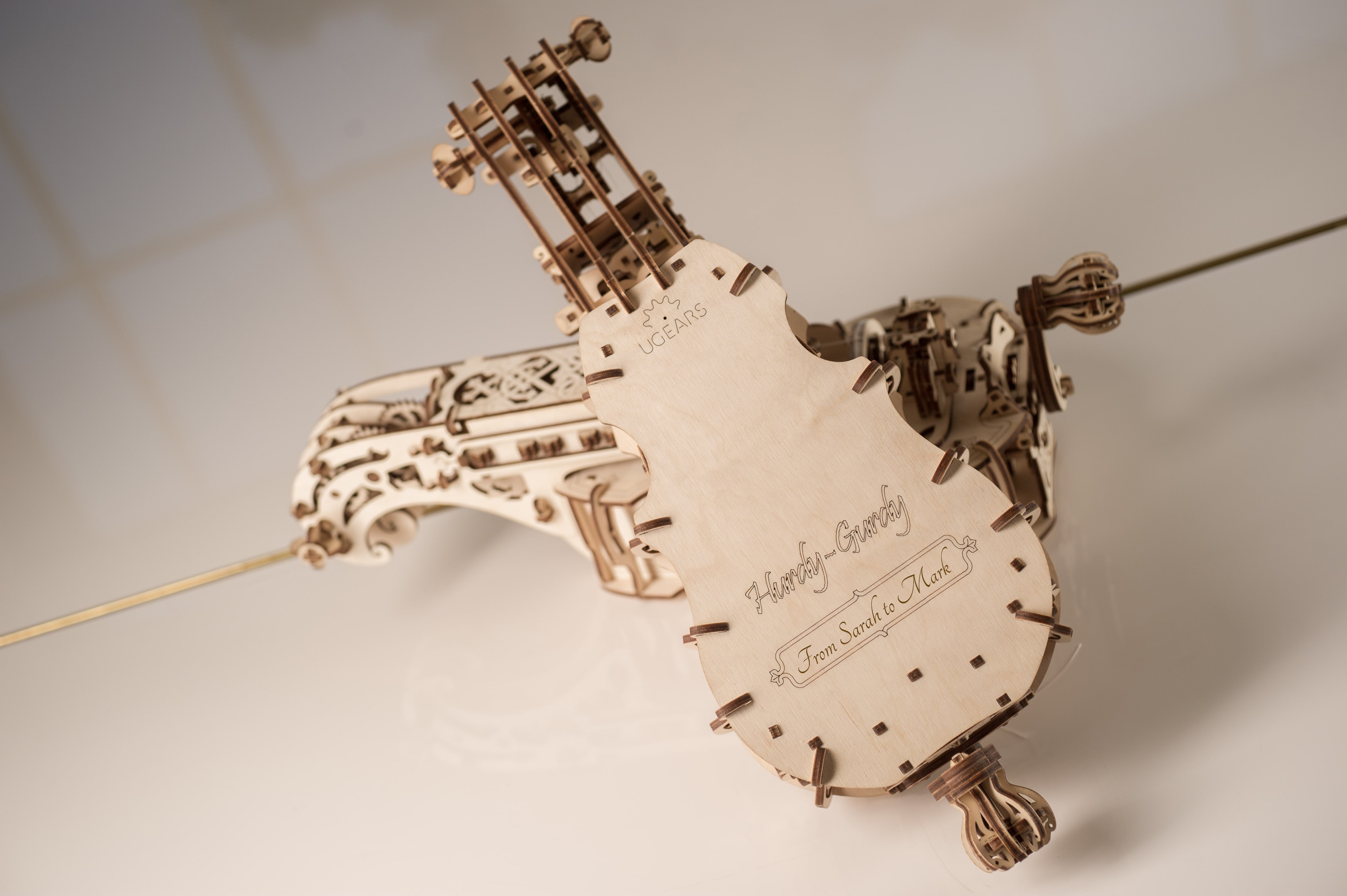 Hurdy-Gurdy
The Hurdy-Gurdy by Ugears is unique in the world of construction sets. As far as we know, this is the first mechanical construction set that is simultaneously a real musical instrument! The Hurdy-Gurdy has a sound somewhat similar to a bagpipe, and can be used to play different melodies from folk to rock.
This musical instrument consists of a body, front and back decks, gears, crank, wheel, neck, pegs or tuning screws, melody and drone strings, and a keyboard panel with six keys. It's easy to play: just turn the knob with one hand and play the keys with the other. The kit comes with sheet music to get you started.
The Ugears Hurdy-Gurdy consists of 292 parts. The fascinating assembly process will take about 4-5 hours. Difficulty level: Medium.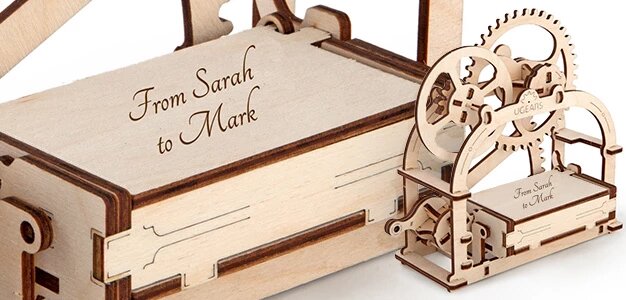 Mechanical Box
The Mechanical Box from Ugears will be a stylish addition to any home or office. Give it pride of place on your desk, and use it to store stationery or business cards. The construction set has two interchangeable panels (with and without a cutout for business cards).
Just press the lever on the side to open the box–it's that simple.
The Mechanical box consists of 61 parts, and will take you about 1-2 hours to assemble. Difficulty level: Easy.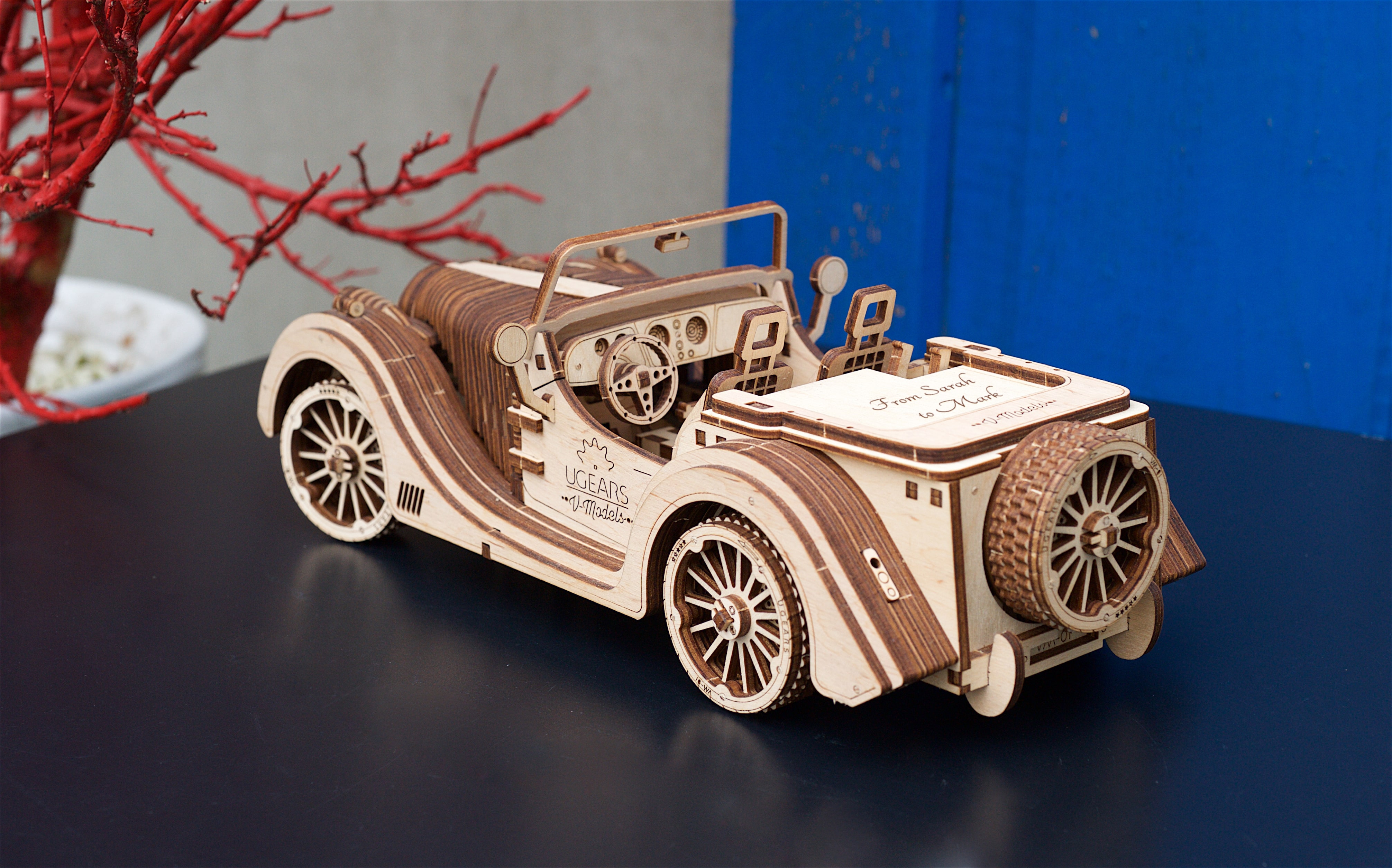 Roadster VM-01
The Roadster VM-01 by Ugears is a stylish retro model car that can travel up to four meters with its rubber band motor. Open the hood to see the workings of the eight-cylinder engine and the stroke of the pistons.
The winding key is designed as a spare wheel at the rear of the Roadster. The car's gearbox has three modes: forward, reverse and idle. You can set the direction of travel by turning the steering wheel.
The Roadster consists of 437 parts. You will need 6-7 hours to assemble this model. Difficulty level: Advanced.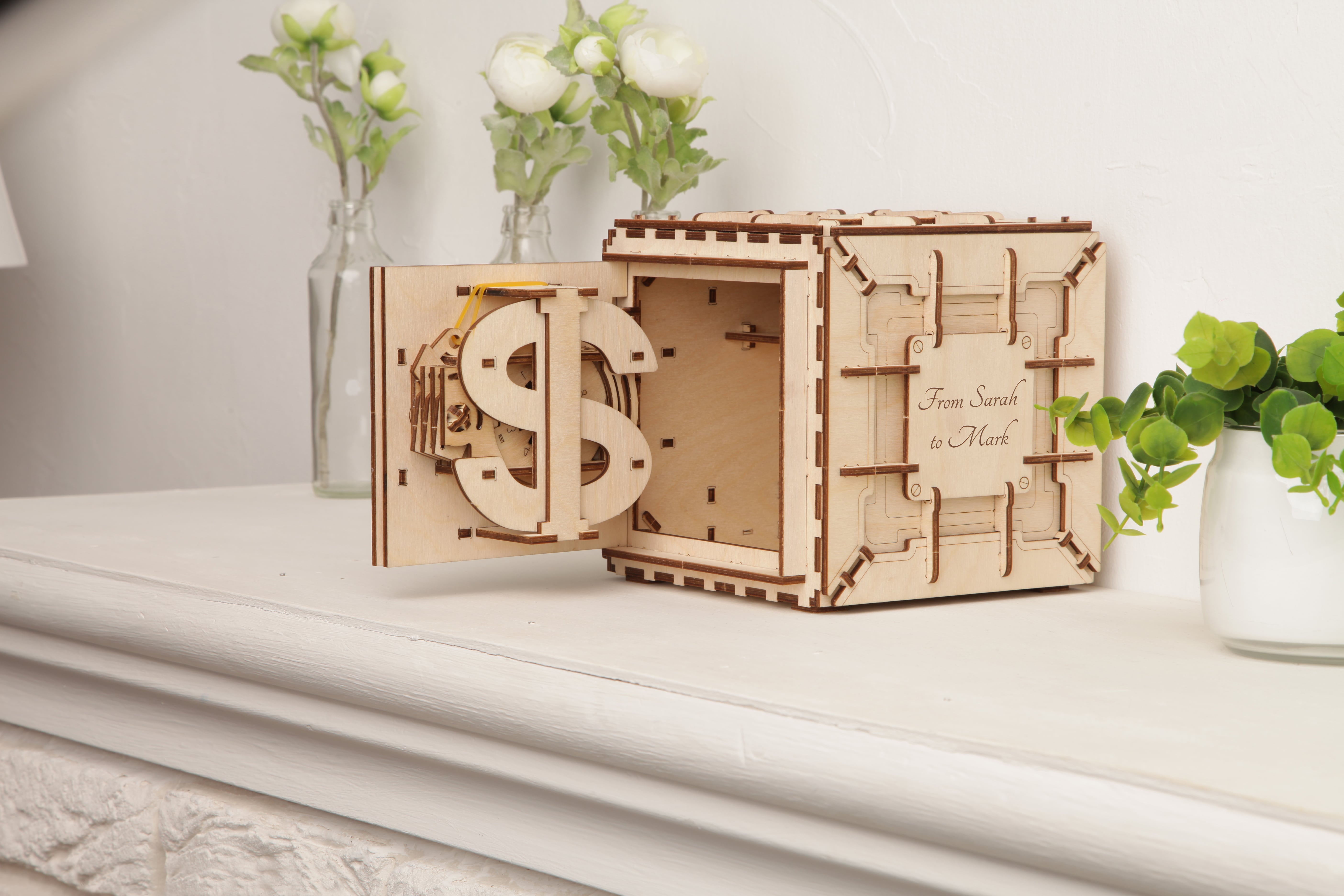 Safe
The Safe by Ugears is not just a chest for your treasures, but a fun puzzle to solve. Lock it with a 3-digit combination of your own choosing, but don't share the code with others—let your family and friends have fun trying to "crack the safe."
You can in fact open the safe without knowing the combination, by rotating the spinning tumbler on the door and carefully listening for the clicks inside the lock.
The Safe consists of 179 parts. Estimated assembly time is 6-7 hours. Difficulty level: Advanced.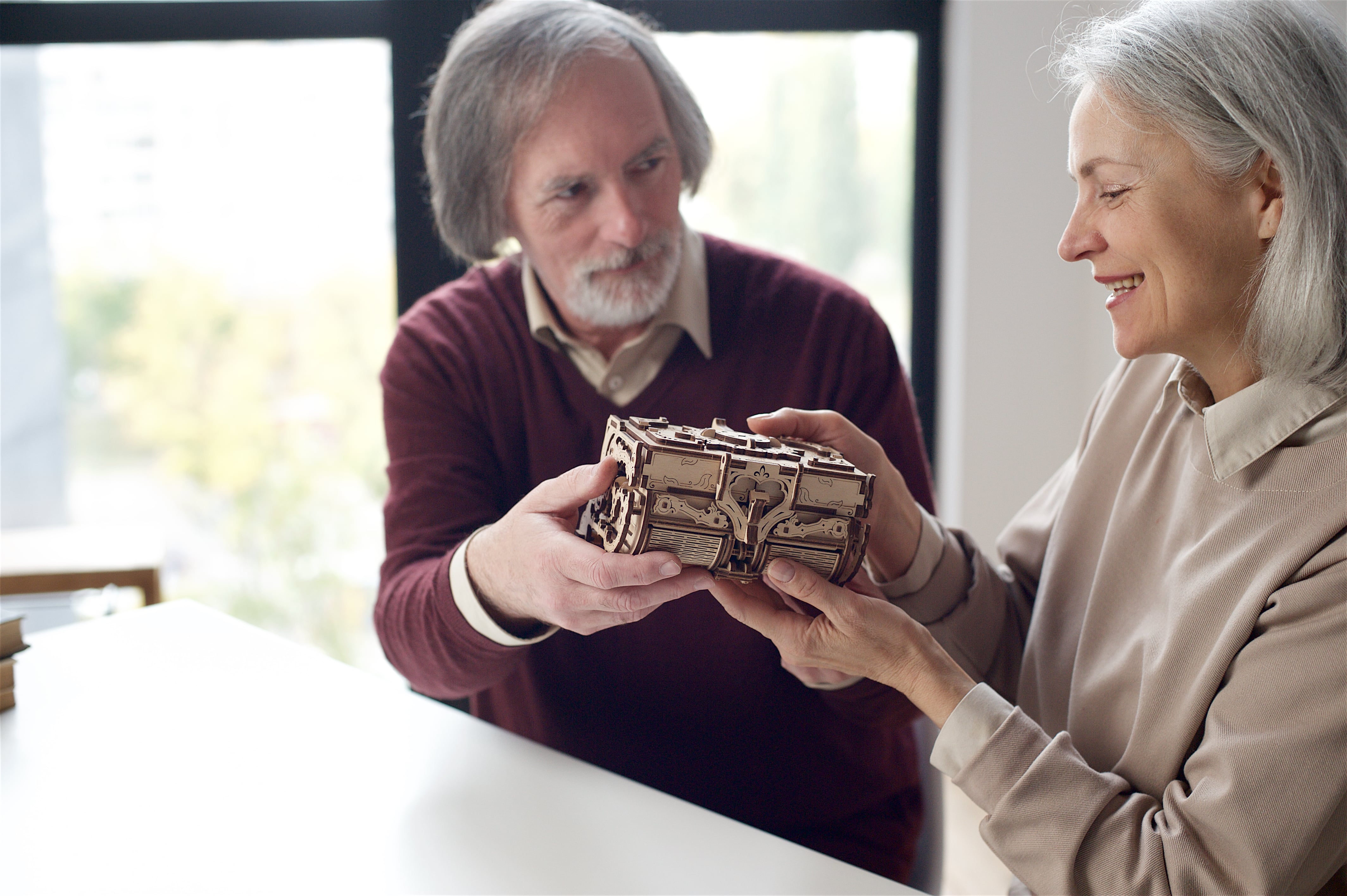 There are more than 100 models in the Ugears catalog, including 3D puzzles, interactive models from the STEM Lab educational series, devices for board games, wooden coloring models for children, and various fidgets. All models are assembled without need for glue or additional tools. The parts are laser pre-cut into plywood; you simply punch the parts out of the boards and snap them together, following the included instructions.
The Ugears collection has models of varying levels of complexity. Whether you're new to modeling or a seasoned pro, you'll have fun assembling these puzzles. Detailed, illustrated instructions in 11 languages ​​(English, Spanish, French, German, Italian, Russian, Ukrainian, Polish, Chinese, Japanese, Korean) will help guide the assembly. If a part breaks or you need help, please contact our support team 24/7. We're always happy to provide replacement parts for free and answer all your questions.
Any of the models shown above can be laser engraved with a name or personal message of your choosing. Make your gifts unique—order engraving by Ugears.