Ugears model kits appeal to builders and hobbyists who love quality, clever design, and who appreciate ingenious mechanical elements with real world analogues. Ugears are a satisfying leisure time activity for anyone who enjoys 3D puzzles. What differentiates Ugears model kits from other brain puzzles is that once assembled, our models have working mechanical actions. The Dream Cabriolet can ride up to 3 m (9 feet), the V-Express moves like a real train, while the Hurdy Gurdy sounds just like a true musical instrument!
Our mission at Ugears is to combine fun, education, entertainment and creativity in one product. If you are looking for an interesting pastime, or thinking about surprising your friends or loved ones with a unique gift, check out our online catalogue where you are sure to find the perfect mechanical marvel for your individual tastes and skill level.
Ugears model kits are perfect for people of all ages and make a unique, thoughtful gift for any occasion. We love to hear from customers who have discovered that building Ugears models is a great way to spend time with family and friends, and develop a number of skills, from problem solving to teamwork.
What makes Ugears so popular around the world? Not only are the models fun to build, they are also educational. Based on engineering principles that underlie real world machines and mechanisms, Ugears models are lovingly crafted and like nothing else on the market, providing hours of entertainment for adults and children alike. We proudly manufacture the model kits in Ukraine, taking great care to ensure that every finely-crafted piece is created with the highest quality materials.
One of the best things about Ugears model kits is their DIY-friendly design. Even as a novice, you will be able to go through the assembly process on your own as you follow detailed, illustrated step-by-step instructions, available in 11 different languages. The assembly process is a satisfying journey that reveals mechanical secrets and provides hours of enjoyment!
Take a look at our website to see our growing collection of mechanical marvels, including these recent additions to the Ugears family of models:
Automaton Cyclist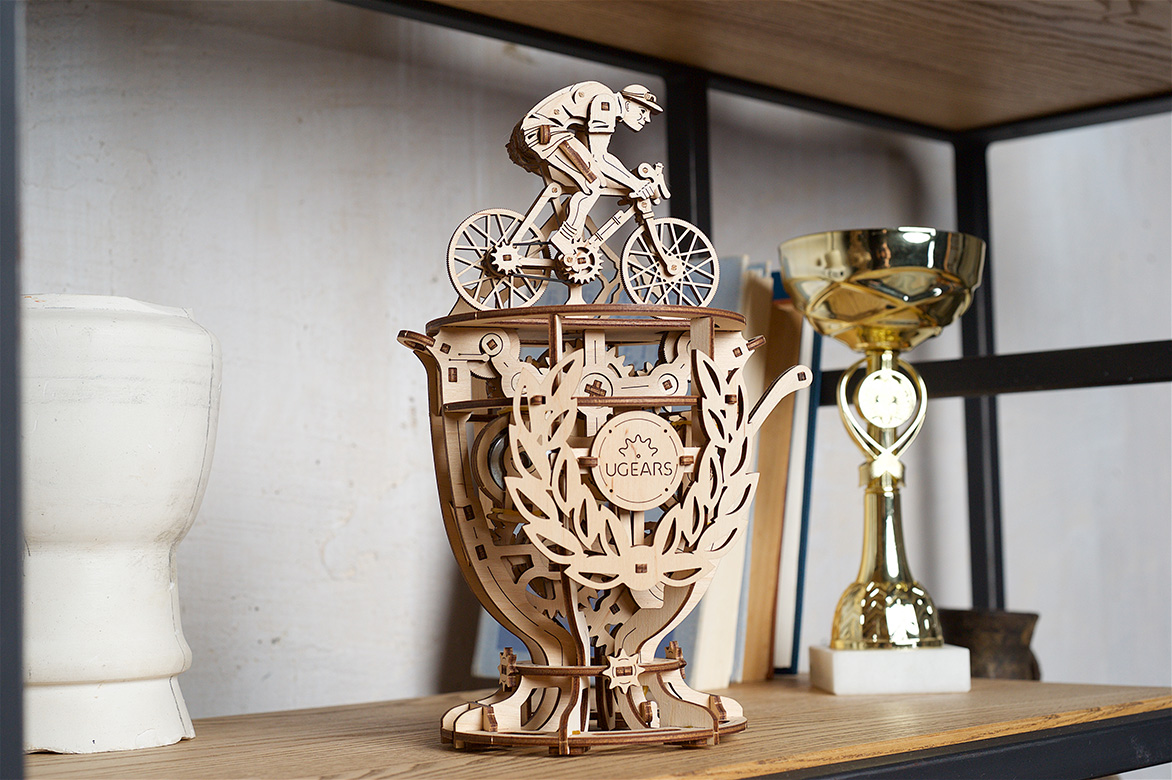 The Automaton Cyclist is the newest addition to the Ugears automatons family. The Cyclist is inspired by classic Tour de France chronicles. Become a champion modeler as you master the frames, pedals and gears that help the Cyclist achieve maximum performance. Our signature Ugears design makes this outstanding model just as much fun to build as it is to display.
Featuring a racing bicycle with leg-pumping rider, this 3D puzzle is made from high-quality laser-cut plywood. From base to crown, the gears, cranks and pedals move in harmony with the rider to complete this stunning one-of-a-kind trophy.
When you assemble this automaton you will have hours of fun and learn about the magic of mechanical movement. See how the cyclist, the quintessential endurance athlete, pedals longer when you add a small weight to a slot, due to the action of a flywheel.
You can now purchase the Automaton Cyclist as the perfect gift for any cyclist or cycling enthusiast, or as a rewarding trophy to celebrate your latest accomplishment or those of your loved ones. Like all our models, the Cyclist is made of wood, has moving parts, and is a miracle of mechanical engineering. Experience the joy and pleasure of creating something extraordinary with your own hands. Set your sights on victory!
Foldable phone holder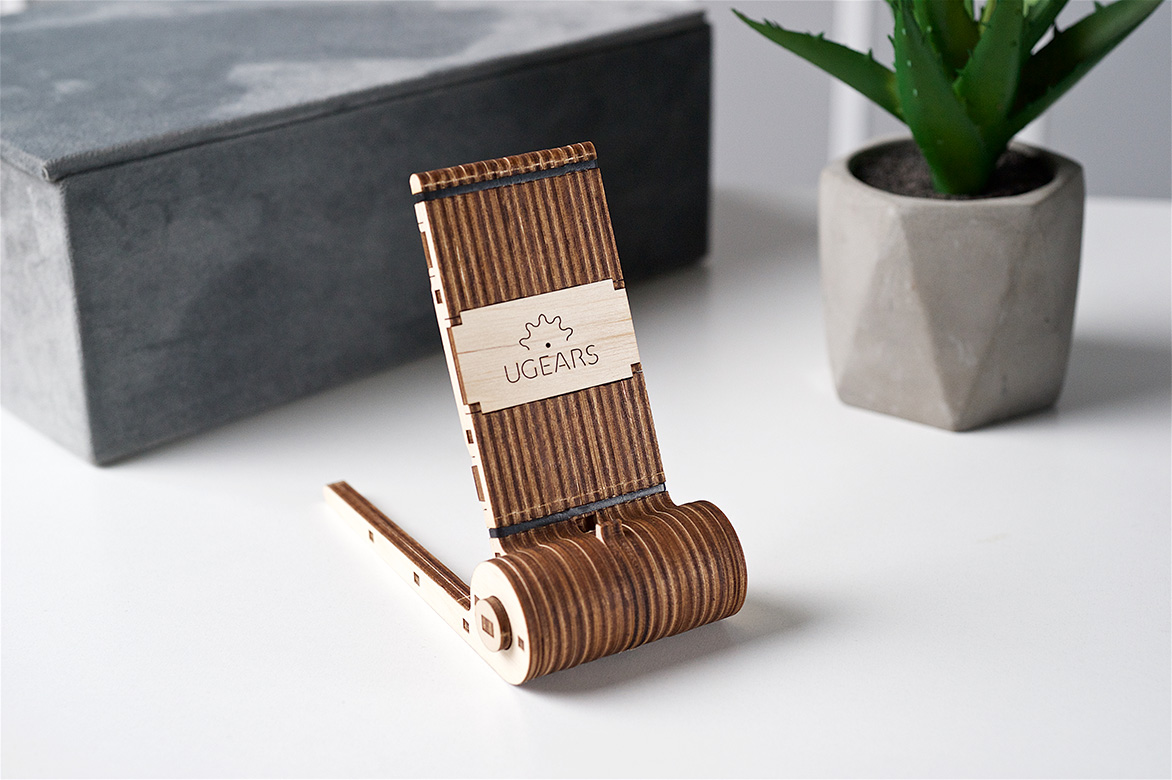 If you are looking for a unique, one-of-a-kind phone holder, consider the Ugears Foldable Phone Holder. This relatively easy wooden puzzle can be assembled in just a couple of hours. Anyone can make their very own trendy and stylish, steampunk wooden phone stand.
As you assemble the model kit, you'll notice it's not just the attractive design that makes this a great starter model, but also its functionality and convenience—the holder can be folded up and taken anywhere you go. As with all Ugears models, the Foldable Phone Holder is a unique gift idea.
A convenient feature of the assembled Foldable Phone Holder is its adjustable support angle. You can prop up your phone in any of three positions with the help of the central wheel. The UGEARS Foldable Phone Holder is designed for phones of any size.
Scrambler UGR-10 motorbike with sidecar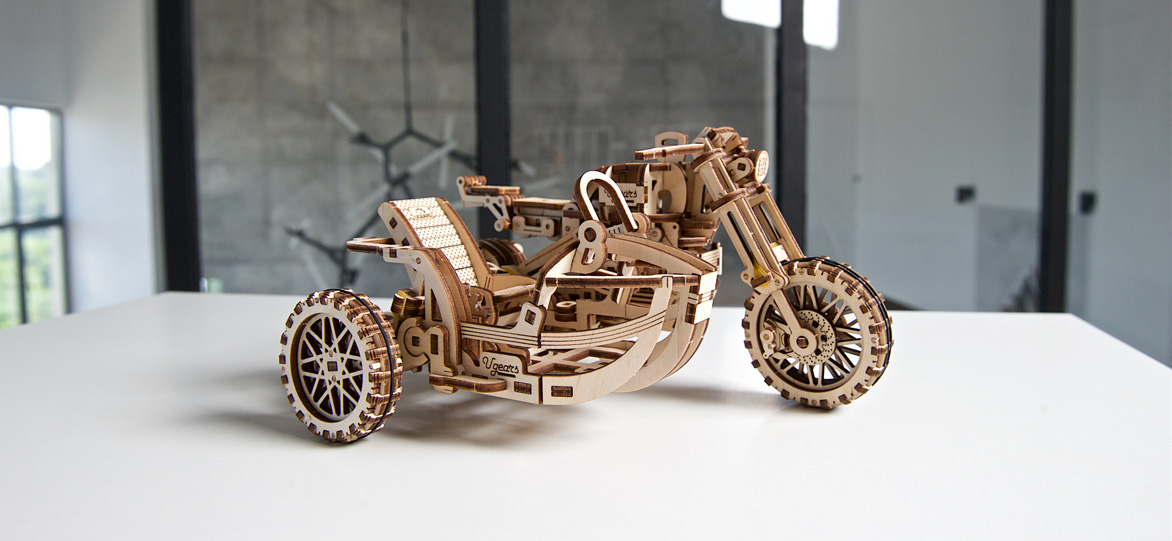 The Ugears Scrambler UGR-10 motorbike with sidecar is a beautiful, high quality, and precise model kit. Who says that toys are only for children? Ugears' Scrambler brings to mind all the fun and excitement of a real motorcycle. Build, play and display your model with biker pride.
The Scrambler UGR-10 motorbike with sidecar is a great construction kit, rated "Medium" difficulty. Builders will enjoy assembling this 3D puzzle with its surprising functionality, full suspension and throwback steampunk design. Our customers report the model takes on average 8 - 10 hours to build. As with all Ugears models, no glue is required; everything you need to build the model kit comes right in the box.
Once assembled, the Scrambler looks and functions just like a real-world motorcycle, with classic retro design.
One of the outstanding features of this 3D puzzle is that it gives you an animated view of the engine cylinders. The motorcycle is powered by a rubber band. You can "fuel up" the bike by winding, then watch as the bike covers a distance of around three meters with a single wind. Hours of fun await when you purchase the Ugears Scrambler, to build and enjoy on your own or with a friend.
Choose your Ugears 3D puzzle today!