Father's Day is fast approaching, but we've got you covered with some unique gift ideas from Ugears to help you meet the challenge and find the perfect gift for Dad. The Ugears' catalog contains almost 100 different 3D puzzles to choose from, to fit anyone's hobbies and interests.
Ugears DIY puzzles and models assemble without glue or any additional tools. The only thing you need to assemble these beautiful mechanical model kits is some free time. Everything is right there in the box, including high quality laser-cut plywood parts and detailed, step-by-step illustrated instructions in 11 languages.
The most intriguing feature of Ugears models is their unique mechanical action. No batteries required! Watch the magic of simple, elegant mechanics at work as these marvels move using gears, rubber bands, and gravity.
Ugears 3D puzzles appeal not only to modeling hobbyists but are also great for beginners. With three levels to choose from (Easy, Medium, Advanced) you can enjoy hours of fun as you work with your hands, gain new knowledge of mechanics and open up an inner creativity that you might not even have known you had.
But back to Dad! It's his day, so here are a few Father's Day gift ideas—old-school and oh-so-cool DIY kits that any dads, grandfathers, brothers, or friends you want to congratulate on Father's Day will absolutely love.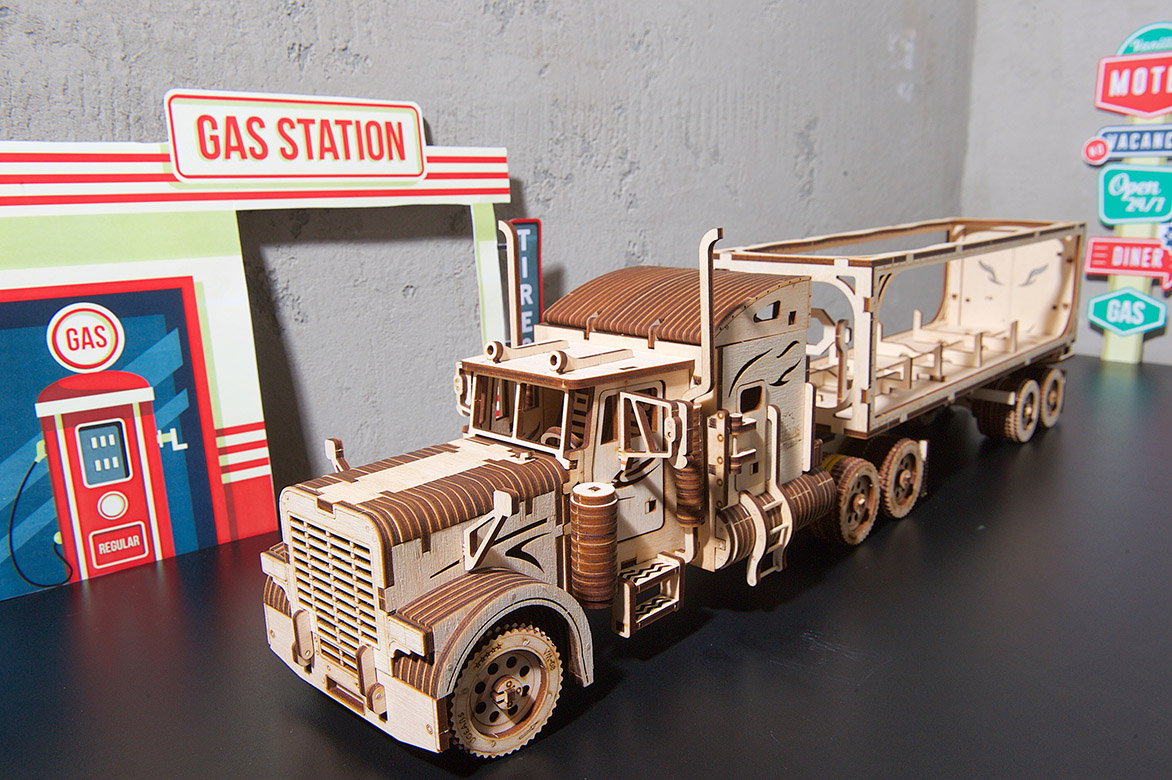 The Ugears Heavy Boy Truck VM-03 will appeal to any grown-up boy who ever imagined himself behind the wheel of a large powerful truck, cruising down the highway, alone in his thoughts, taking in the landscape. There has always been a certain romance or mystique to the long-haul trucker, the biggest guy on the road, with a powerful team of horses under the hood, eating up the miles and enjoying vast surrounding expanses.
The prototype of a modern heavy truck was invented by the American Alexander Winton in 1898. Winton produced cars in a small factory located in Cleveland, and because he needed to ship them to customers in different parts of the United States he developed the concept of a heavy truck that could transport large-scale cargoes using a trailer. But the widespread use of trailer trucks really started with the development of asphalt roads in the 1920s.
Ugears engineers have pored over the design of the Heavy Boy Truck VM-03 3D-puzzle with attention to the smallest details, including two large exhaust pipes, two sets of rear-view mirrors, a big grill, and a functioning mechanism for coupling with a trailer. Look inside the driver's cab, where you'll find a sleeping berth, a TV, gas can, and even a shovel. This self-propelled wooden truck can traverse a distance of up to five meters!
More interesting details:
✅ The Heavy Boy Truck has a six-cylinder R6 engine, driven by a rubber-band motor.
✅ The gearbox operates in three modes: forward, reverse and idle.
✅ The front wheels have shock-absorbers and steer the Heavy Boy Truck.
Of course the standout feature of the Heavy Boy Truck is that you can couple the Trailer for Heavy Boy Truck VM-03 to it. Transport small cargoes across the floor of your home—maybe a box of chocolates, flowers, fruit, or even secret notes. The trailer also serves as a stand for various household items, and the handsome natural wood design suits any interior.
The wooden mechanical model Heavy Boy Truck VM-03 consists of 541 parts. You will need about 8-9 hours for assembly. Finished product size: 12 x 5.1 x 3.9 in (30.5 x 13 x 10cm). The Trailer consists of 138 parts, and can be assembled in about two hours. Finished model size: 14 x .7 x 6.3 in (36.5 x 12 x 16cm).
Grab a strong coffee, put on your favorite music, and hit the road with the Heavy Boy Truck VM-03 and the Trailer for Heavy Boy Truck VM-03, two perfect-for-Father's Day 3D puzzles from Ugears!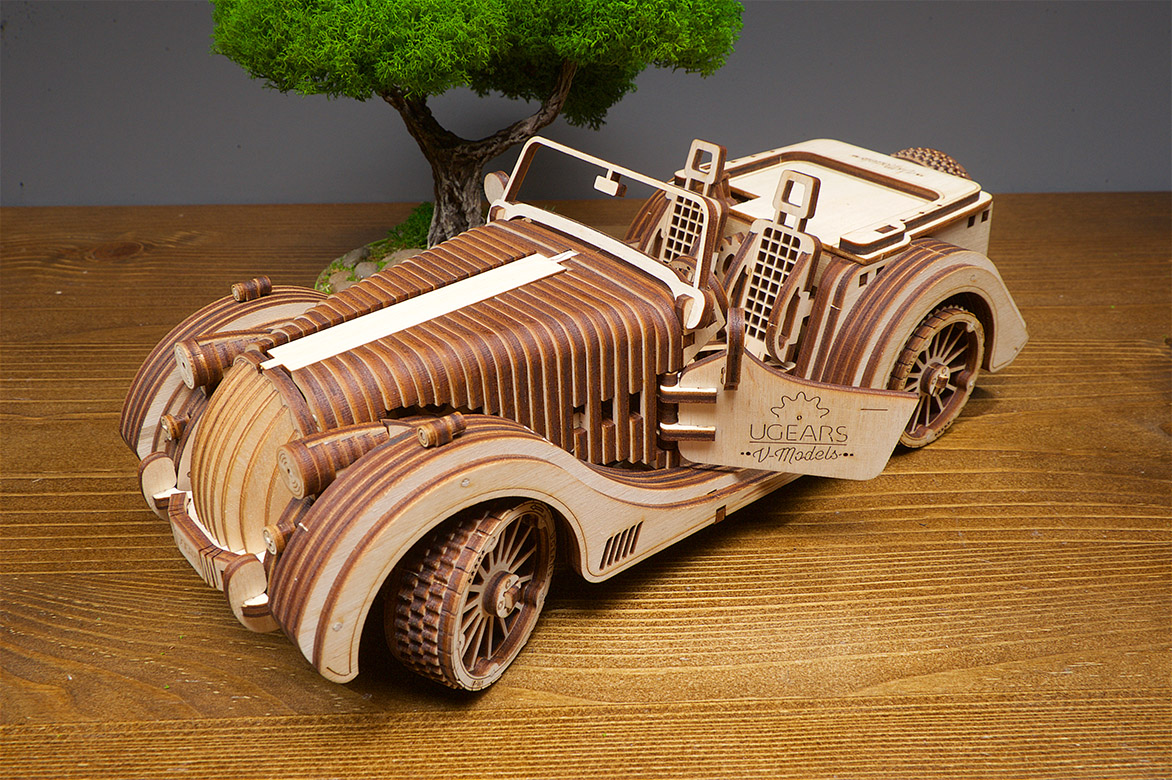 The Roadster VM-01 3D puzzle is a functional wooden model of a classic roadster, a two-door two-seat open-top sports car with no side windows.
The roadster is a legend in the automotive industry. Initially, roadsters did not have any top at all (that is how they differed from convertibles), so the driver and passengers in such a car were truly exposed to nature. Nowadays, roadsters may be equipped with either a soft top made of fabric or a retractable hardtop made of durable material.
The Roadster VM-01 3D is a terrific example of Ugears' outstanding retro design. This mechanical puzzle will impress with its elegant lines and amaze with its functionality, including moving valves in a V8 engine, and a drive distance of up to 4 meters. The Roadster brings hours of fun, not only during assembly but also after completion as you drive or display this handsome model. A great addition to any interior space, and a great Father's Day gift.
Other features of this wooden car:
✅ The rubber-band motor winds using the spare wheel at the rear of the Roadster.
✅ The accuracy and fluidity of the body lines is achieved with a combination of parts made of two thicknesses of plywood: 4mm and 2mm.
✅ Open the hood to reveal the eight-cylinder engine and watch the pistons in motion.
✅ The manual gearbox has three modes: forward, reverse and idle.
✅ Functional steering wheel allows you to change the car's direction.
✅ Shock absorbers on the front wheels make the model's movement even more realistic.
The Roadster VM-01 3D puzzle consists of 437 parts. It takes about 6-7 hours to assemble. Finished model size: 12 x 5.1 x 3.9 in (30.5 x 13 x 10cm).
An outstanding representative of the Ugears fleet of car models, the Roadster will appeal to car modeling fans and lovers of freedom, speed and retro design.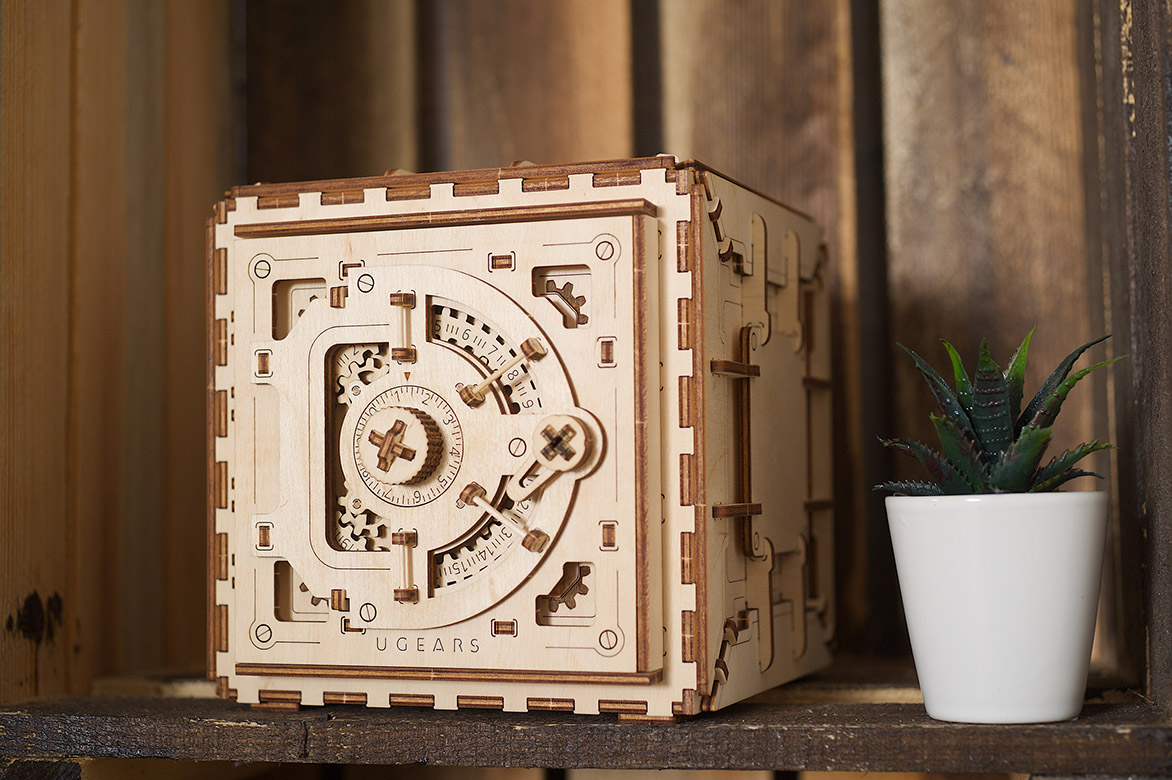 The Ugears Safe is not only a handsome lockbox in which to store your precious things, but a fun brain teaser as friends or family try to crack the three-digit combination lock. Assemble the safe, hide your cherished possessions in it, create a code and close the safe. Forgot the code? Don't worry, and put away the hammer—you can open the safe using the supplied instructions.
The first safes appeared in Great Britain in the 19th century. Heavy wardrobes were equipped with strong locks, but burglars could still open them with a crowbar or gunpowder (they would blow up the keyhole!). This prompted the invention of stronger lockboxes with mechanical rotary disc and dial locks, but resourceful criminals quickly learned to open these as well. When a dial was turned to the correct combination position, a slight click could be heard using a medical stethoscope. In an effort to stay one step ahead, the next innovation was safes with false clicks. In the 1960s burglars began using diamond core drills, and today the preferred safecracker's tool is a welding torch, creating temperatures above 3000 degrees.
The Safe 3D puzzle from Ugears will delight and entertain your family and friends. Invite visiting relatives or friends to play burglar, trying to open the Safe without knowing the combination. You can place a pleasant treat or treasure inside for anyone who cracks the code!
To open the safe, turn the knob counterclockwise to the first digit (from 1 to 9), then clockwise to the second digit, and again counterclockwise to the third digit. If the combination is correct, the safe will click at the third digit and open. To re-lock the safe, just close the door, turn the handle counterclockwise, and the lock will engage.
Like all Ugears wooden puzzles, the safe looks great in any interior space, is a fun addition to home or office, and is the perfect gift for any loved one.
The Safe 3D puzzle consists of 179 pieces, and provides 6-7 hours of fun, exciting assembly. Finished model size: 7.7 x 7.3 x 6.9 in (19.6 x 18.5 x 17.6cm).
***
Whichever exciting Ugears DIY puzzle you choose, we guarantee it will be an interesting and original gift for Father's Day. More models are here to match his hobbies or interests.
This Father's Day, move beyond the usual tie, socks or belt. Give Dad something fun he can work on and proudly display—give him an exciting model from Ugears!