Ugears keeps expanding the creative world of hobbies and opening an assembly process as an exciting game.
On July, 31 the Ukrainian model maker Ugears successfully completed the 4th Kickstarter campaign where the company presented new models: the Hurdy-Gurdy: world's first mechanical musical model, the Treasure Box, and new models from Mechanical Town Series: Robot Factory, Rail Manipulator and Tram Line.
2,954 supporters from 5 continents were making this happen.
The Kickstarter Campaign link:
https://www.kickstarter.com/projects/978262034/ugears-hurdy-gurdy-unique-mechanical-musical-model
The Kickstarter Campaign short link:
http://kck.st/2rWPdJX
Media-Kit download:
https://drive.google.com/drive/folders/0B-Xjy9vAimROMk5LVDktaHBudjA?usp=sharing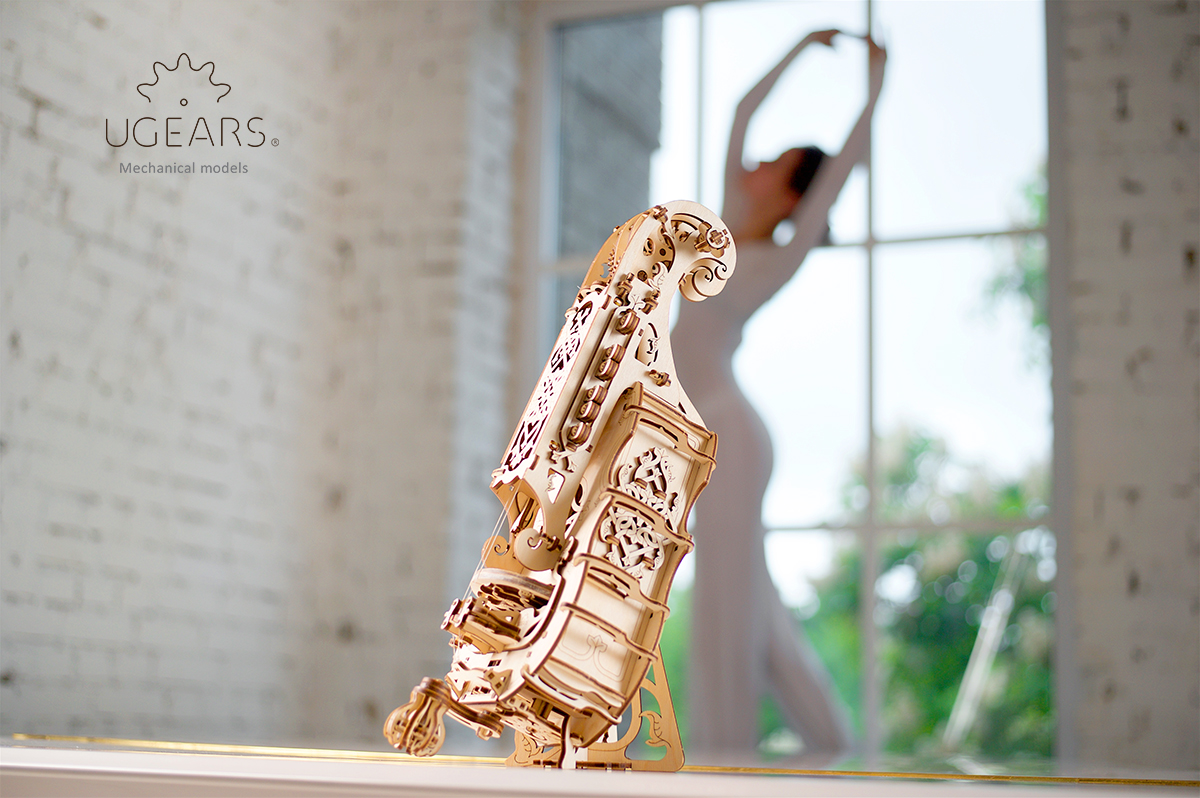 Inspired by the art of medieval craftsmen and enriched by smart engineering of the XXI century, exclusively on Kickstarter, Ugears was introducing — Hurdy-Gurdy – the genuine gem of the collection: the most extraordinary mechanical model kit which is all-in-one: model for self-assembly, toy and fully fledged musical instrument. Just build it together with your own hands and feel like Stradivari or a popular Hurdy-Gurdy star!
Based on the 15th Century organistrum, Ugears has created an intricately detailed, fully functional version of this medieval instrument. The finished model looks remarkably akin to the original 16th century hurdy gurdy, giving it a wonderfully medieval aesthetic. This wooden attractive and educational model has a highly detailed exquisite décor of the body crafted in romantic style and turns the assembly and playing process into an exciting game and brings you hours of pleasure and fun.
It's easy to play dancing melodies, from folk to modern. To start the music flowing, the player just need to crank the handle with one hand to kick off a drone sound from the bourdon and melody strings. Pushing the wooden buttons with the fingers of the other hand changes the pitch of the melody string, as "spring-loaded" wooden blocks essentially shorten the string. Ugears will include some tablature with the kit to get newbies off to a flying start.
The Ugears Hurdy-Gurdy comes with everything needed for assembly. All the pieces are precut into the plywood boards and are easily removed for assembly following the detailed instructions provided. The only non-wood parts, by necessity, are the two strings that rub against the crank powered wheel and the rosin used to wax it.
The Ugears Treasure Box, an exquisite Mechanical Puzzle Box for jewellery and notes - the Secret Model of the Hurdy-Gurdy Campaign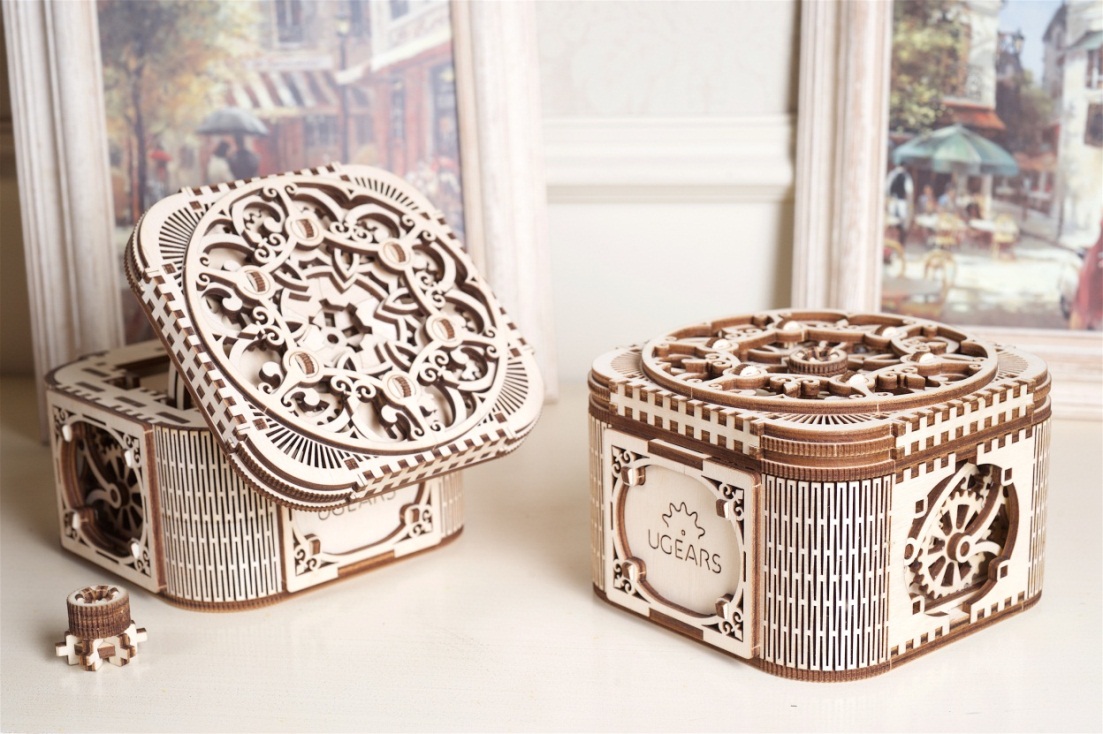 In addition to the Hurdy-Gurdy, UGEARS is offering a wide variety of additional models as part of their expanding Mechanical Town series that now includes a Tram Line Model, Rail Manipulator Model and a genuine Robot Factory Model.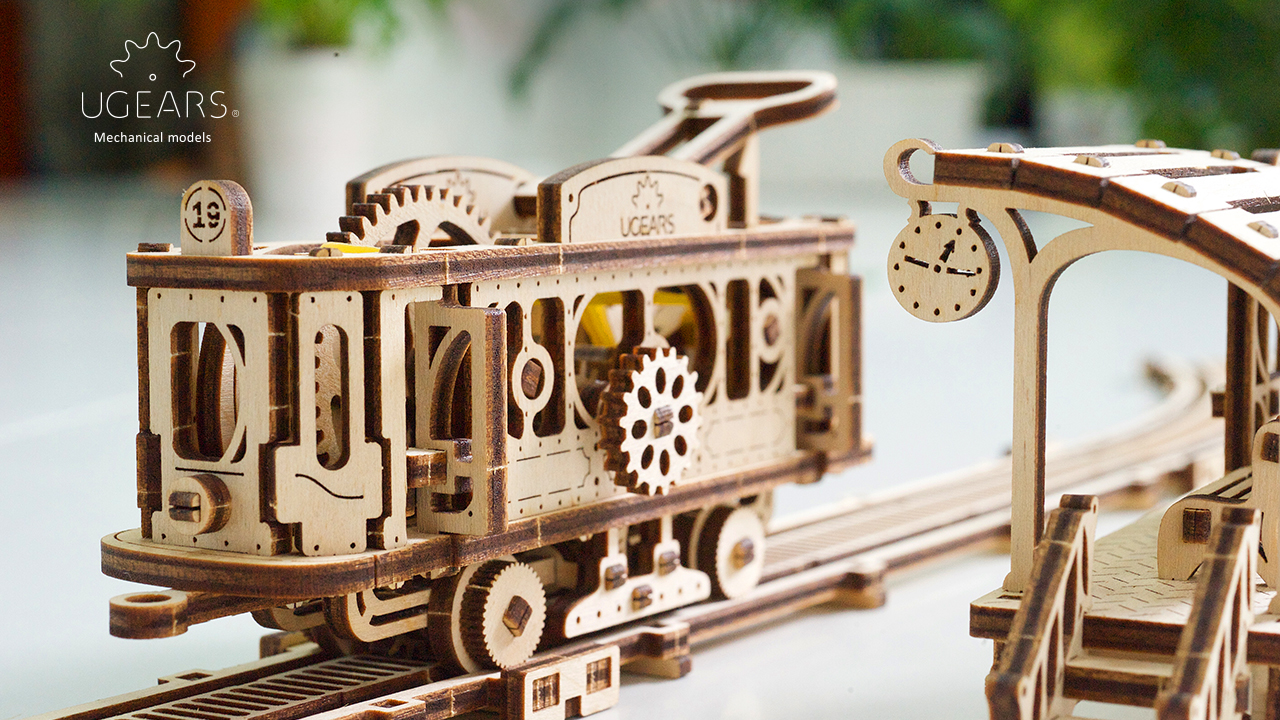 Ugears Tram Line Model of Mechanical Town Series and its self-propelled Tram Car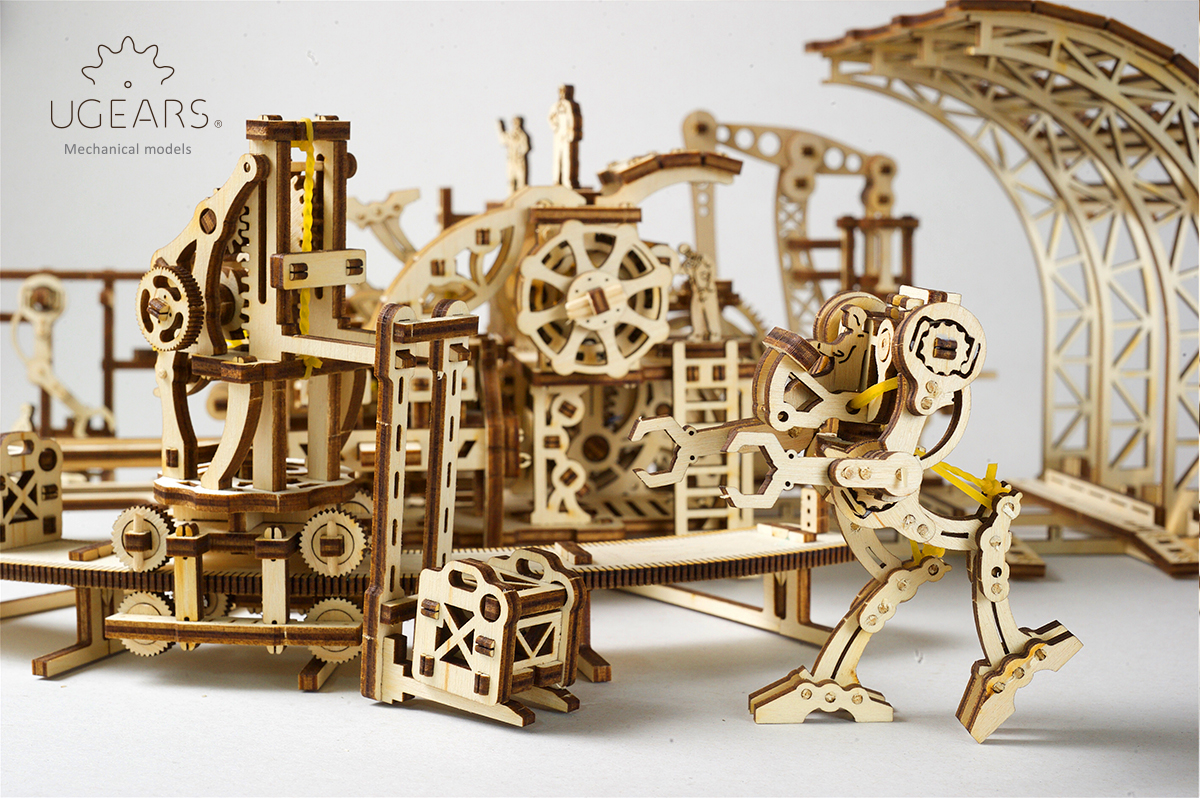 Ugears Robot Factory Model which manufactures the genuine Wooden Robots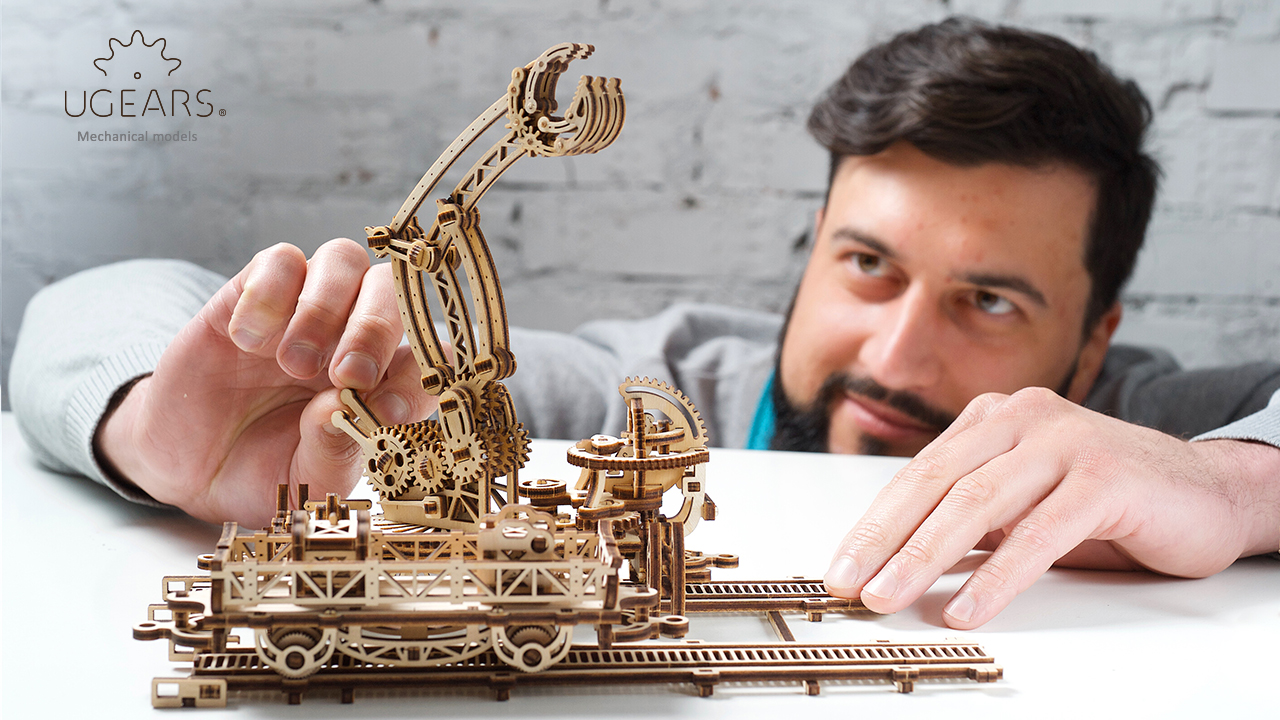 Ugears Rail Manipulator Model with its articulated claw that can load and move the freight crates in the Carriage with an extraordinary preciseness.
What is Ugears?
In 2014 Ukrainian startup UGEARS implemented the idea of modular self-propelled wooden mechanical models in which everything is real. Today the UGEARS collection includes 25 delightful and imaginative self-propelled wooden mechanical model kits. All UGEARS models are made of high grade wood and require no glue to be fully assembled into functional working models, nor do they require batteries as they are powered by rubber bands, gears, cranks, and even gravity.
UGEARS models became a smart hobby and awesome gift idea for people in 85 countries across 5 continents, and we care deeply about the great support, priceless feedback, and kind advice we have received from all of them. We are constantly growing and developing. And there are more than 200 ideas for future mechanisms that we plan to realize. 7 new models are in development and will be presented by the end of 2017.
Our models are fun for kids and grown-ups of all ages. Each UGEARS model brings a satisfying feeling of completing a handmade project, inviting you and your loved ones into the awesome and cool world of mechanics. It's absolutely fascinating when a pure mechanical marvel comes to life in your hands and you feel like a creator.
Links :
Ugears Hurdy-Gurdy Kickstarter Campaign:
https://www.kickstarter.com/projects/978262034/ugears-hurdy-gurdy-unique-mechanical-musical-model
Ugears Hurdy-Gurdy Kickstarter Campaign Media Kit:
https://drive.google.com/drive/folders/0B-Xjy9vAimROMk5LVDktaHBudjA?usp=sharing
Ugears site: https://ugearsmodels.com
Facebook: https://www.facebook.com/ukrainiangears
Twitter: https://twitter.com/UGEARS_models
Youtube: https://www.youtube.com/channel/UCkxhRc5Nd2oB9PNqaIBGhGA
Instagram: https://www.instagram.com/ugears
Feel free to contact us if you'd have any additional information, hi-resolution video and photos.
Thank you in advance
UGEARS Team
Oleksandr Kravchuk
Marketing Director of UGEARS
Email: Oleksandr.Kravchuk@ugearsmodels.com
website: ugearsmodels.com
skype: agkravchuk