Mother's Day: Original Gift Ideas from Ugears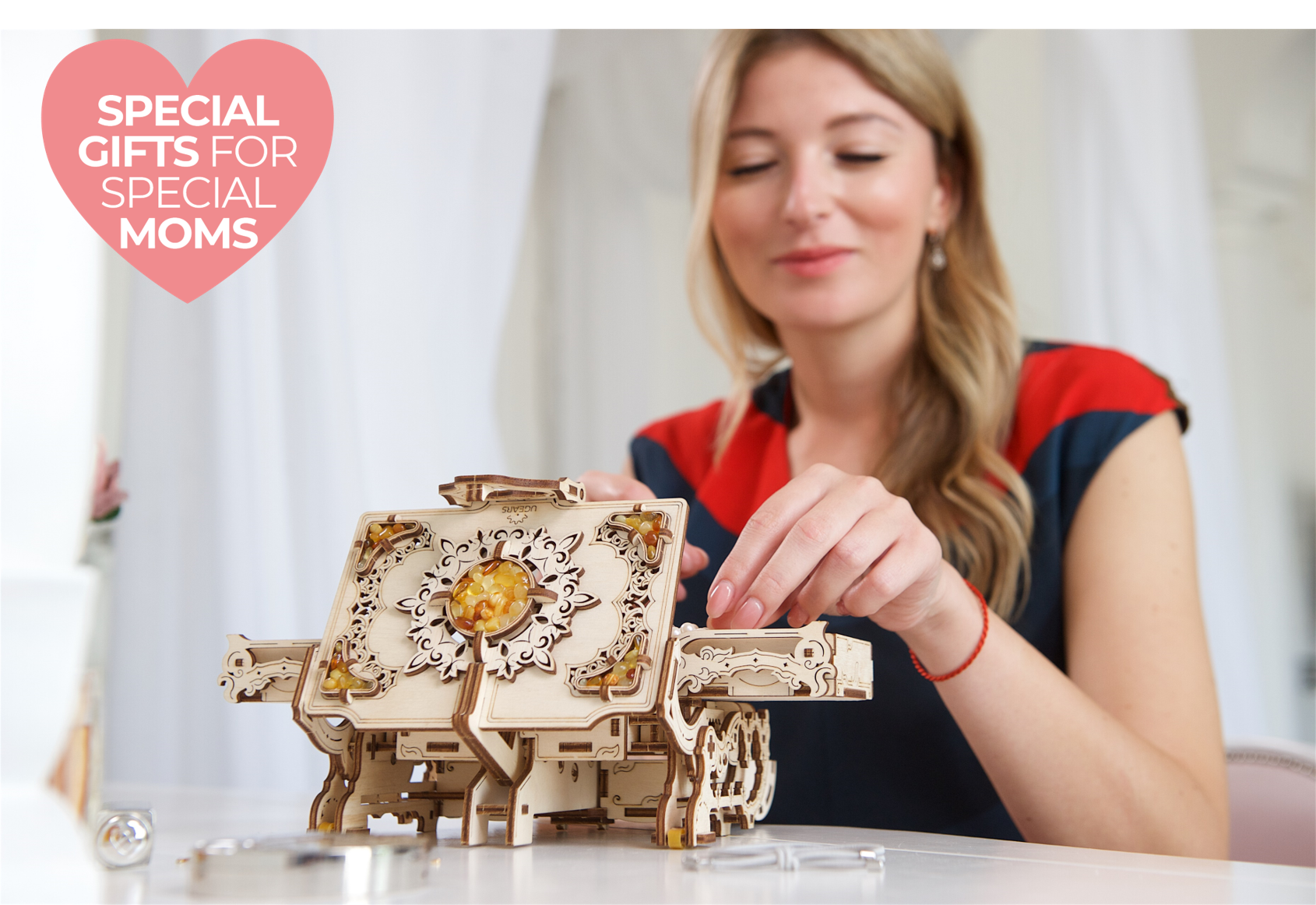 Every spring, the world celebrates one of the most touching and important holidays - Mother's Day. The holiday appeared in the United States in 1914, and other countries started to celebrate it after the First World War. Most countries of the world celebrate Mother's Day on the second Sunday of May. Some countries celebrate it on the first Sunday of May, March, or April, while the holiday falls on other months in other countries.
Our mothers are gentle, strong, touching, courageous, soft, patient, caring, and fearless. They perform daily the most difficult job in the world - taking care of us from our first days of life. On Mother's Day, we congratulate mothers, grandmothers, sisters, and friends - the women who raise children, teach them, open the world to them, and constantly give all their love, devotion, and patience. We have several special gifts in mind for these special women!
Ugears knows all about special gifts for moms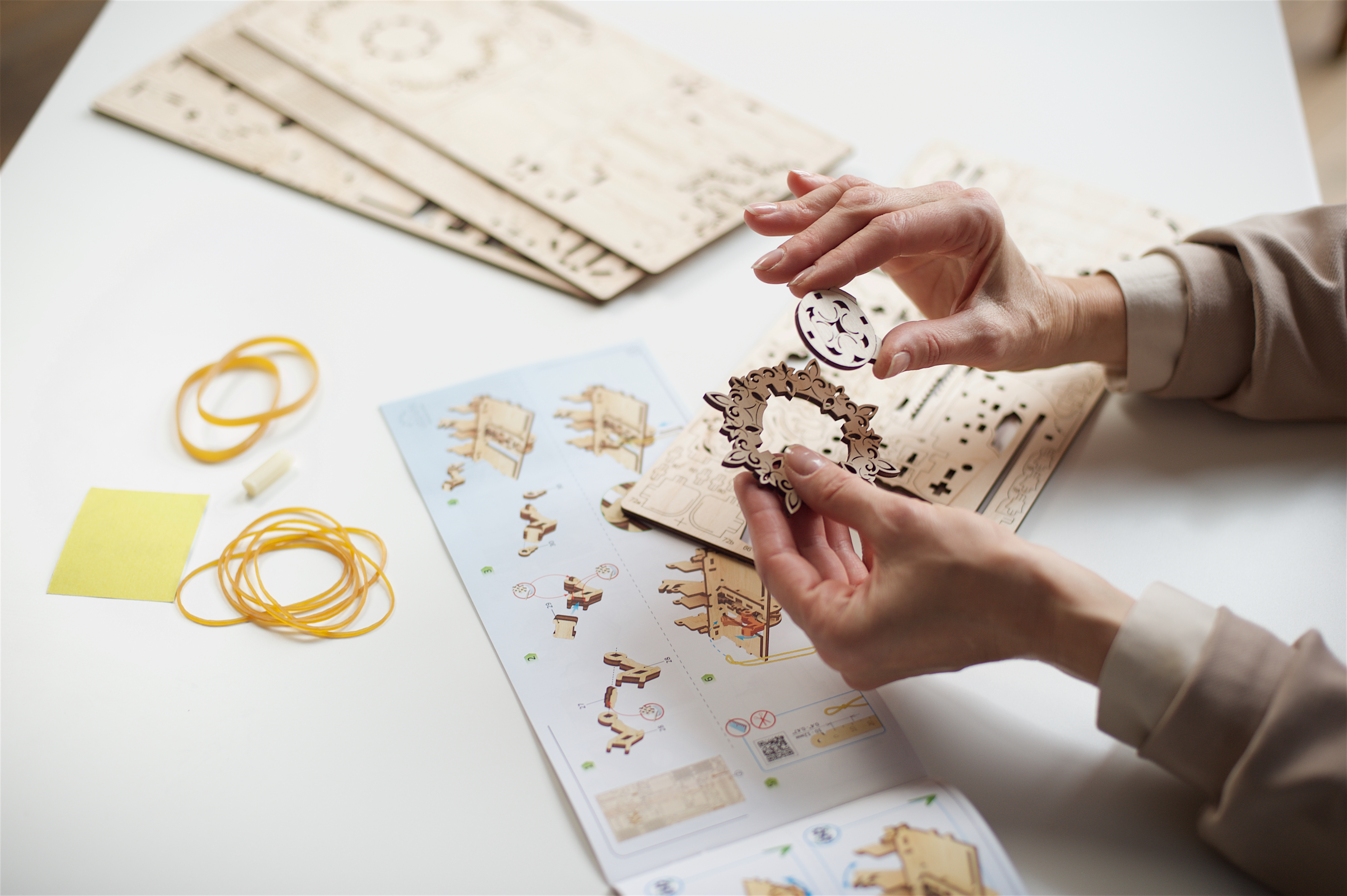 Ugears creates cool 3D wooden mechanical model kits you can assemble without glue. Our construction sets move using springs, rubber bands, gears, and gravity.
There are more than 100 wooden mechanical models for every taste in our catalog - DIY 3D puzzles, puzzle boxes, vehicles, clocks, animals, and much more. There are construction sets of different complexity - from simple models for beginners to more intricate models for real modeling pros. If your mother, grandmother, or someone else you want to surprise with a gift has never assembled mechanical construction sets before, start with a simple model they can build at one sitting. There are detailed, illustrated instructions in 11 languages ​​(English, Spanish, German, French, Italian, Russian, Ukrainian, Polish, Chinese, Korean, and Japanese) for each Ugears model, to guide the assembly.
Ugears model kits include everything you need for assembly, right in the box. All parts are laser pre-cut into plywood sheets for easy connection, and can be removed with light pressure. You will not need glue or any other tools, you simply snap the pieces together. If a part breaks, Ugears' customer care department is available 24/7 to send you spare or additional parts for free.
Moms all over the world choose Ugears
You can read many warm reviews about our models on the Ugears Fan Club page on Facebook, where modeling enthusiasts from all over the world share their experiences and discuss their successes. And to be sure, you will see examples of our models being given as gifts to mothers.
For example, our Mechanical Flower was assembled for a Mom: "Beautiful mother's day gift from the kids to their mum." A son is proud to say that he and his mother now both have Hurdy-Gurdy musical instruments: "Love it a lot! I got my mom one and she is now playing music with me." A grandmother bought the Amber Box for her granddaughter saying, "I am going to line the drawers with self stick velvet." And nothing pleases us more than the review from the mom who turned out to be a real fan of modeling and has already assembled seven construction sets! "All of my models, except the amber jewel box I gave to my daughter. I think I am addicted, love doing them. All I need now is a display case and to buy more exciting models to put together!"
TOP 10 Ugears models for mom
Here are our recommendations for gift ideas of special Mother's Day models that will make perfect gifts for the wonderful women in your lives. You can give a model kit in the box or assemble it yourself and present the finished product, impressing your mother not just with the model's unique design and mechanical features, but with the time and care you invested to create something for her with your own hands.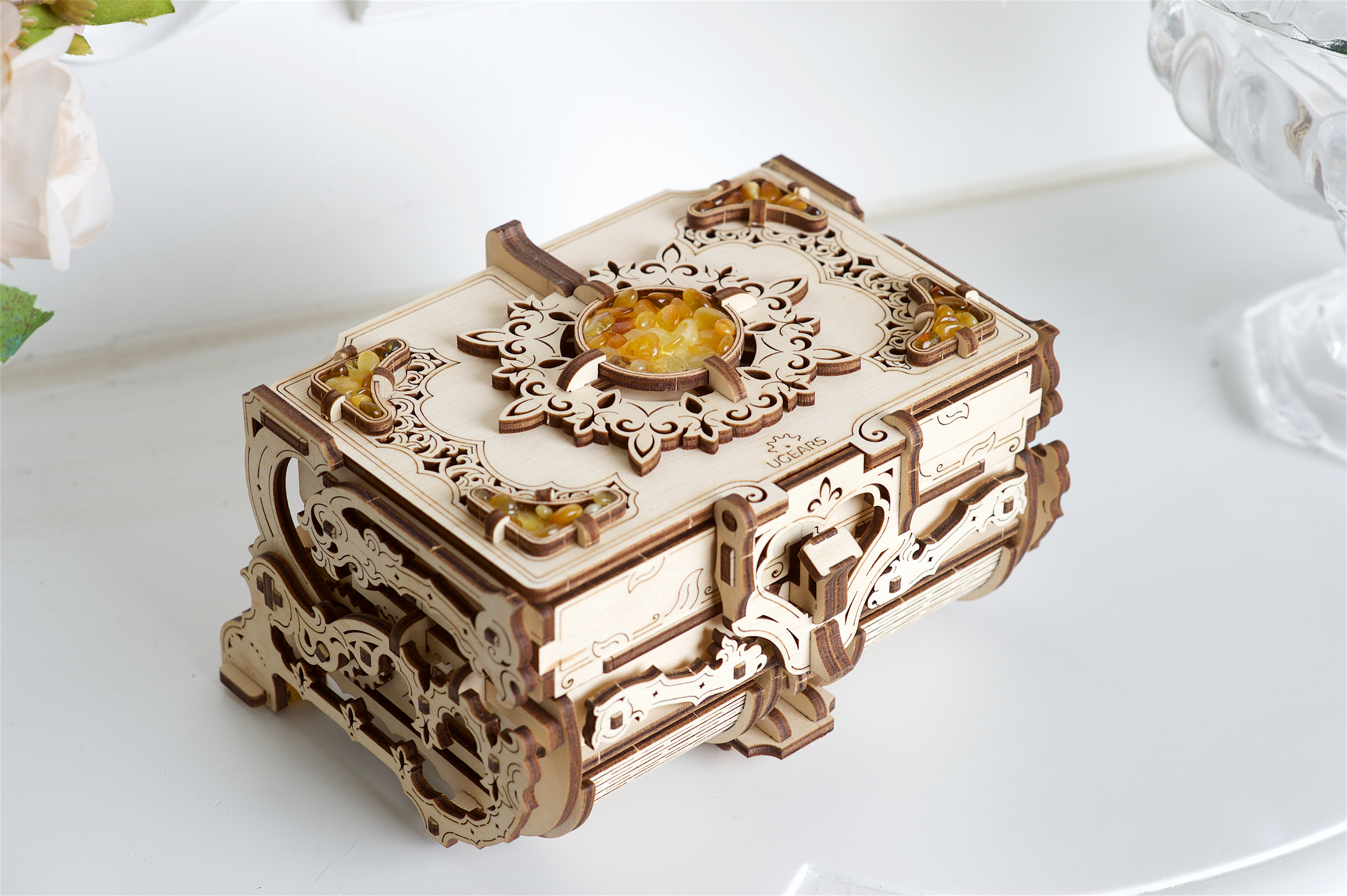 The undisputed gem of the jewelry box collection is the exquisite Amber jewelry box. It's an ingenious storage and display piece, and lovely to look at. Six main and two additional compartments are designed specifically for storing jewelry or important small items. The lid is inlaid with decorative elements made of natural amber. The lid latches in the closed position with a clip-lock, preventing the jewelry from falling out during transportation.
189 parts, difficulty level - medium, estimated assembly time - 2-3 hours.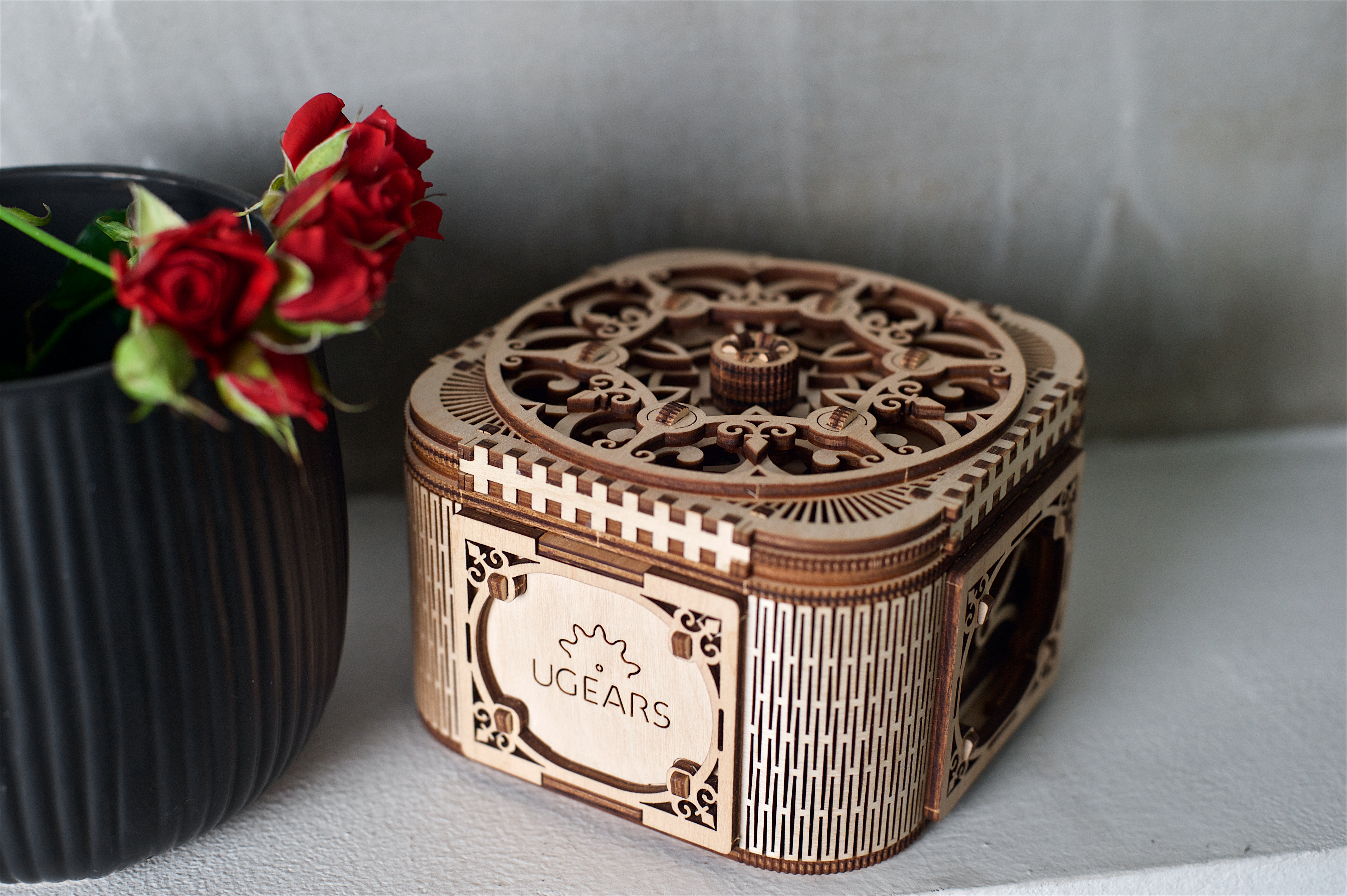 If you like a challenge, there's a puzzle box with a secret in our collection: the Treasure Box. You'll need to understand the intricate mechanism of this box to open it. Hint: Look for the key in the lid and insert it in the secret keyhole mechanism in the side panel. An interesting feature of this box is the openwork carving, an attractive design element that serves to reveal the movement of the inner parts.
190 parts, difficulty level - medium, estimated assembly time - 4-5 hours.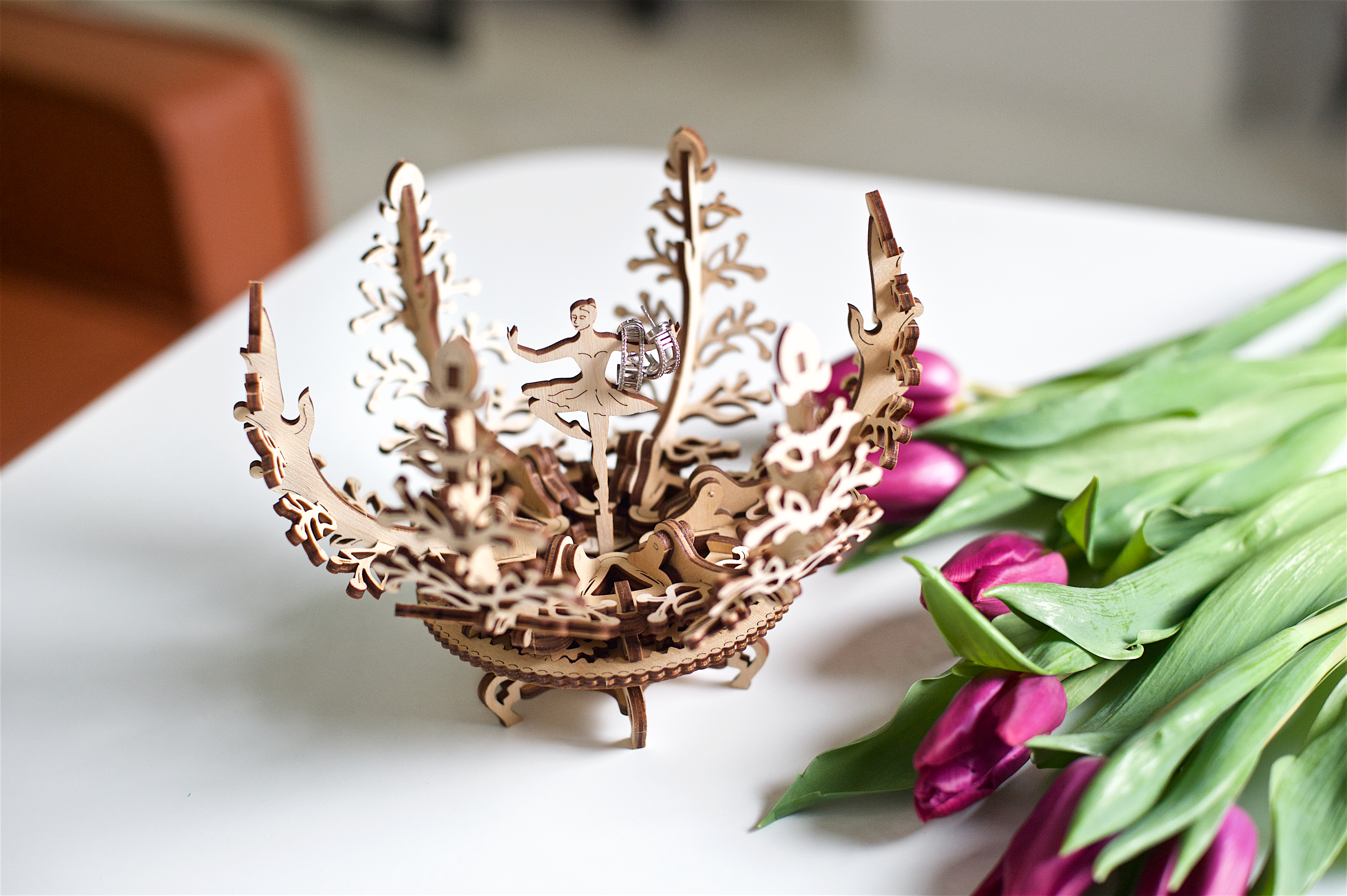 The Mechanical Flower is a lovely model in the Ugears collection. A rotating flower opens to reveal the interchangeable Ballerina or Tree of Luck display centerpieces inside. Just spin the wheel at the base of the flower and the petals will open. You can display jewelry, bracelets or other trinkets on the attractive centerpieces of this model.
101 parts, difficulty level - easy, estimated assembly time - 1-2 hours.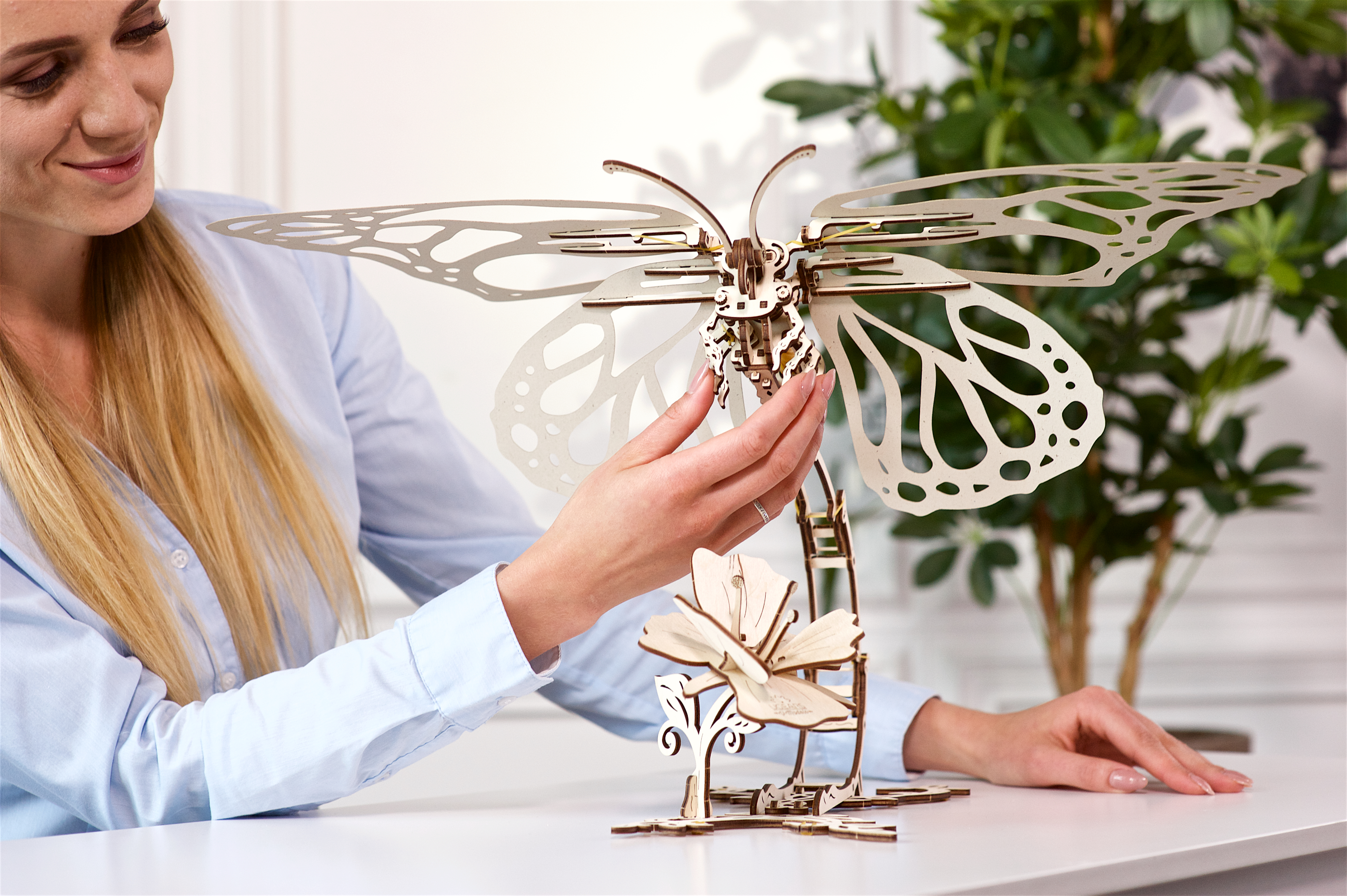 The delicate and sophisticated Butterfly is one of the most popular Ugears automatons. The model imitates the flight of a butterfly over a flower, just as the insect is about to start collecting pollen. You will find two sets of wings in the set: multi-colored and light beige, which you can select according to your taste.
161 parts, difficulty level - medium, estimated assembly time - 4 hours.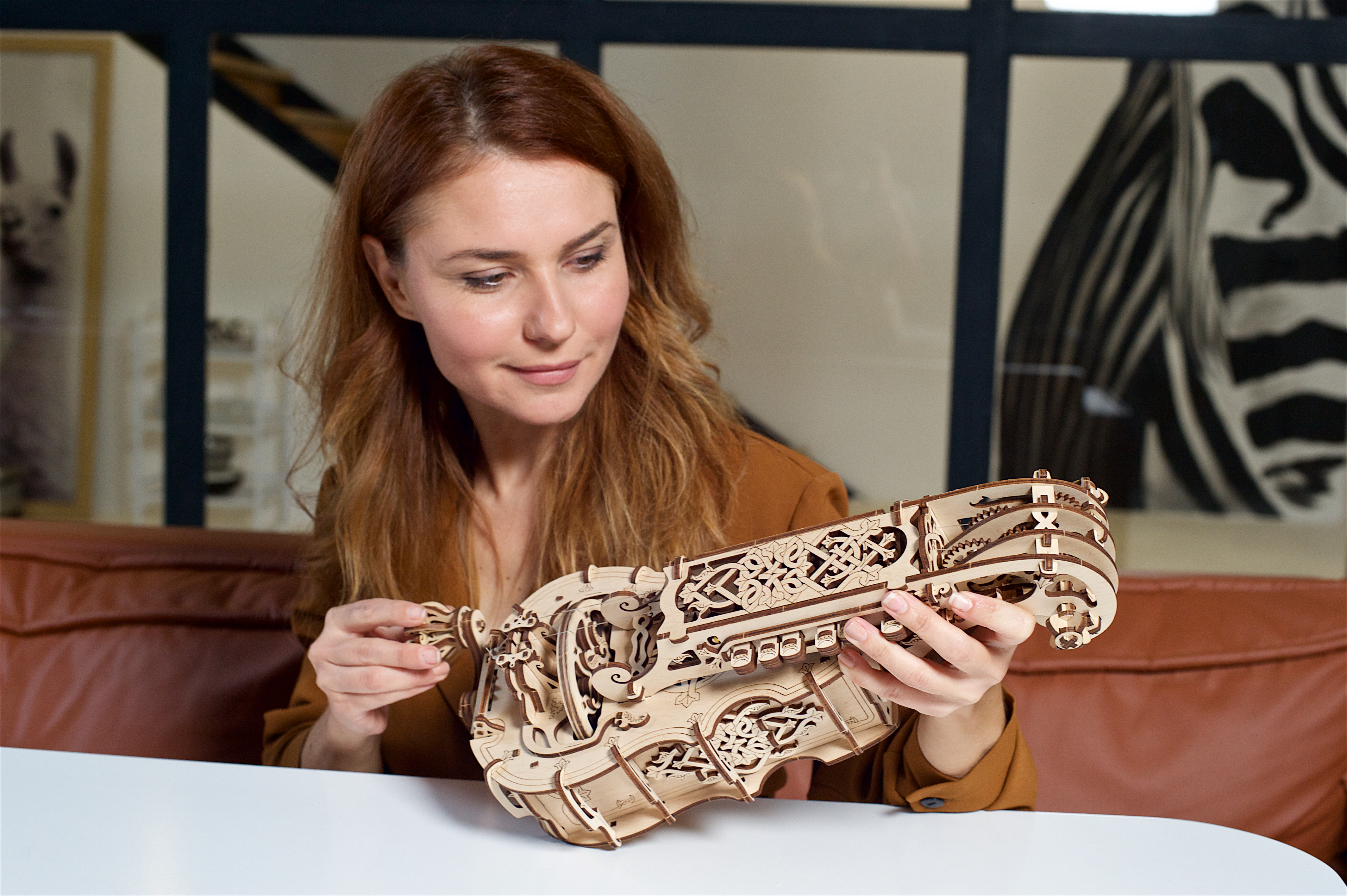 This unique 2-in-1 model is both a mechanical construction set and a full-fledged stringed musical instrument. There are only two strings and six keys, giving the instrument a sound somewhat like a bagpipe. You can play a variety of melodies on the Hurdy-Gurdy, from traditional folk to more modern tunes. We even include some sheet music!
292 parts, difficulty level - medium, estimated assembly time - 4-5 hours.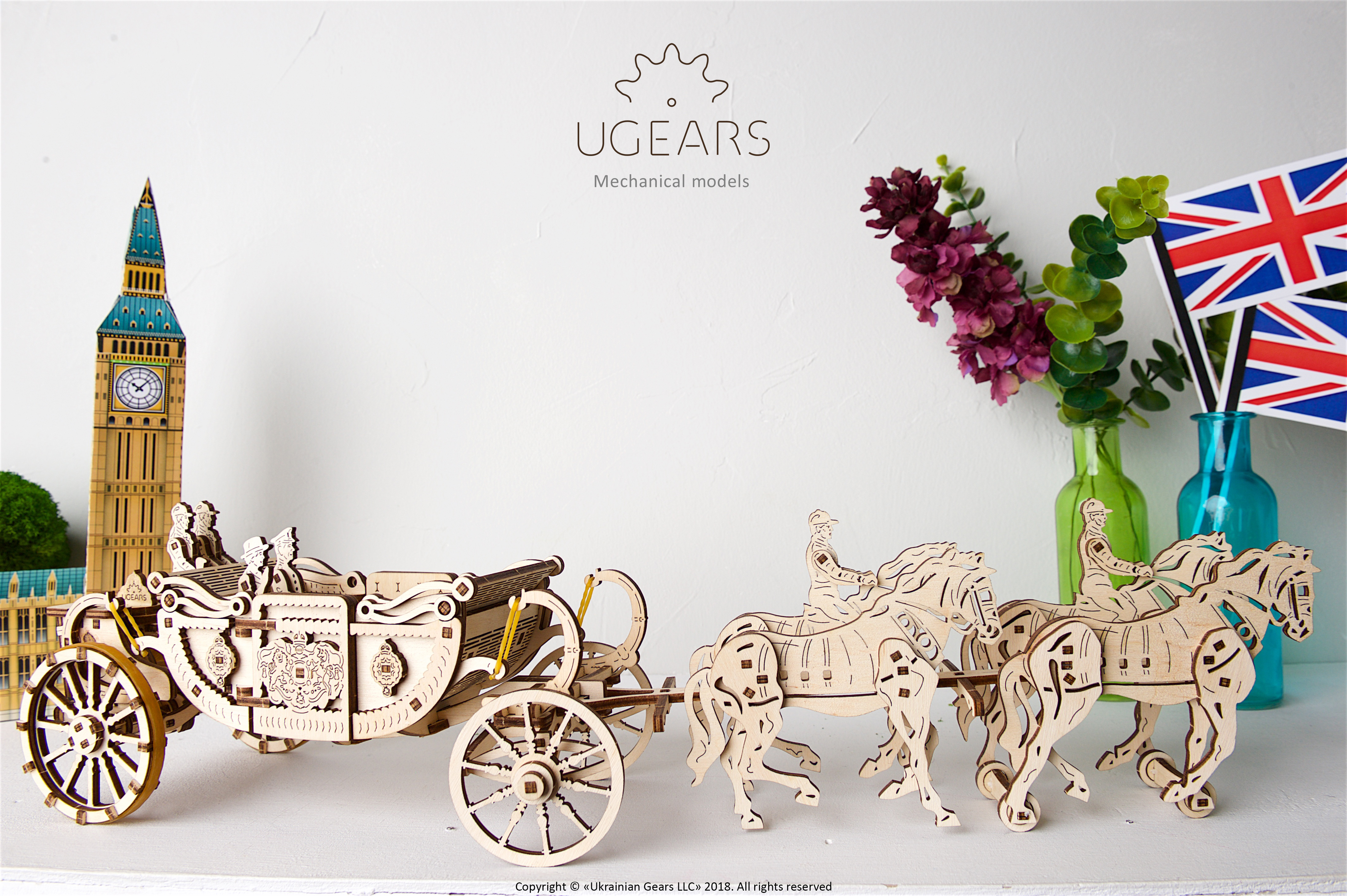 This model is designed for people who like a bit of elegance. The inspiration was the royal carriage of 1902, which was made specifically for the coronation of Edward the Seventh. The British monarchy still uses the original carriage during ceremonial events. Features of the Ugears model include an imitation of soft upholstery, liveried coachmen, a team of horses, and the royal coat of arms on the carriage door.
290 parts, difficulty level - medium, estimated assembly time - 4-5 hours.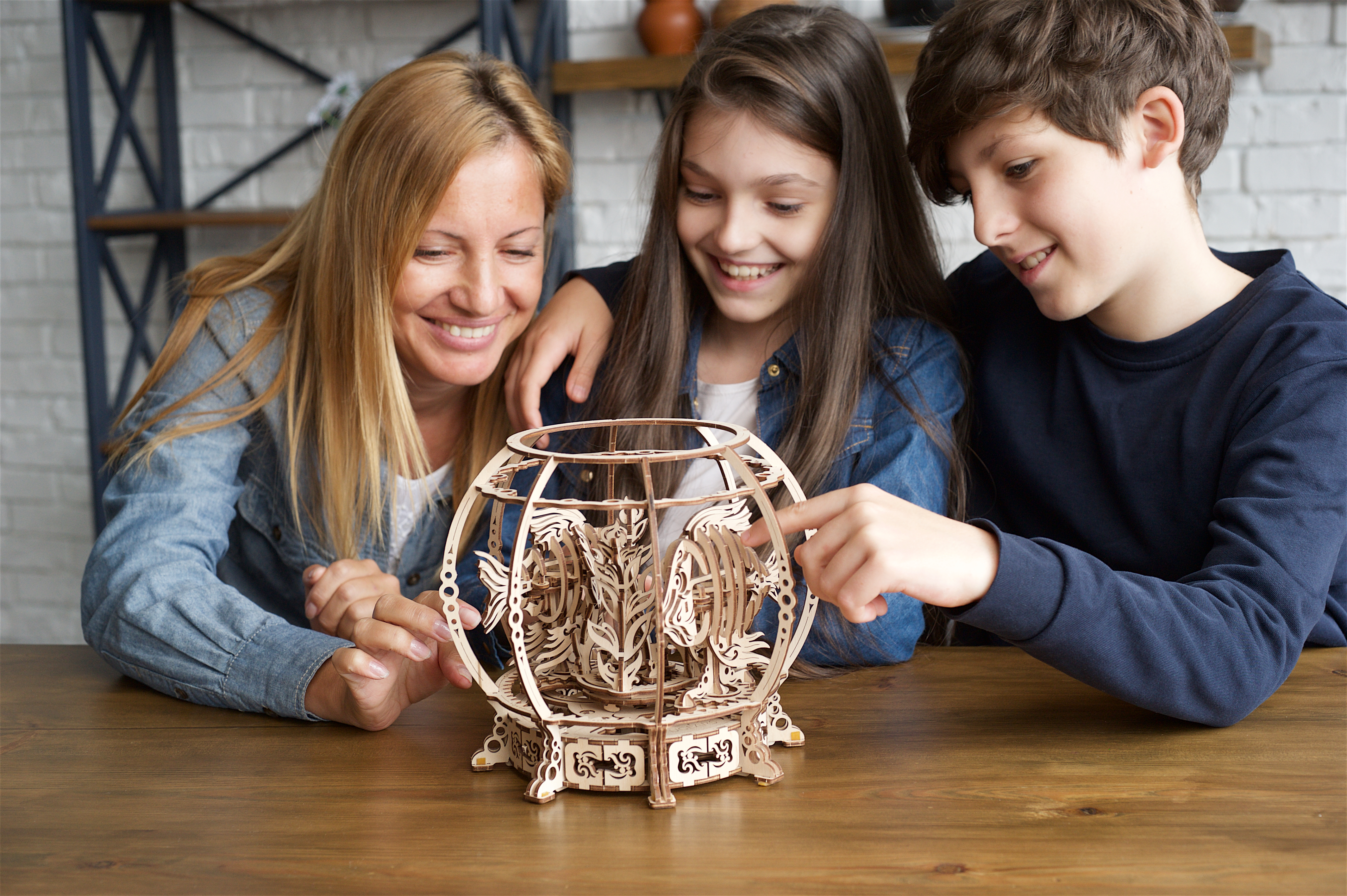 This fun fishbowl houses two tropical fish chasing each other around in circles. A small seahorse watches the dance of the fish from its hiding place inside the algae fronds. The mechanical aquarium is the first Ugears model to use a spring instead of a rubber motor, giving the model more power and longer run times. A fan favorite and the next step in the development of the Ugears brand.
325 parts, difficulty level - medium, estimated assembly time - 6 hours.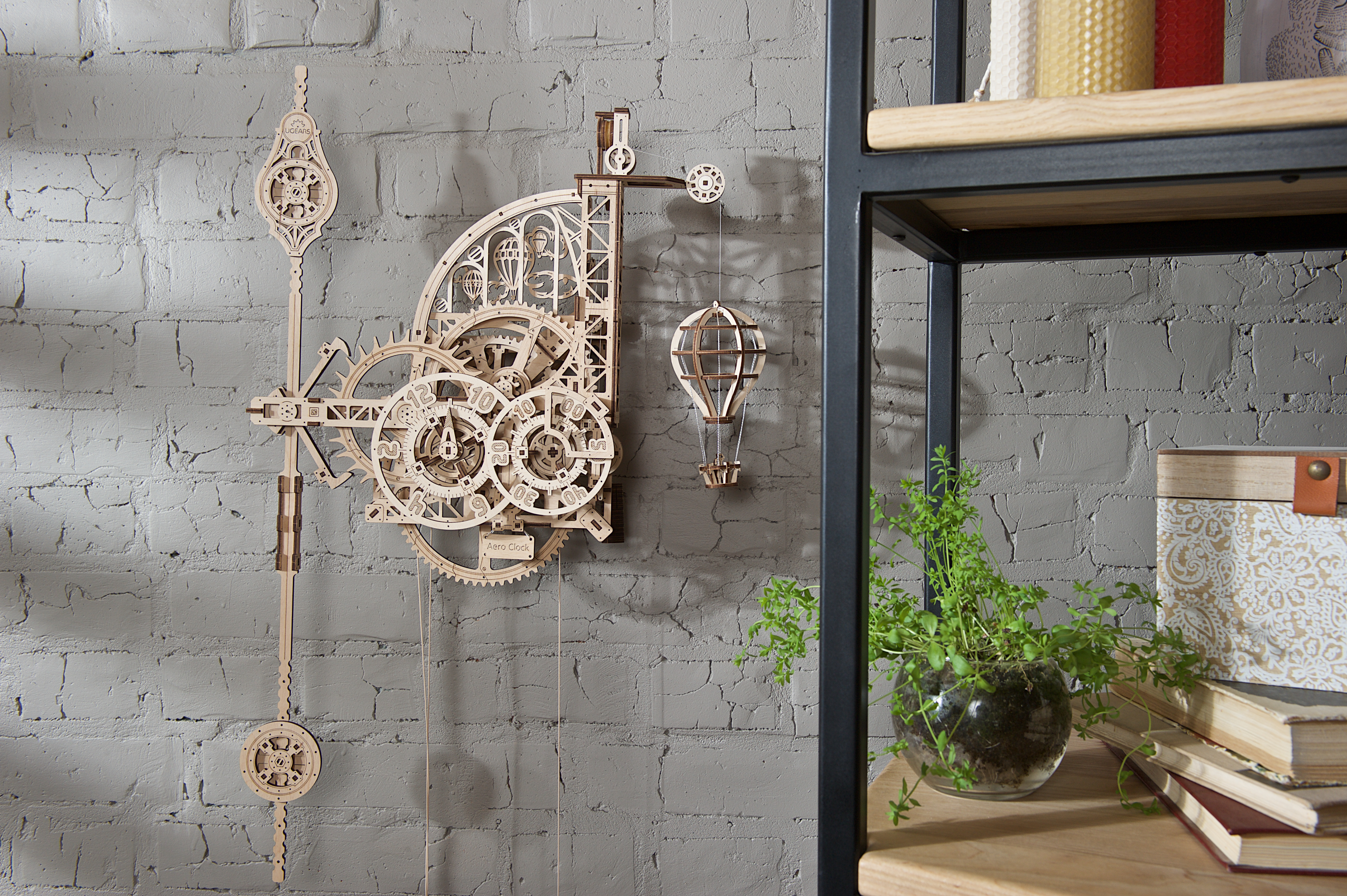 Aero Clock. A wall clock with pendulum
This amazing model is an actual working pendulum clock, designed to resemble an air base located among marshmallow clouds and bright rays of sun. The "cuckoo" in this wall clock is a balloon, which descends every hour on the hour before recommencing its upward climb. Did you ever imagine you could build your own clock?
320 parts, difficulty level - advanced, estimated assembly time - 11 hours.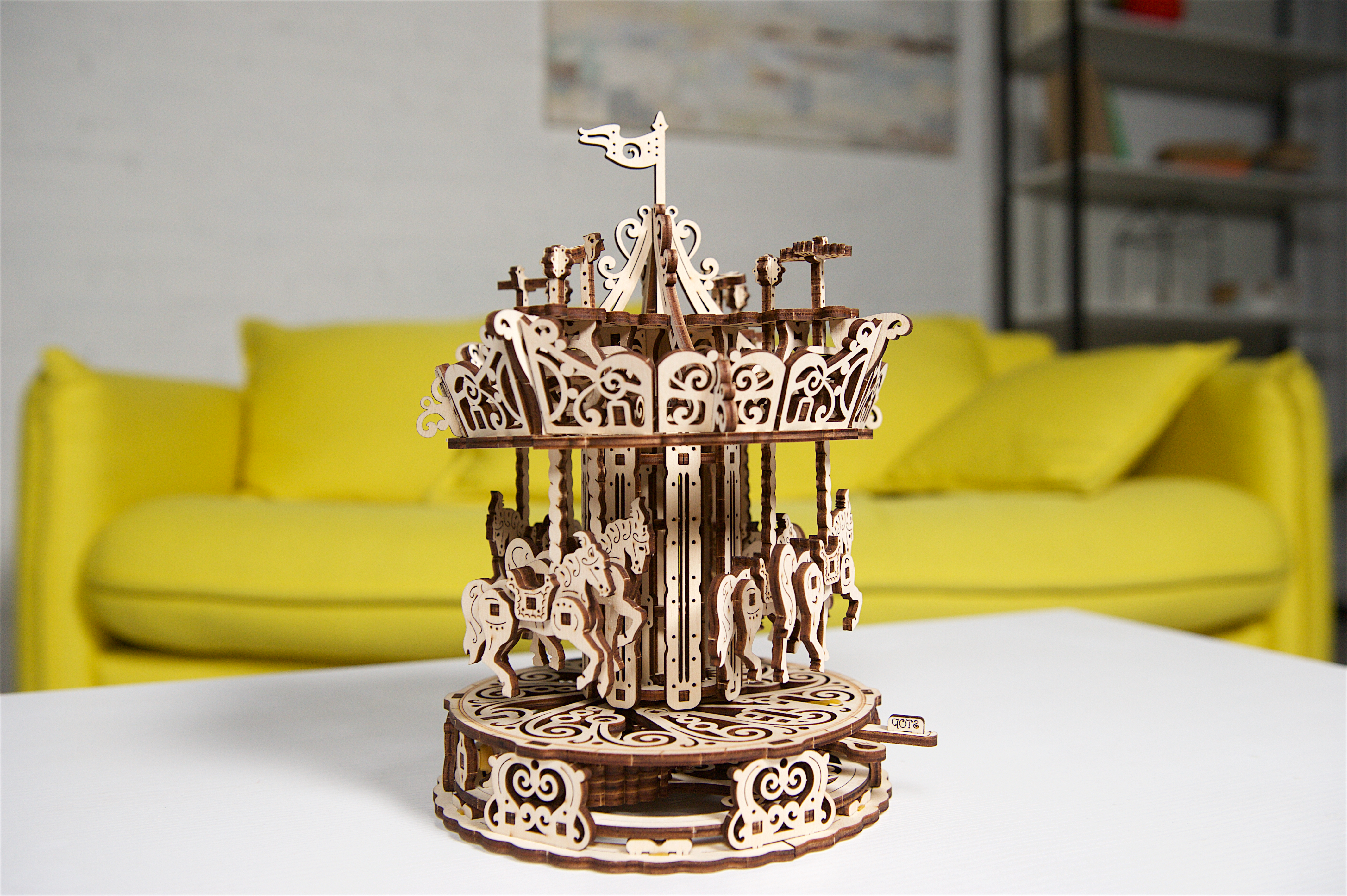 The classic carousel in miniature will remind you of happy moments with children at the fair or Christmas market - the children's laughter, cotton candy, and cheerful music. Your mom will love the circling horses that move up and down and the little birds that fly over the roof.
305 parts, difficulty level - medium, estimated assembly time - 6 hours.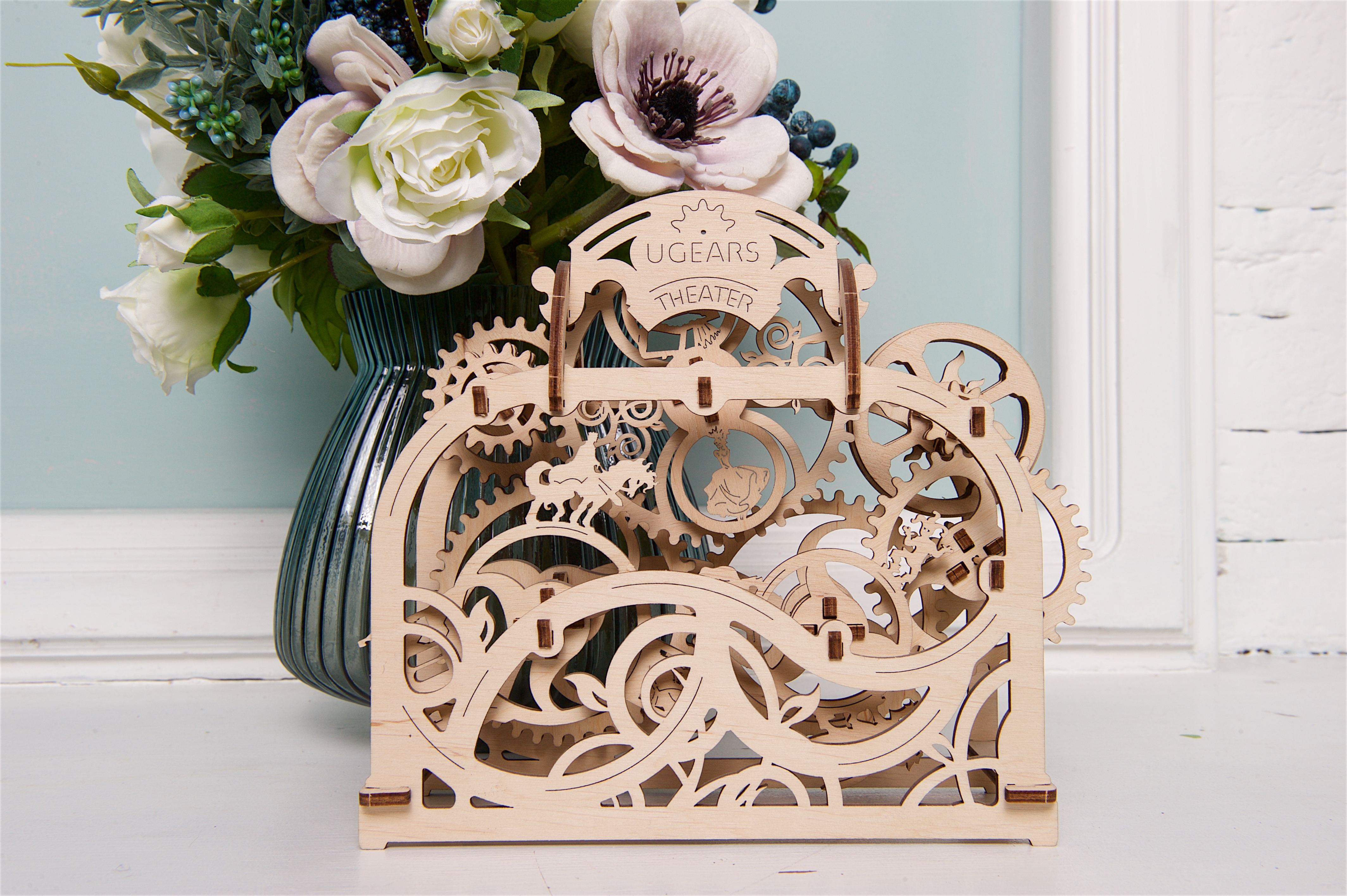 The Mechanical Theater is a circling stage on which various characters enact dramas for you to watch. There are the Prince, King, Castle, Dragon, Witch, Jester, Princess, and Treasure Chest figures. As the gears turn the heroes and villains take the stage. They need only a talented director and the audience's imagination to create a wonderful play.
70 parts, difficulty level - easy, estimated assembly time - 1-2 hours.
Support mothers and children of Ukraine by buying Ugears models
We are proud of these delightful models but we are also proud that Ugears is a Ukrainian company with a big heart. Today our country is courageously fighting Russian invaders for our independence and freedom, and we are supporting people who need our help.
Ugears has allocated 1 million euros to help Ukrainian defenders, families, children, and elderly people affected by the Russian attack. You can join too - we will donate 5 euros from each model purchased on our official international website to provide food, medicine, and other assistance.
Orders at our online store www.ugearsmodels.com are filled from our office and warehouse in Latvia, without change or delay.
The main mission of Ugears is to bring families together in a shared activity - the creation of something beautiful. We want you to spend time with your loved ones, learn new things, and get distracted from the daily hustle and bustle. Judging by the warm feedback from our customers in 85 countries around the world, we're confident your mothers, grandmothers, and other family members will enjoy our wooden model kits.
At this time, more than ever, we are reminded how important it is to show your love and concern for those around you. Don't forget to call your mom right now!