What to give your loved ones this Valentine's?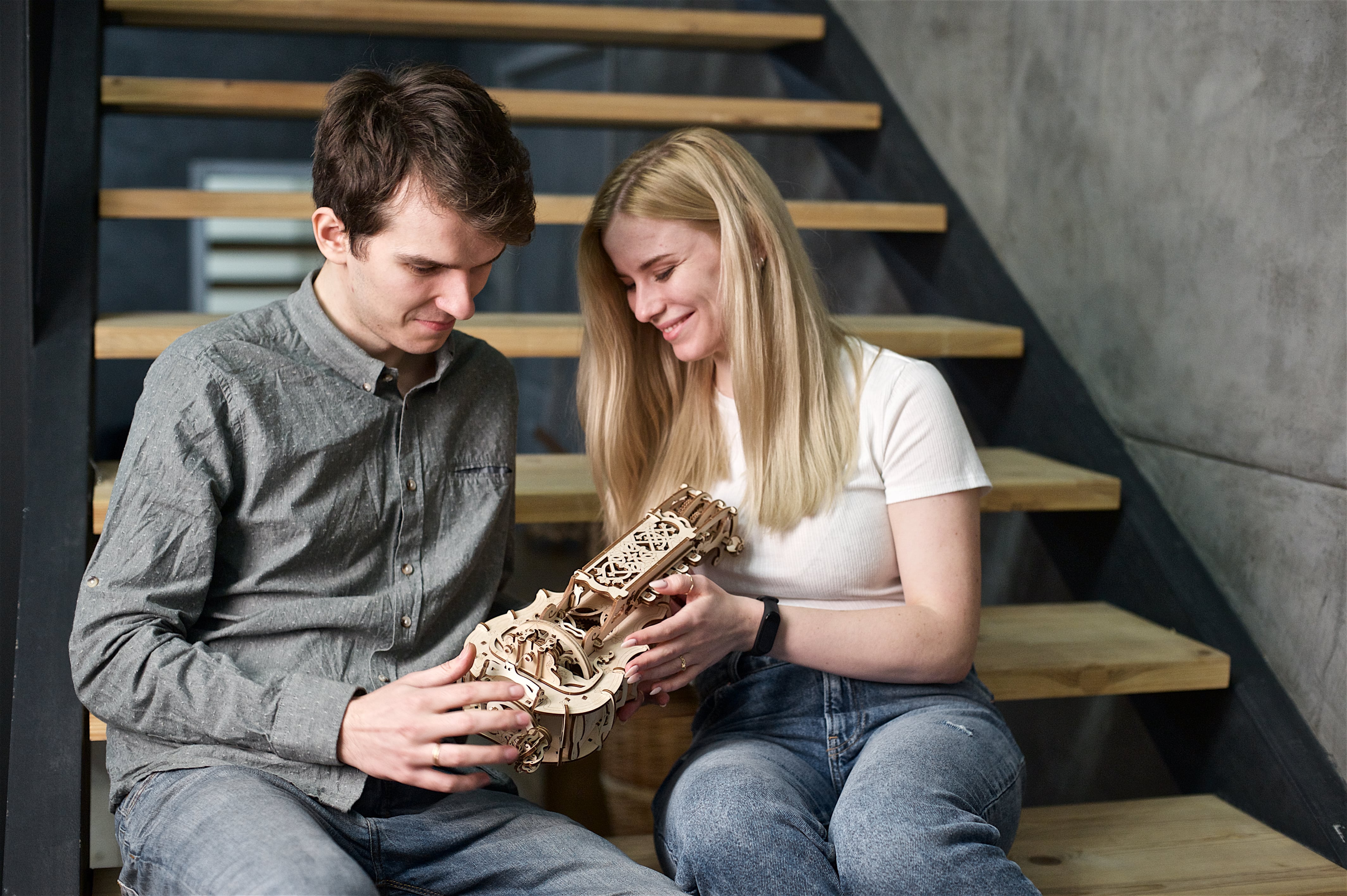 The winter season gives us our brightest and most touching holidays. Hanukkah, Christmas, and New Year's have all come to an end, but there's another special holiday ahead: Valentine's Day, celebrated on February 14th. People all over the world are thinking about (or struggling over) what to give their soulmates. We have prepared this Ugears holiday gift guide for those looking for a special and romantic gift.
Valentine's Day gifts around the world
According to legend, Valentine was a 3rd Century Roman priest who secretly married lovers. The reigning emperor Claudius forbade soldiers from marrying (on the theory that having a family would prevent soldiers from fighting for the empire). Valentine was arrested and supposedly executed on February 14. It has become customary to remember the romantic priest by declaring love and giving gifts to people dear to our hearts on this day. Valentine's Day cards are often exchanged, sometimes in the shape of a heart.
In Italy, the homeland of St. Valentine, it is customary to give sweets on this day. Sweets are also a popular Valentine's Day gift in England, USA, and Japan. In France people prefer to give jewelry; in Wales hand-carved wooden spoons; in Denmark it's flowers (live or dried), as well as poetry and romantic prose. In Holland women can make a marriage proposal to their chosen one on this special day, and if refused, they receive a silk dress.
Here in Ukraine, Valentine's Day is also celebrated quite widely, with school children giving each other cute valentines and even declarations of affection. Lovers give jewelry, gift certificates, sweets, stuffed animals, and much more.
Valentine's Day gift ideas by Ugears
At Ugears we believe the best gifts are the ones you make yourself. Ideally, a present should also be beautiful, interesting, and even educational (what's more romantic than learning and growing together?). There are more than 100 wooden mechanical 3D construction sets in the Ugears catalog. There you will find gifts for every taste and for people of all different ages and interests—from simple models for beginners to more intricate models for modeling hobbyists.
All Ugears models are assembled without glue. But the standout feature of Ugears models is they move without batteries or electricity. Our models are powered by rubber band motors or springs (depending on the model) and gravity, with the energy transmitted through gears. Ugears are known throughout the world for clever, distinctive design, with steampunk sensibility, a touch of whimsy, and that "wow!" factor.
The Ugears catalog has a wonderful collection of jewelry cases and puzzle boxes. These make a great gift idea whether presented as an entertaining construction set, or as a ready-made treasure box with jewelry or pleasant little things inside (a love note, movie or concert ticket, sweets).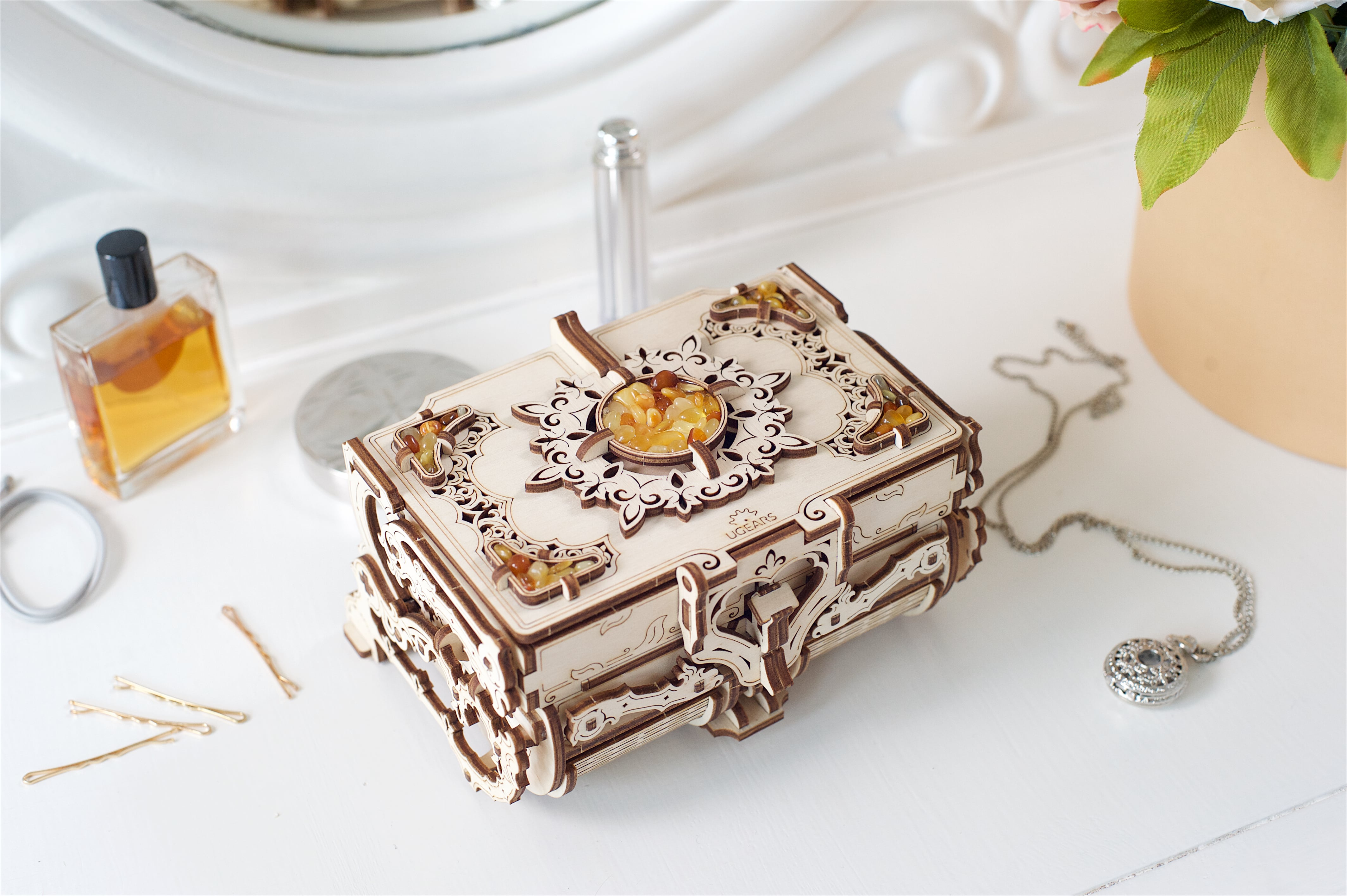 The gem of this collection is the Amber box, with its decorative lid encrusted with real pieces of natural amber. Store your favorite little things in the six main compartments and two additional pop-up boxes. There's a clever mechanism inside the chest which allows the Amber Box to open like a flower. Lift the lid and you have immediate access to six display compartments, with two additional boxes that open when a secret button is pressed (for those extra special items). The lid features a clip-lock latch so you don't have to worry about the contents spilling when you move the Amber Box.
The Amber Box consists of 189 parts and can be assembled in 2-3 hours on average. Difficulty: medium.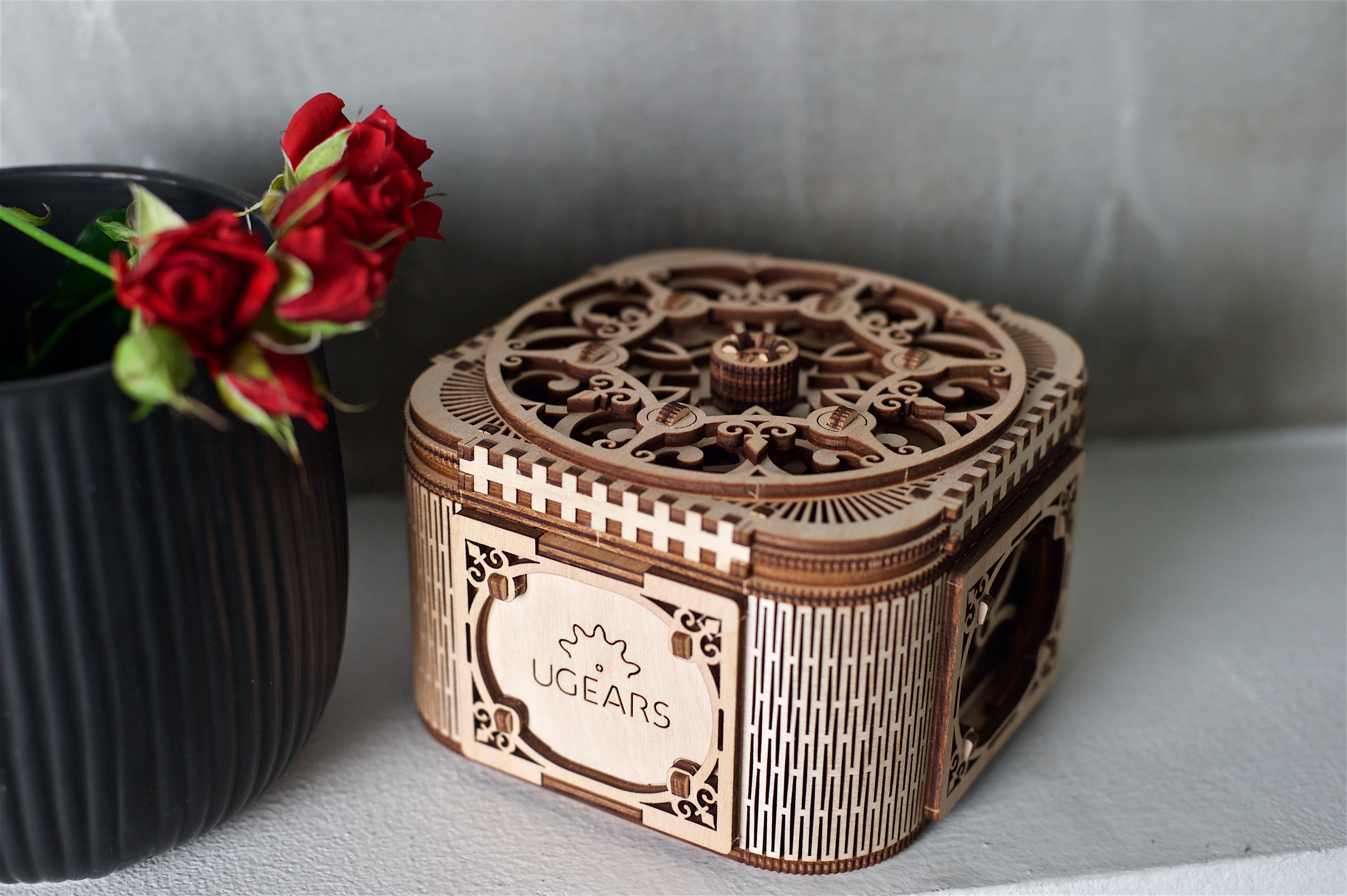 If you want a more intricate, secretive mechanism, choose the Treasure Box. Openwork carving allows you to observe the rotation of the gears and the movement of parts on the side panels of this 3D puzzle. But how does it open—what's the secret? The Treasure Box opens with a special key built into the lid of the box. You first need to unlock the key, then use it to start the mechanism by turning it counterclockwise in the keyhole hidden in the decorative carving.
The Treasure Box consists of 190 parts and can be assembled in 4-5 hours. Difficulty: medium.
For those who appreciate elegance:
Ugears DIY model sets are designed for those who appreciate beauty, aesthetics, sophistication, and grace. When our engineers and designers develop new models, they often look to nature or to iconic works of human ingenuity.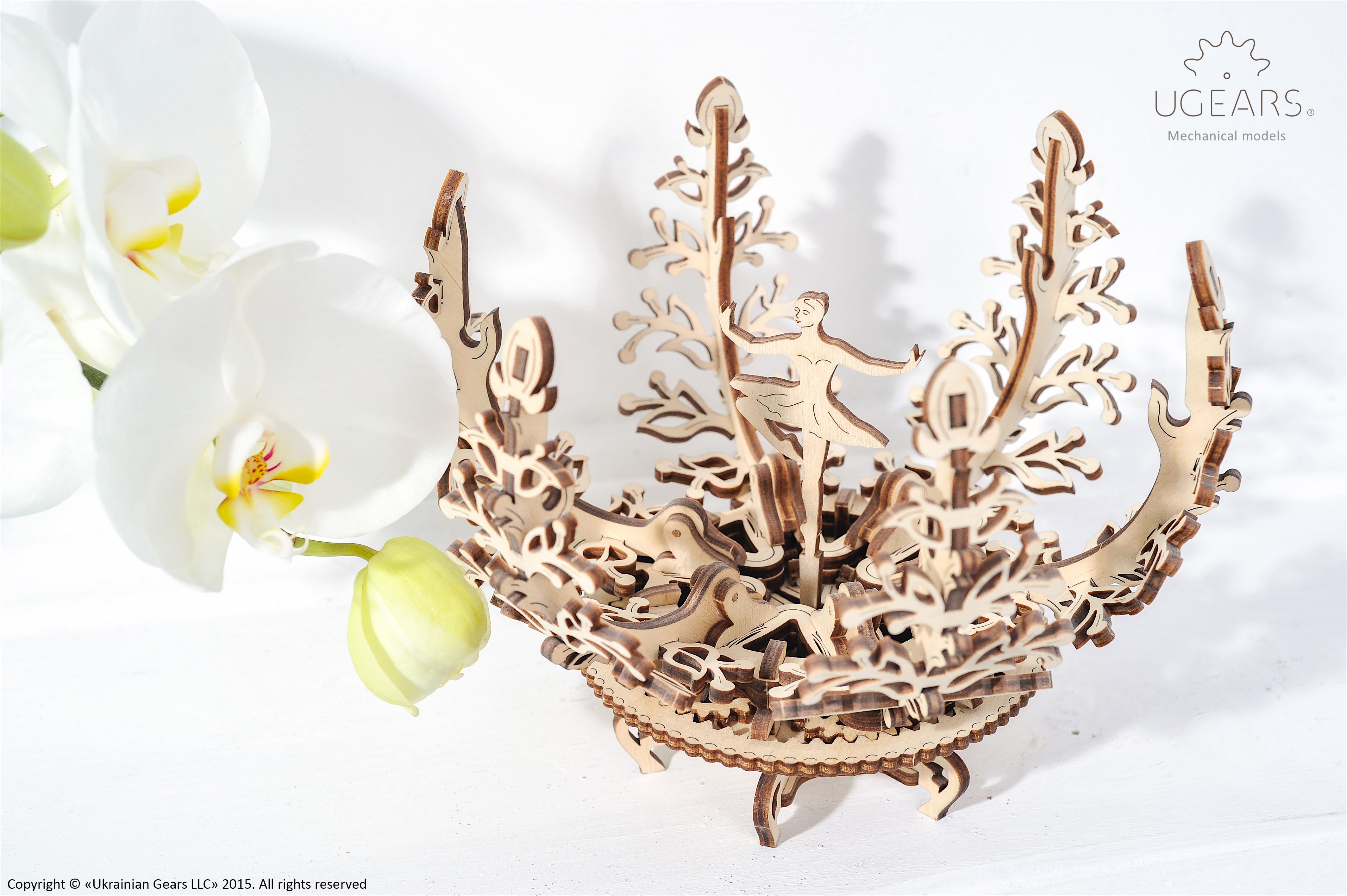 The Mechanical Flower is one of our most popular models. This easy-to-build DIY project has a simple decorative floral design with a graceful dancing Ballerina inside. The Ballerina can be interchanged with the Tree of Happiness in this 3D puzzle, and both can be used to store and display rings, bracelets and other important little trinkets. Just spin the wheel at the base of the flower and the petals will open and close.
The Mechanical Flower consists of 101 parts and takes only 1-2 hours to assemble. Difficulty: easy.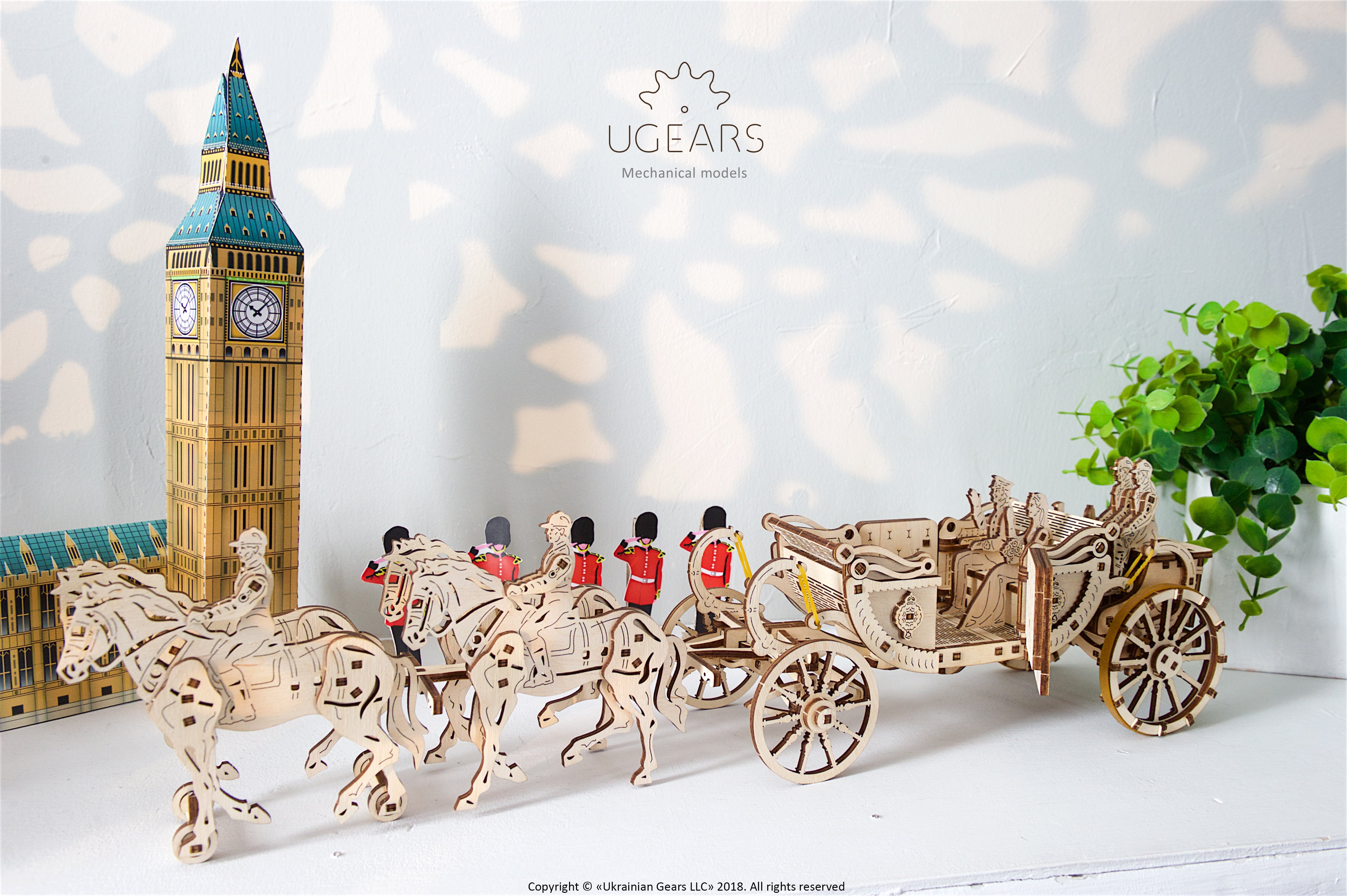 One of the most elegant models in the Ugears catalog is the Royal Carriage. Our designers were inspired by the royal carriage of 1902 that was built for the coronation of Edward VII. To this day, the British royal family still uses this carriage for ceremonial events. Our model features an attractive interior that simulates soft upholstery, royal passengers, liveried coachmen, a team of horses, and a royal coat of arms on the door of the carriage.
The Royal Carriage consists of 290 parts. Estimated assembly time is 4-5 hours. Difficulty: medium.
Ugears knows how to surprise and please both beginners and professional musicians. Could you ever imagine building a real musical instrument with your own hands, and learning how to play it?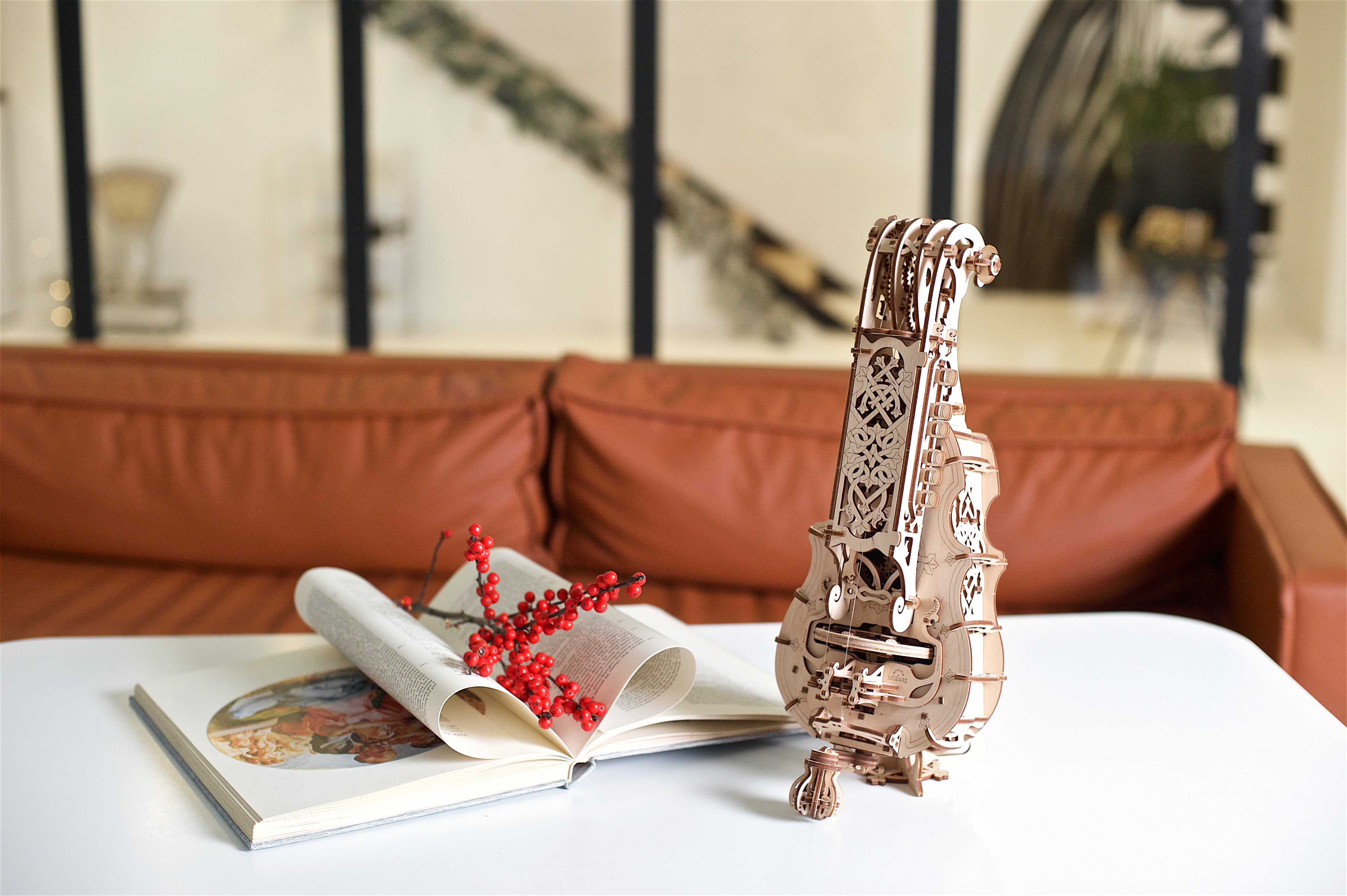 The unique Hurdy-Gurdy model is both a mechanical DIY model and a full-fledged stringed musical instrument, similar in sound to a bagpipe. The Hurdy-Gurdy has only two strings and six keys, but you will learn how to play a variety of melodies on this renaissance instrument—from folk to modern rock. It even comes with sheet music!
The Hurdy-Gurdy consists of 292 parts, with an estimated assembly time of 4-5 hours. Difficulty: medium.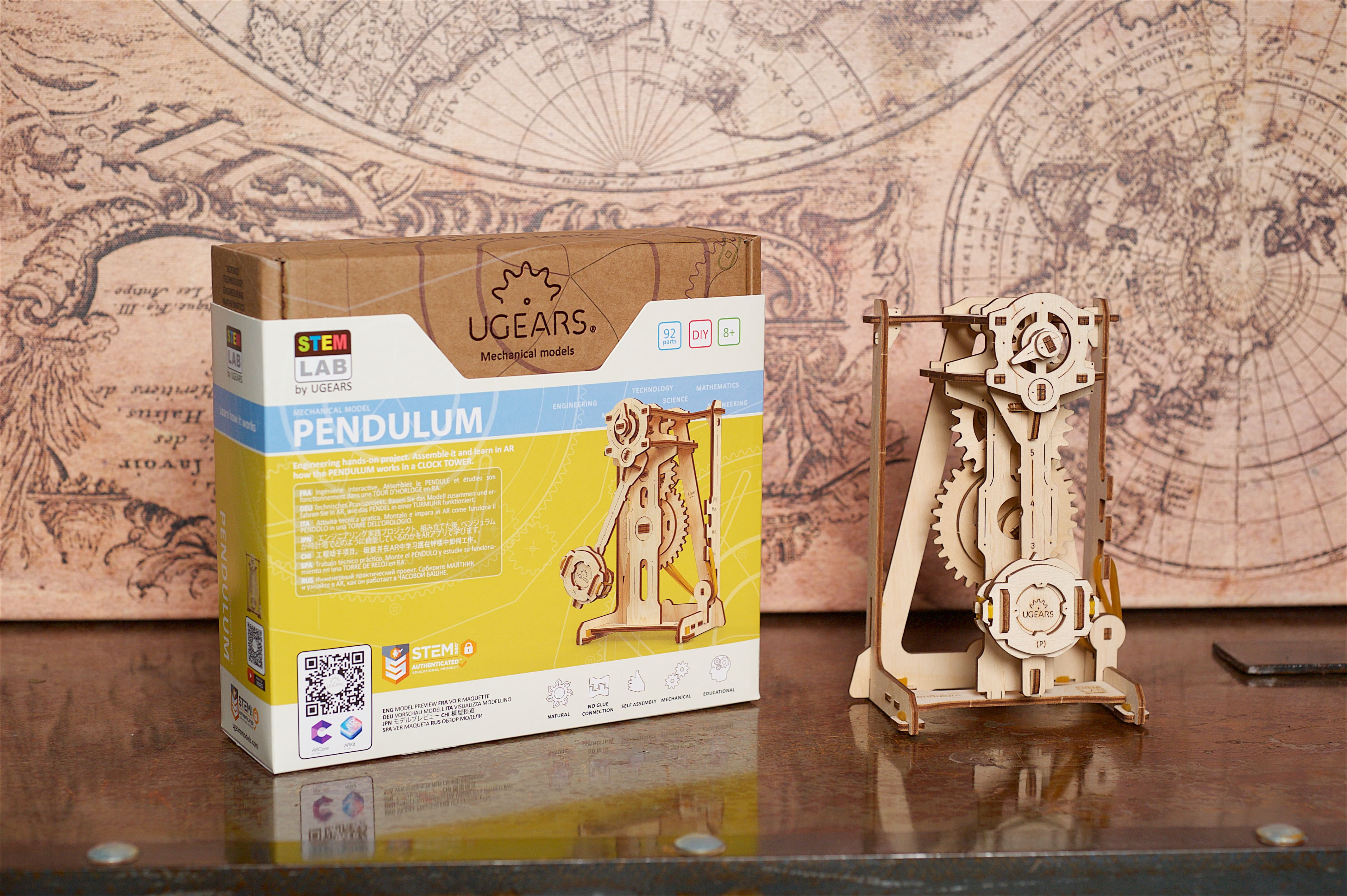 The Pendulum will come in handy for young musicians who are just learning to play instruments. This mechanism is commonly used in clocks, but is also used in metronomes, to keep track of tempo and rhythm. The Pendulum wooden model is from our special educational collection, the Ugears STEM Lab Series, which teaches learners of all ages about well-known mechanisms and how they work, in the best way possible: by letting you build them with your own hands.
The Pendulum has only 92 parts and can be assembled in a mere 1-2 hours. Difficulty: easy.
For those who appreciate travel and new experiences:
The Ugears catalog features a large fleet of cars, planes, ships, motorcycles, carriages, and trams—there are vehicles for any taste or desired complexity, according to your modeling expertise.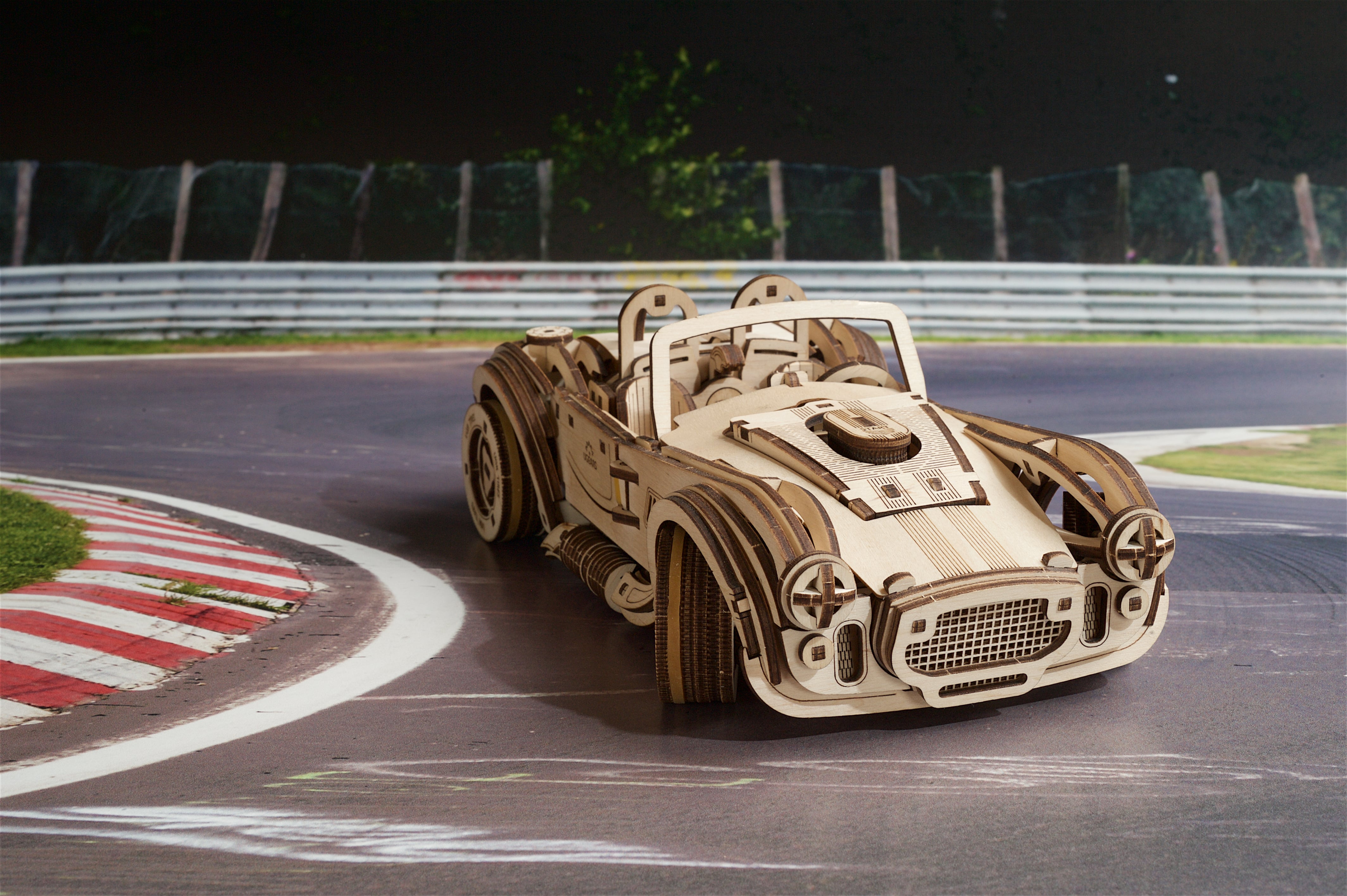 The Drift Cobra Racing Car is one of the newest models from Ugears. Unlike our previous model cars that ran on a rubber band motor, this supercar moves with the help of a powerful spring. This wooden DIY model can drive more than 8 meters in a straight line, or you can turn the wheels and watch it peel out and drift!
The Drift Cobra Racing Car consists of 370 parts, with an estimated assembly time of 9 hours. Difficulty: Advanced.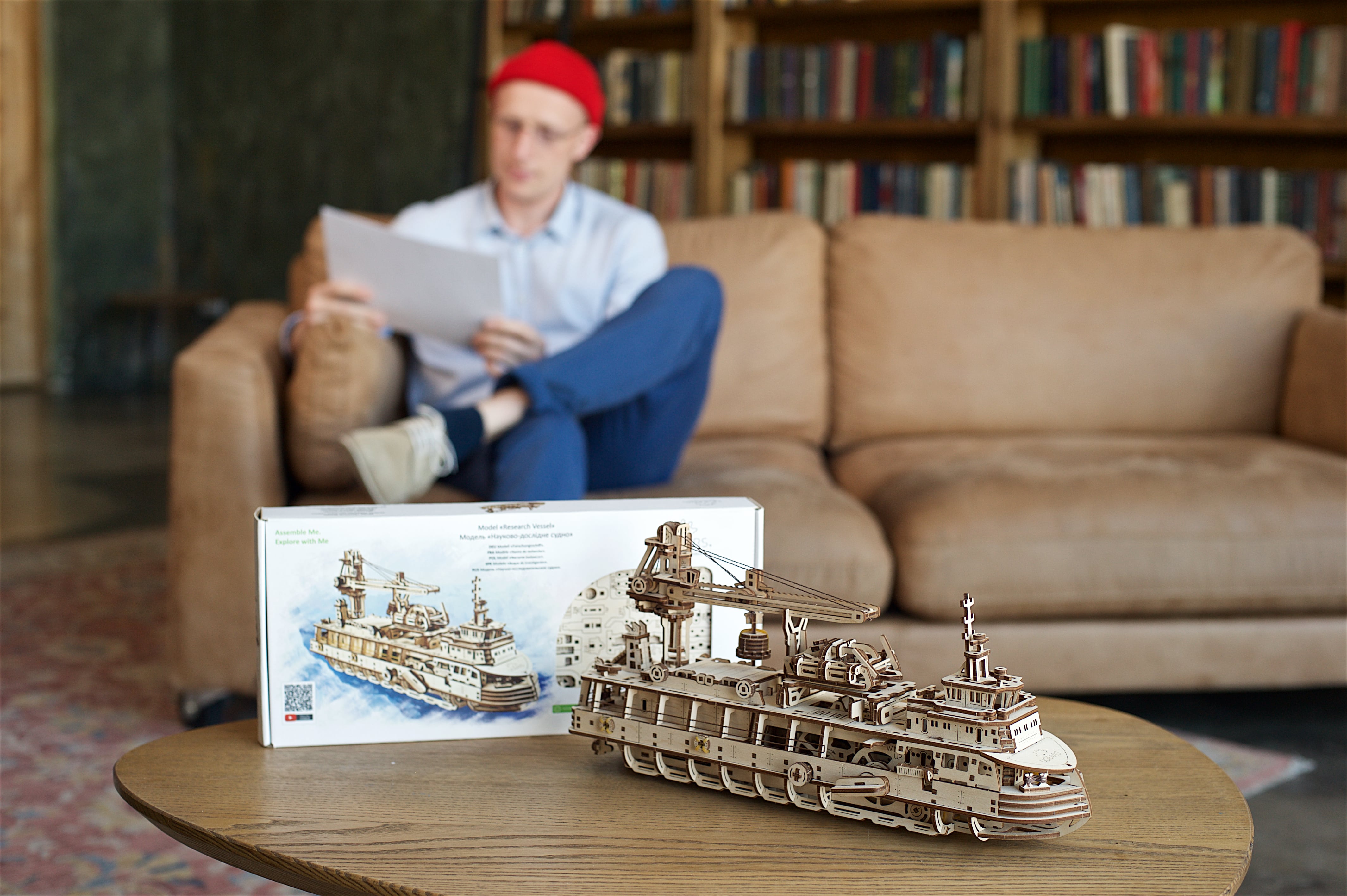 We also have the Research Vessel, for lovers of sea adventure and exploration. There is a bathyscaphe for diving, a mini-boat, a hold with a tear-off hatch, and a folding ladder. The open design allows you to see how the parts work, including the rubber motor and pendulum, which give the Vessel an even and smooth movement with the sound of a diesel engine.
The research vessel consists of 575 parts. The estimated assembly time is 10 hours. Difficulty: advanced.
For complicated romantics:
If you are looking for a gift for a romantic person who enjoys a bit of complexity, take a closer look at Ugears' amazing pair of functional clocks. Our outstanding team of engineers and designers have created truly special models that are unlike anything you have seen before.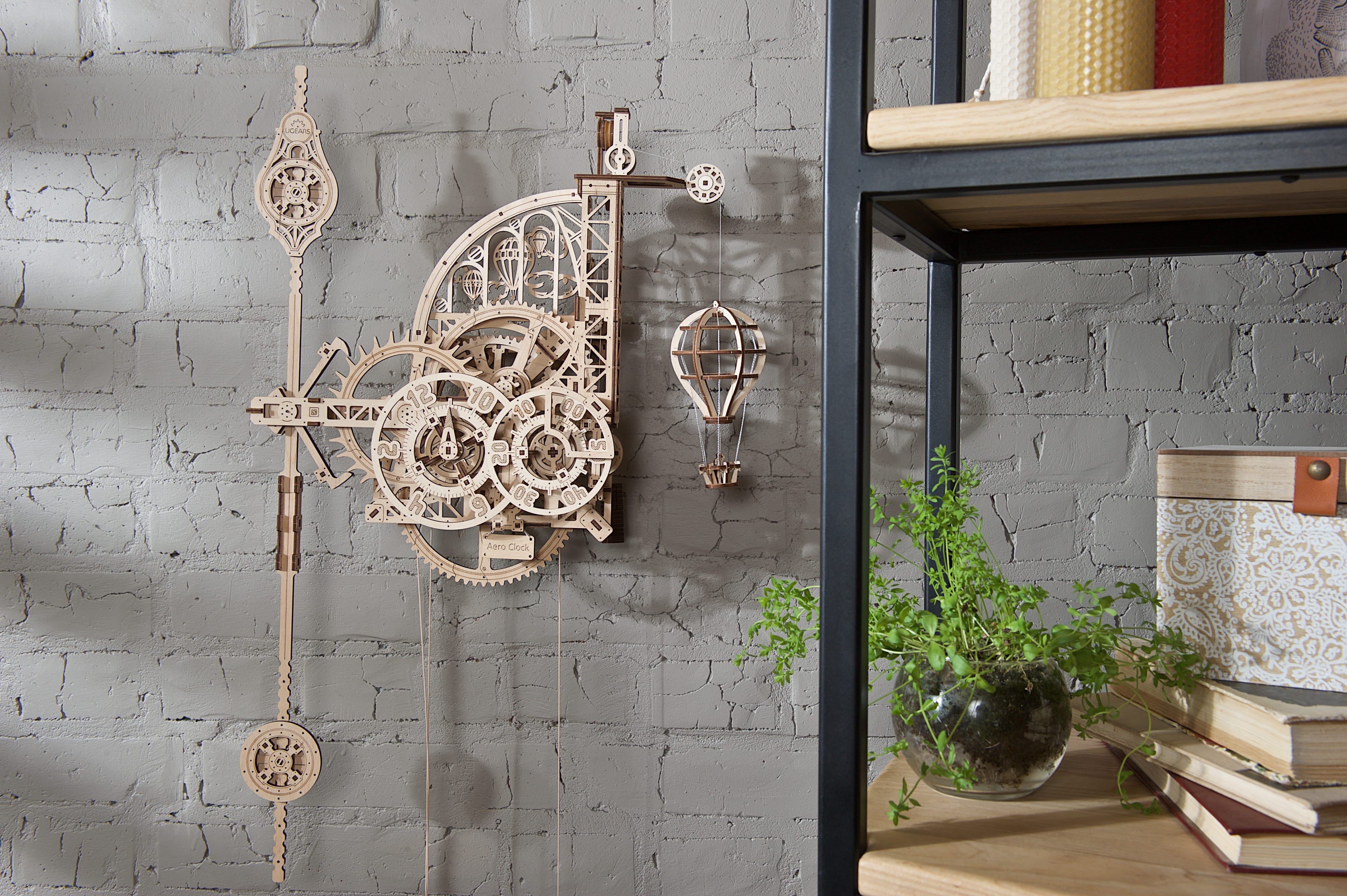 "I love you to the heavens and back, for all time!" Nothing quite conveys that message like the Ugears Aero Clock. This DIY pendulum wall clock is designed to resemble an airbase nestled among the marshmallow clouds and glittering rays of the sun. The "cuckoo" in this clock is a hot air balloon that descends every hour on the hour.
The Aero clock with pendulum consists of 320 parts, with an estimated assembly time of 11 hours. Difficulty: advanced.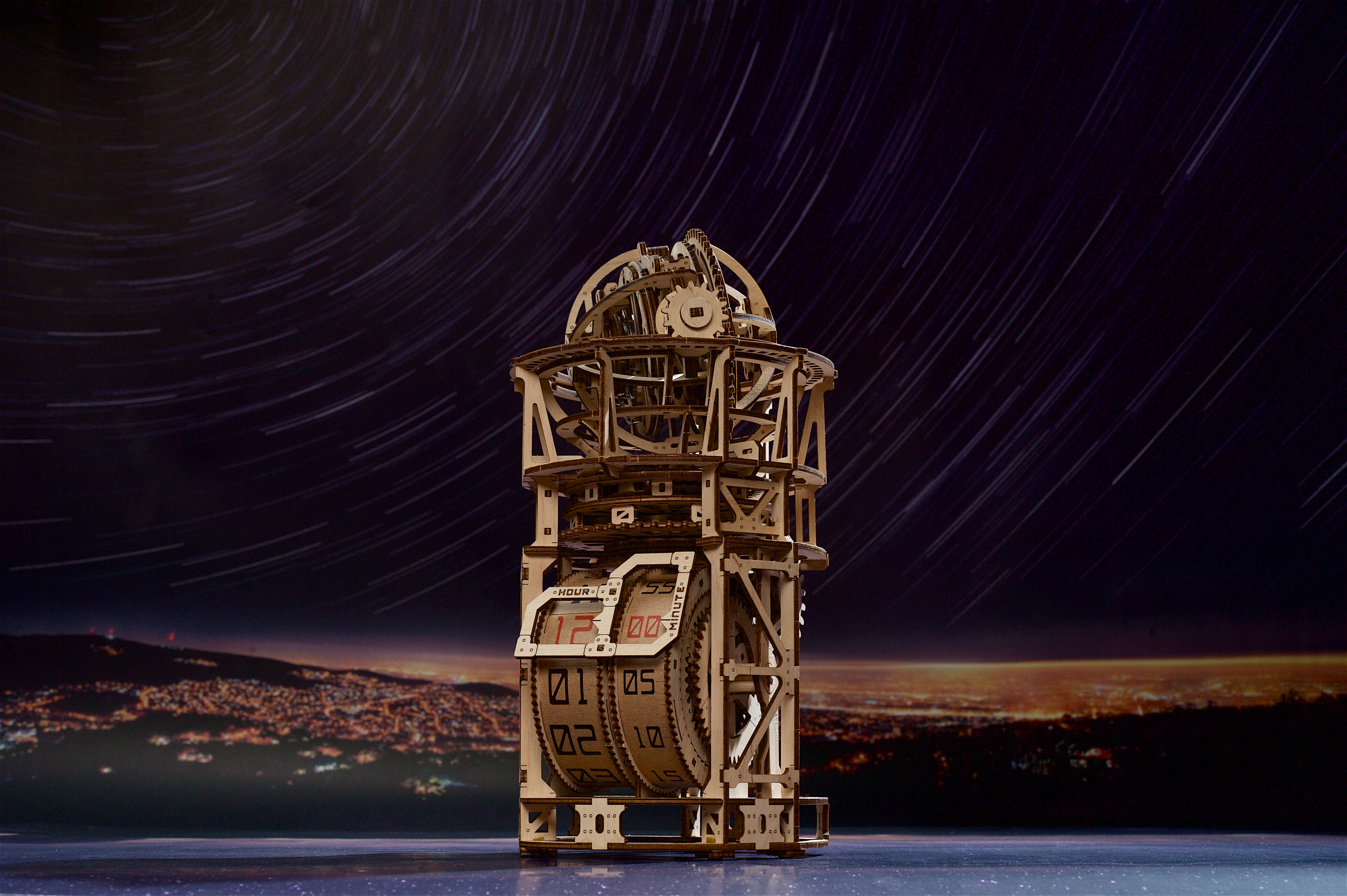 What could be more romantic than gazing at the heavens? The Ugears Sky Watcher Tourbillon Table Clock is a functional desk clock in the form of an astronomical observatory. The outstanding feature of this 3D puzzle is the rotating tourbillon that sits on top. The clock is wound with a powerful spring. This clock was meant for the great romantics and dreamers out there.
The Sky Watcher Tourbillon table clock consists of 338 parts. You will need about 15 hours for assembly. Difficulty: advanced.
***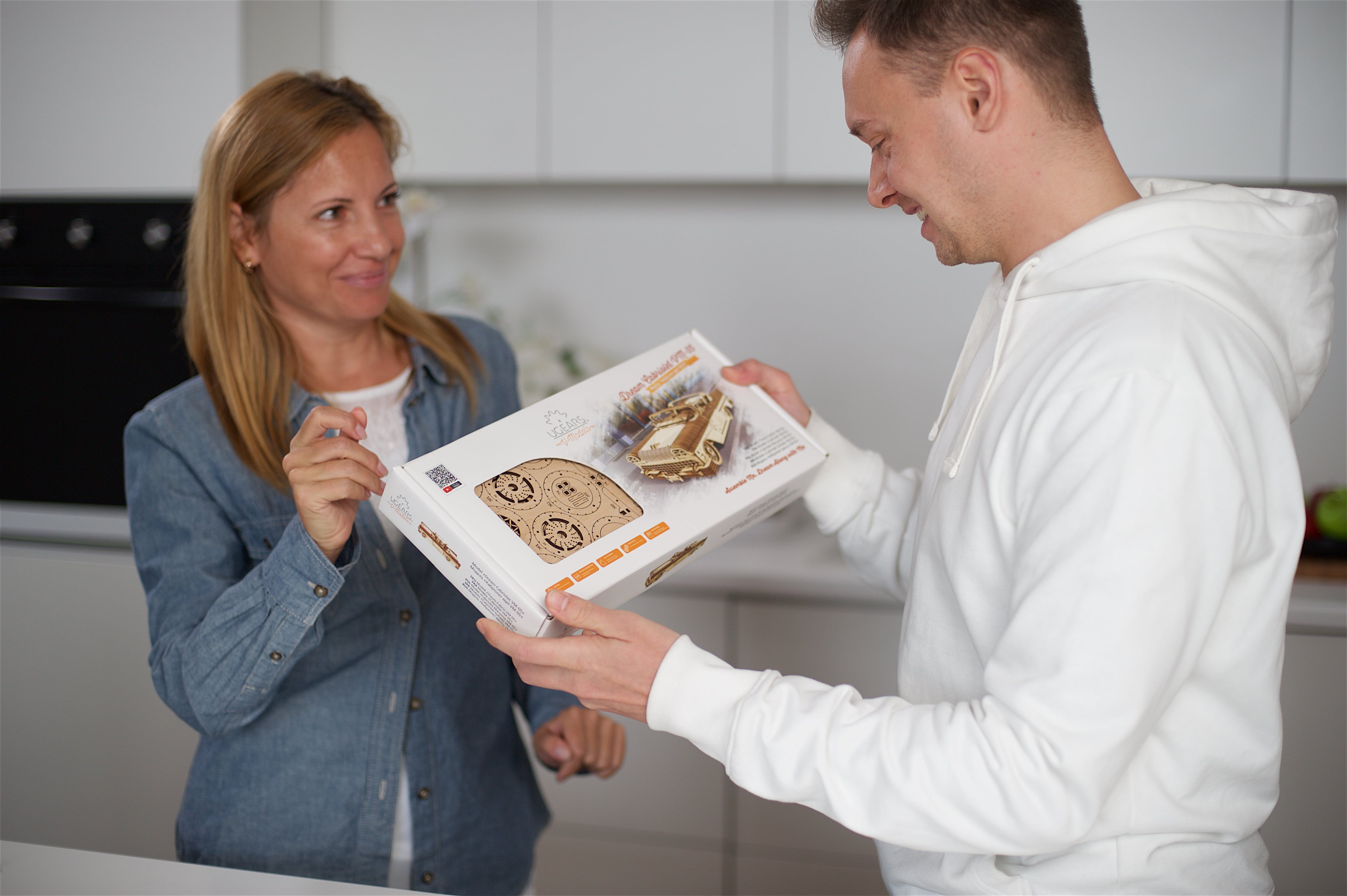 You can order Ugears 3D amazing DIY wooden model kits on the manufacturer's official website ugearsmodels.com or from a distributor in your country. The model kits include everything you need for assembly right in the box—no additional tools are required. Each kit comes with detailed, illustrated instructions in 11 languages ​​(English, Spanish, German, French, Italian, Russian, Ukrainian, Polish, Chinese, Korean, Japanese). Ugears customer service is available 24/7 and is always ready to send you replacement parts free of charge if a piece gets broken during assembly.
Each of our 3D puzzles and mechanical marvels are designed with love and a great deal of thought. And when you give the gift of Ugears, we trust your loved ones will also appreciate the love and thought that you put into such a unique gift.
Happy Valentine's Day! With love, from Ugears.