Christmas Gift Guide 2022
Ugears has great gift ideas to help you with your Christmas shopping. In this 2022 Christmas Gift Guide you'll find fun wooden mechanical models for everyone in your life—parents, children, family, friends and colleagues—making holiday shopping a snap.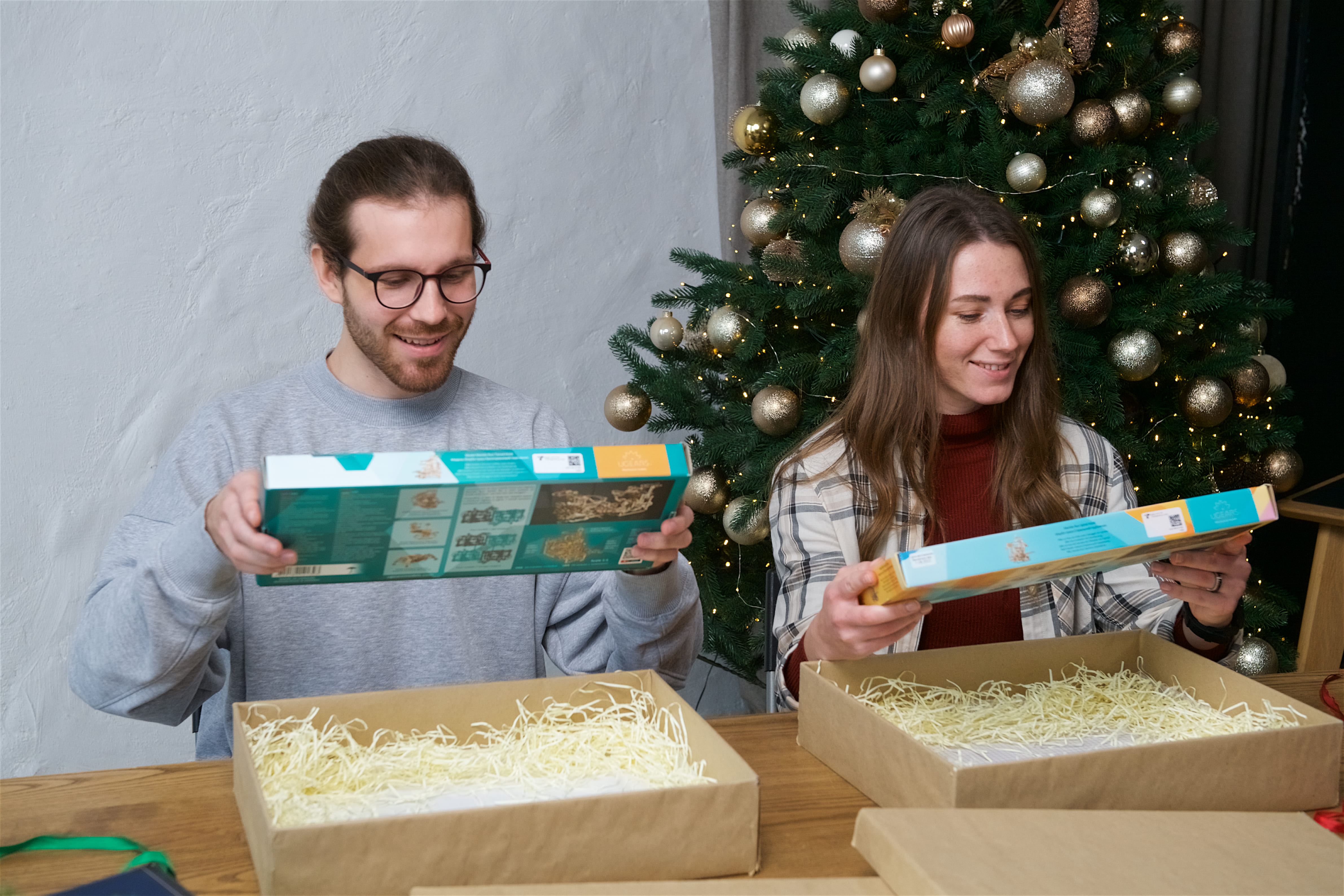 Christmas is coming! Different countries celebrate this magical holiday, or other special holidays, in different ways, but there is one thing that unites people all over the world—giving gifts. At Ugears, we are happy to be part of these celebrations by creating fun and engaging mechanical models that are perfect gifts for adults and children (and for ourselves!). Our models assemble without glue and move without batteries or any electrical power, using only gears, rubber bands, springs, and gravity.
After reading this guide, you will see why people in over 85 countries enjoy building and giving Ugears as gifts. Give the gift of a new hobby when you give a model kit for your loved one to assemble, or if you're the hobbyist, present them with a pre-assembled toy or elegant mechanical marvel you've built with your own hands! Our puzzles are fun to build and fun to play with, giving hours of enjoyment.
Give the joy of creativity! Give mechanical wonder! Give Ugears!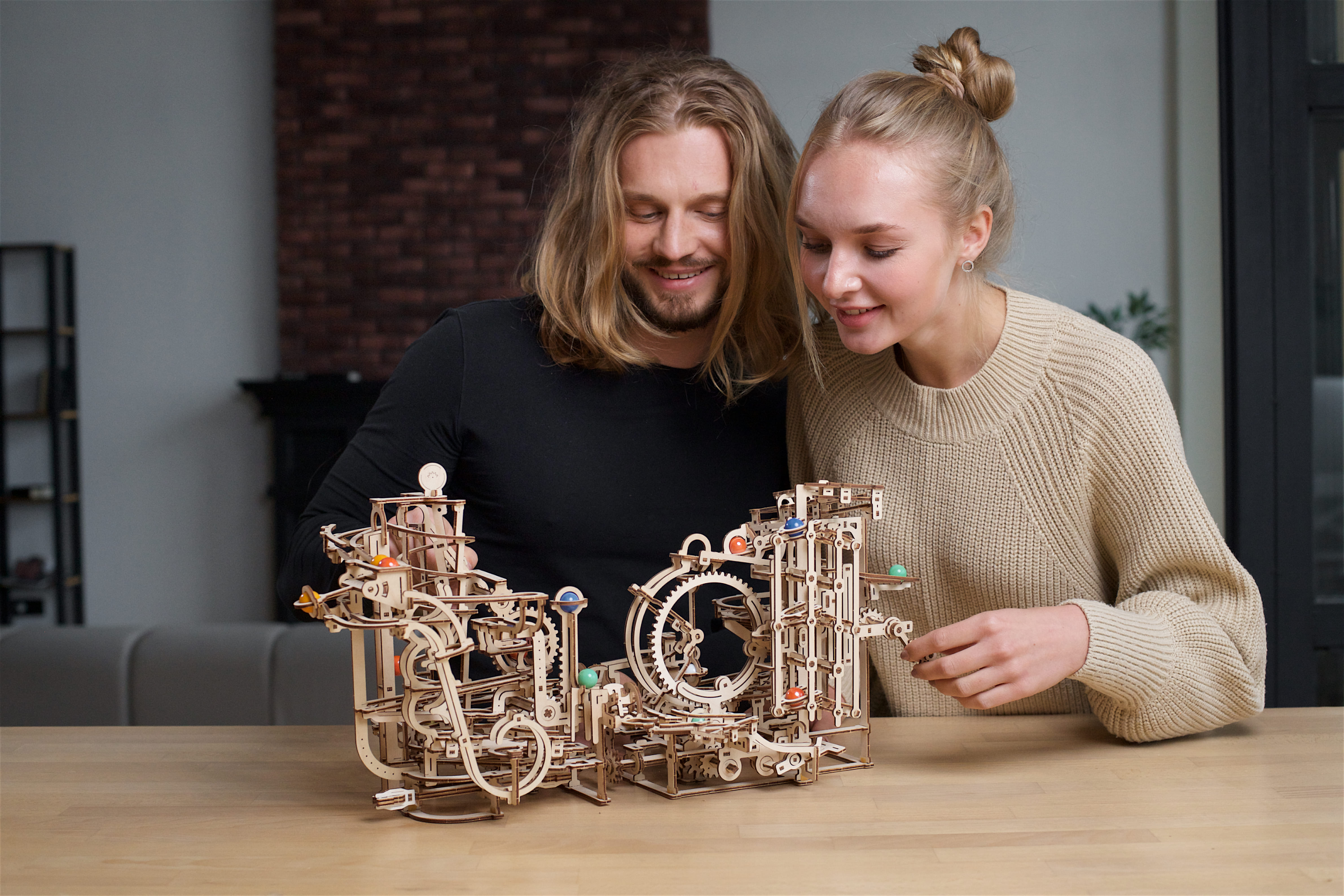 Gifts for modeling fans
Do you know anyone who enjoys building, tinkering, figuring out how things work or repairing things? Our models are perfect for people who like making things with their own hands. Modeling fans love a variety of challenges, which is why we offer puzzles rated "Easy," "Medium" or "Advanced" difficulty, to meet builders at their own skill level. Discover the satisfaction of a successful build, and challenge yourself, or your loved ones, to develop new skills and mechanical competence as you build more complex 3D puzzles.
Retro Car UGR-T — our homage to the dawn of the automobile era. Interesting features of the model include: functional fabric folding roof, latching cabin doors, lift-up hood showing a firing 4-cylinder crankshaft engine, swingarm that mimics the sound of a rumbling engine, front wheels that rotate with the steering wheel, and a spare wheel mounted at the rear of the car. The car has forward, neutral and reverse gears.
The Retro Car UGR-T consists of 337 parts, is rated "Advanced" difficulty level, and provides 7 exciting hours of assembly.
Hexapod Explorer — a unique robot-bug powered by a powerful spring, able to cover distances up to 3 meters on uneven surfaces and overcome obstacles 1-2 cm high. The Hexapod holds its own weight and relies only on its own legs for walking, without need of a supporting wheel or other auxiliary support elements found on similar models. Another amazing feature is the interchangeable speed—you can make your hexapod crawl, walk, or skitter at whatever speed you like.
The model consists of 388 parts. The difficulty level is medium. Assembly time is about 8 hours.
Mechanical Tellurion — an accurate wooden model depicting the interactions between the Sun, Earth, and Moon. Turn the handle to set the precise gear system in motion. One revolution of the handle = one revolution of the Earth around its axis = one day. The Tellurion demonstrates the change of day into night, the seasons, and the signs of the zodiac.
The mechanical model Tellurion by Ugears has 249 parts and is rated "Medium" difficulty level; estimated assembly time is 5 hours.
Marble Run Chain Hoist, Marble Run Stepped Hoist, Marble Run Tiered Hoist, and Marble Run Spiral Hoist — these four modular Marble Runs are standalones or can be joined in pairs or as a whole. Connect any two or four marble runs with special connectors included in the kit and get a giant track with various hoists and soaring obstacles for your marbles. Each marble run in our collection is unique, with its own special lift mechanism, dizzying marble tracks and unique elements.
The models are rated "Advanced" level, consist of 266 - 400 parts, and have an estimated assembly time of between 5 - 8 hours (depending on the model).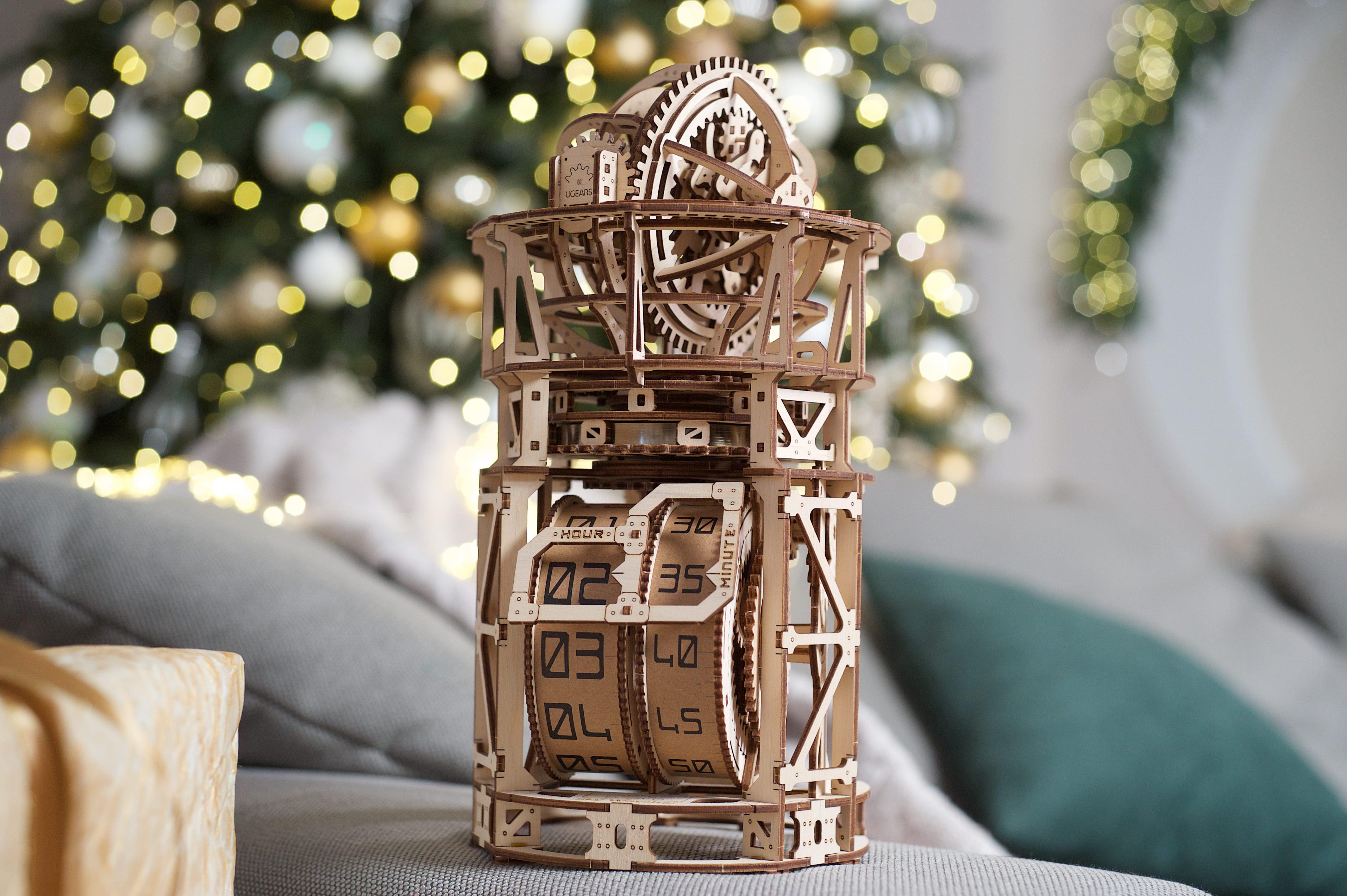 Gifts for those who enjoy original interior decor
Do you have friends who like to decorate their homes with stylish and original interior items? Imagine how much fun and satisfaction comes from decorating your interior space with beautiful objects you built with your own hands! Here are some stylish additions to any home or office interior.
Aero Clock — a real working wall clock with pendulum. One interesting feature is that time is not read by hands moving on a dial, but rather by a fixed pointer on rotating drums (hour and minute drums slowly rotate counterclockwise). In the role of "cuckoo" is an aeronaut's balloon. The clock case represents an air base high in the clouds, where bright rays of sunlight dapple the Steampunk clockworks.
The model consists of 320 parts. Level: "Advanced." Estimated assembly time: 11 hours.
Mechanical Aquarium — an original wooden model aquarium in which two saltwater fish chase each other around a bowl, while a small seahorse hides among the dense algae fronds. A sophisticated mechanism with an internal pendulum provides speed adjustment and smoothness. Fish and algae move for about 40 seconds with each wind-up, but can be stopped at any time.
The Mechanical Aquarium consists of 325 parts. It has a "Medium" difficulty level and an estimated assembly time of about 6 hours.
Mad Hornet Airplane — a classic racing airplane model from the "Golden Age of Flight." The model is driven by a coil spring and has two modes: pre-flight check mode and taxiing mode. In check mode, the propeller rotates while flaps and rudder also move, before the airplane automatically switches to taxiing for takeoff. In taxiing mode, your airplane immediately starts moving, covering up to 2.5 meters!
This attractive wooden model is "Medium" difficulty level. There are 354 parts, and the estimated assembly time is 8 hours.
Sky Watcher Tourbillon Table Clock — a working table clock that our crack team of designers and engineers have embellished with an ingenious Tourbillon movement. This mesmerizing desk clock resembles a celestial observatory scanning the heavens, but also keeps accurate time with rotating drums that display the hours and minutes. The spring-wound clock keeps time for about 3 hours on a single wind up.
The model consists of 338 parts. Estimated assembly time is 15 hours, and the level is "Advanced."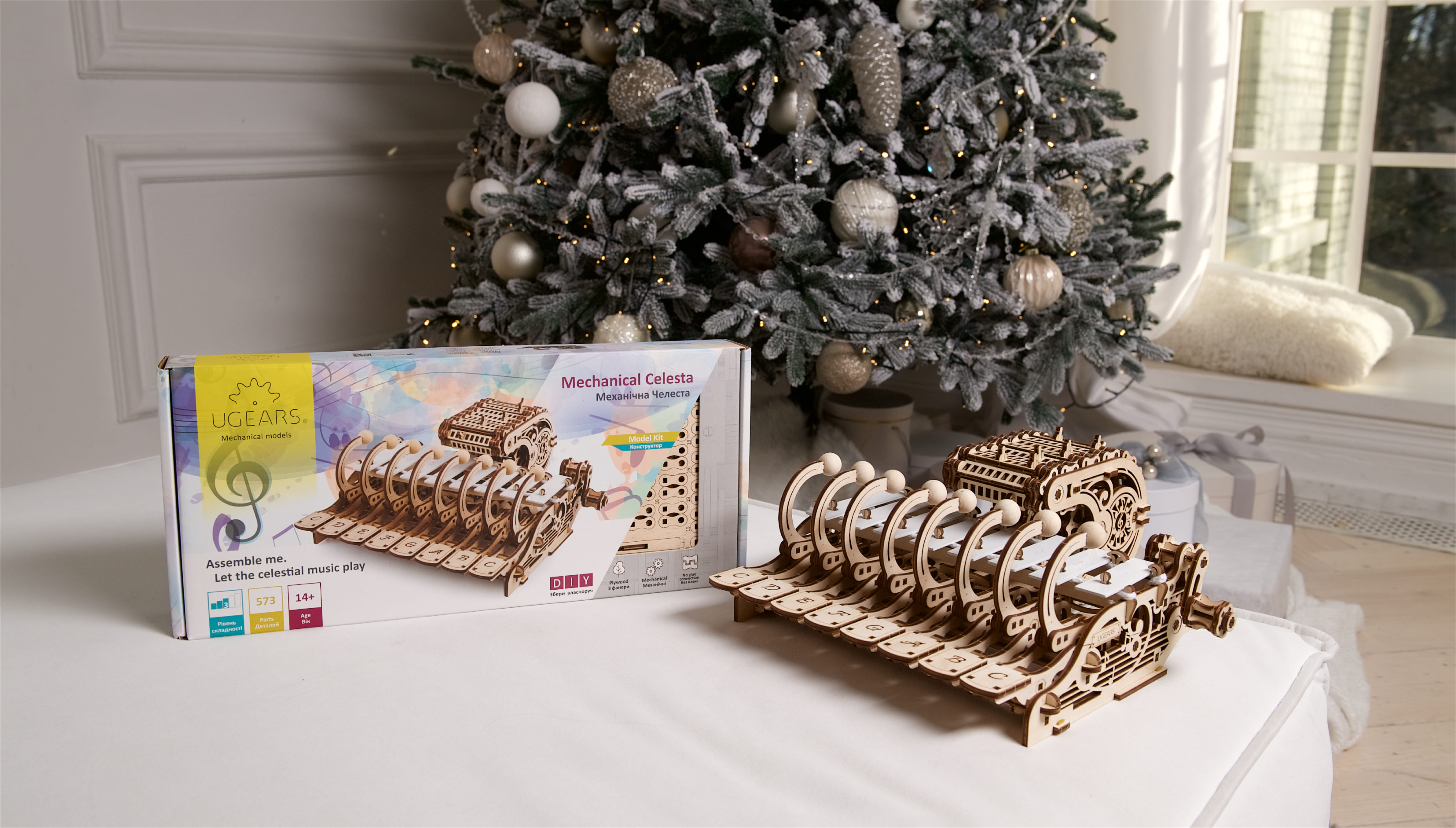 Gifts for music lovers
UGears is proud to offer two musical mechanical models, unique in the modeling world in that they are functional musical instruments you build yourself. These wooden models are an amazing intersection of art, engineering and home craft. Surprise your friends and family as you play an instrument you built yourself!
Mechanical Celesta — a simpler version of a pianola that includes elements of piano, music box, and xylophone. There are two modes of playing the instrument: you can use keys to strike metal plates, creating musical notes in an octave range from C to C, or pre-program the instrument using a special player piano drum that you operate by turning a handle.
This amazing musical 3D puzzle consists of 573 parts, is "Medium" difficulty, and promises 8 hours of fun assembly.
Hurdy-Gurdy — a stringed musical instrument similar in sound to a bagpipe. The model includes a body, front and back decks, gears, a crank (wheel and axle), a roll with a wooden wheel, fingerboard, tuning pegs for strings, melodic and bourdon strings, and keyboard panel, which together form a single musical instrument. The Ugears Hurdy-Gurdy is very easy to play: just turn the handle with one hand, setting the rhythm of your melody, then press keys to play the melody with your other hand.
This musical model consists of 292 parts, with "Medium" difficulty level and estimated assembly time of 4-5 hours.
Gifts for board game lovers
If board games are your jam, you know that an organized game space helps everyone enjoy the experience of game night. You also know that a few cool extras—game devices—will impress your friends and earn you the title of "Game Master." Ugears has just the collection for board game afficionados. You won't have to ever worry again about where to store your dice, or where to keep your cards so they don't get lost. The Ugears special collection of five wooden game devices will help you organize your game space and score bonus points on game night.
Card Holder — consists of 12 compartments, which can accommodate up to 400 cards measuring 63.5 x 88 mm. The large compartment size also means cards can be placed in sleeves. A smart sliding mechanism turns the Cardholder into a four-level shelf-ladder, allowing you to freely take a card from any of its sections. When expanded, four additional sections for cards sized 45 x 68 mm open on the top of the Cardholder.
The model consists of 77 parts. Rated "Easy" with an estimated assembly time of 1-2 hours.
Dice Keeper — a small puzzle box with fantasy style design, perfect for holding up to 8 different tetrahedron dice. A minimalistic sliding mechanism lifts the walls of your box, opening access to the dice compartments. This compact wooden cube is perfect for a standard 8 dice set. Each die is conveniently located in its own individual cell, for a stylish storage solution (dice not included).
The model consists of 62 parts, is rated "Easy" level, with an estimated assembly time of 1 hour.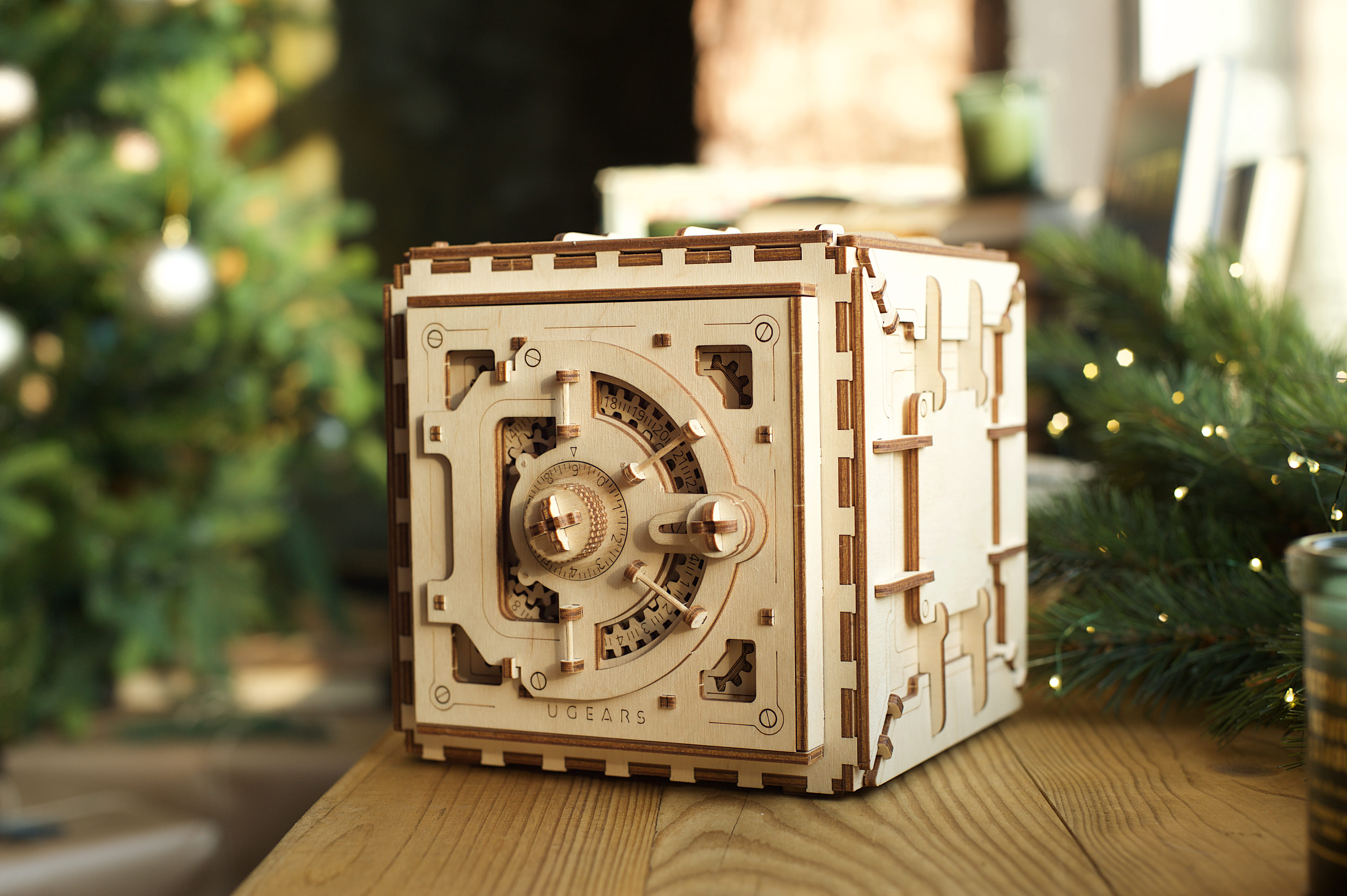 Gifts for puzzle fans
For those who love puzzle boxes and all sorts of brain teasers, Ugears has a series of wooden 3D puzzles and puzzle boxes that are fun to assemble and fun to decode.
Safe — a real safe with a 3 digit combination lock. Set the code yourself, spin the dial to lock, then open the safe with the secret combination of three digits. Challenge your friends and family to "crack" the safe by guessing the combination, and reward them with a prize you've placed inside the locked box.
The model consists of 179 parts. It is "Medium" difficulty level and has an estimated assembly time of 6-7 hours.
Treasure Box — a fun puzzle box that can be opened with a special key built into the lid. Open fretwork allows you to observe the rotation of the gears and the movement of parts on the sides of the box. Inside are two compartments for storing jewelry, notes, and other small items.
The model consists of 190 parts. "Medium" level. Estimated assembly time is 4-5 hours.
Combination Lock — A clever mechanical lock with built in storage. Open the lock by dialing in the correct combination of three digits. Inside the lock there's room for storing notes, keys, flash drives, or small items. Also features a lug for attaching to backpacks or bags. Create your own lock code from 000 to 999.
The model consists of 34 parts. It is "Easy" level with an estimated assembly time of 2 hours.
Gifts for children and teenagers
Ugears models not only entertain but also teach. In our catalogue you'll find many puzzles and models for children of all ages. The STEM Lab educational collection consists of 9 models that teach you how well-known mechanisms work. Each set includes a QR code for an educational supplement, that teaches you about the history, science and engineering behind the model, with a short quiz at the end. There's also a special AR (augmented reality) application included, for seeing how the mechanisms work in real life.
For the smallest builders we offer a delightful line of Ugears Coloring models. Choose among 20 charming figurines with simple elements of mechanics to engage young minds and small fingers. Assemble the models with your child then enjoy coloring them with paints or markers.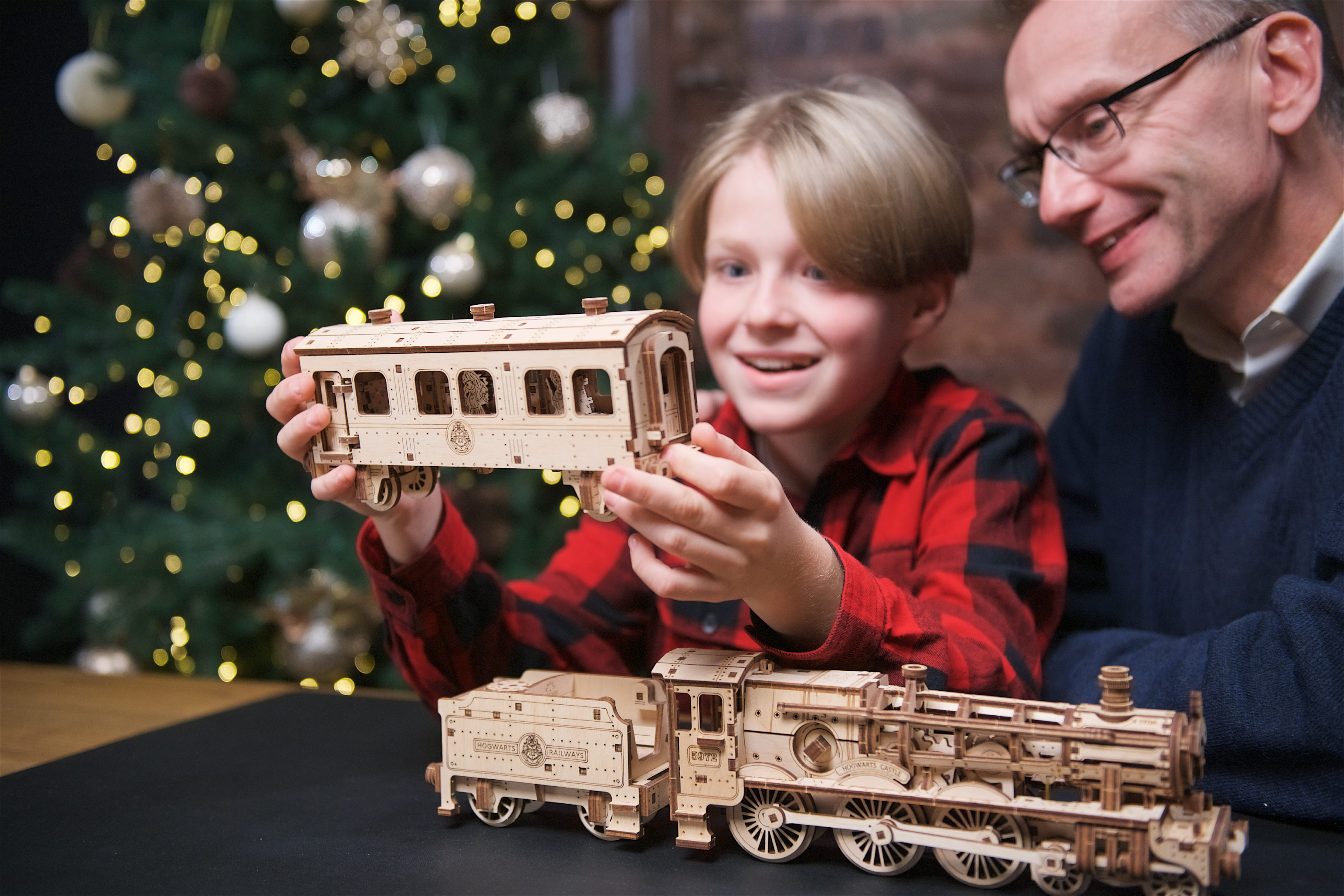 Gifts for Harry Potter™ fans
This year Ugears launched an exciting new collection of Harry Potter models for worldwide fans of the Wizarding World created by British writer J. K. Rowling. There are four fantastic models in this special collection (with more to come!) that will definitely be the perfect holiday gift for the Potterheads in your life this Christmas (and beyond).
Harry Potter™ Advent Calendar — Open one of 24 compartments as you count down the days 'til Christmas. Each day reveals a small bag with a new favorite character or item from the books and movies. Each magical miniature has movable mechanics, while many models in the Harry Potter™ Advent Calendar have a special hanging loop, making them ideal ornaments for the Christmas tree. Make your holidays more magical with wooden figures of Harry Potter™, Hermione Granger™ and Ronald Weasley™, emblems of the four houses of the Hogwarts School of Witchcraft and Wizardry™, Golden Snitch™, Sorting Hat™, Gringots Coins™, Time-Turner™, Platform 9¾™ and more.
This exciting Advent Calendar consists of 247 parts. It is rated "Easy" for all levels, and each day's figurine only requires a few minutes to build.
Hogwarts™ Express — a classic Victorian era train with locomotive, coal tender, and passenger car. The tender has an empty coal compartment that can hold the train's winding key or other small items. The passenger car has three compartments with opening doors and a detachable roof that allows Harry Potter™, Hermione Granger™, and Ronald Weasley™ figurines to be placed on special mounts that move side to side while the train is in motion. The train can travel 4 meters (with tender and car) or 6 meters (locomotive only) on any smooth, level surface.
The model consists of 504 parts, is rated "Advanced" difficulty level, and has an estimated assembly time of 7 hours.
Knight Bus™ — a speedy intercity transport for young witches and wizards, driven by a powerful spring-loaded motor. The model has the amazing ability to transform, narrowing or expanding its width as seen in the movie "Harry Potter and the Prisoner of Azkaban." Turn the Magical Manipulator dial on the top to narrow the bus for squeezing between heavy traffic. Incredibly, the bus then travels at slow speed, as though it were moving in slow motion. Turn the dial clockwise to expand the bus back to its true size, and watch the bus zoom off at a surprising rate of speed!
The model is rated "Medium" difficulty level, has 268 parts, and an estimated assembly time of 6 hours.
Flying Ford Anglia™ — a humorous Muggle car with an attitude. The car travels 3-4 meters with the help of its spring motor. The model's front wheels rotate 25 degrees and can be turned using the steering wheel or by pushing the wheels, allowing the car to go straight or in circles. The doors, hood, and trunk can be opened. The Flying Ford Anglia™ has a secret "ejection" feature—when it crashes into an object the front license plate acts as a trigger, flinging the trunk and side doors open, tilting the front seats, and launching all passengers and luggage from the cabin and trunk.
The model consists of 246 parts, is "Medium" level, with estimated assembly time of 6 hours.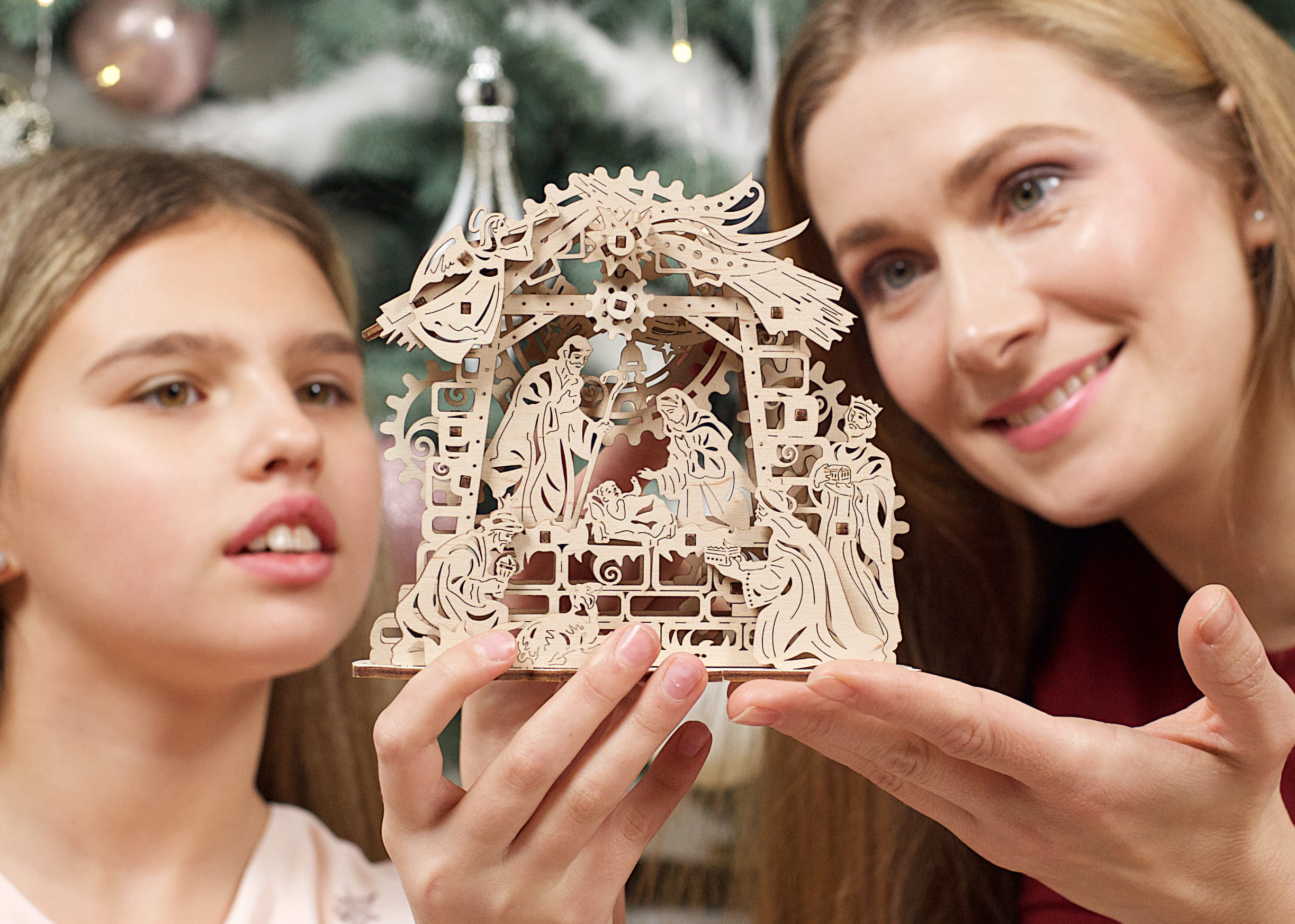 Traditional Christmas gifts
We haven't forgotten about traditional, classic gifts that fill Christmas with special magic and warmth. For those who love this holiday and its imagery, we offer Christmas-themed models as home decorations that can be brought out and enjoyed year after year.
Nativity Scene — the most traditional Christmas decoration, with Mary, the newborn Jesus, Joseph, the Magi, and an angel. Mechanical elements set the scene in motion when you rotate any of the gears on the top or sides of the model. The star on the roof of the manger moves along with the gears, animating the background of the scene.
The model consists of 59 parts. It is "Easy" level with an estimated assembly time of 1 hour.
Carousel — a traditional Christmas fair carousel to put you in the holiday spirit. There are two sets of horses, arranged in pairs, that spin in concentric circles. When rotating, the horses move up and down. Above the roof, small birds fly up and down and decorative air lanterns sway. Wind the model to set it in motion—you can almost hear the children's laughter and smell the cotton candy at the Christmas fair.
The model consists of 305 parts. "Medium" level with estimated assembly time of 6 hours.
U-Fidgets-Gearsmas and U-Fidgets-Happy New Gear — kits consisting of four small figures with mechanical elements you can spin or set in motion with your fingers. The fidgets include snowflakes, bell, snowman, moon, ball, Christmas tree, clock and stocking, with lugs for hanging as tree ornaments or Christmas decorations in the home.
Customized gifts
Gifts with customized engraving stand out as thoughtful, personal gifts, because they make it possible to express your feelings or remember life's big events. Ugears makes it possible to engrave your chosen inscription on certain Ugears models.
A complete list of models for which personalized engraving is available can be found here.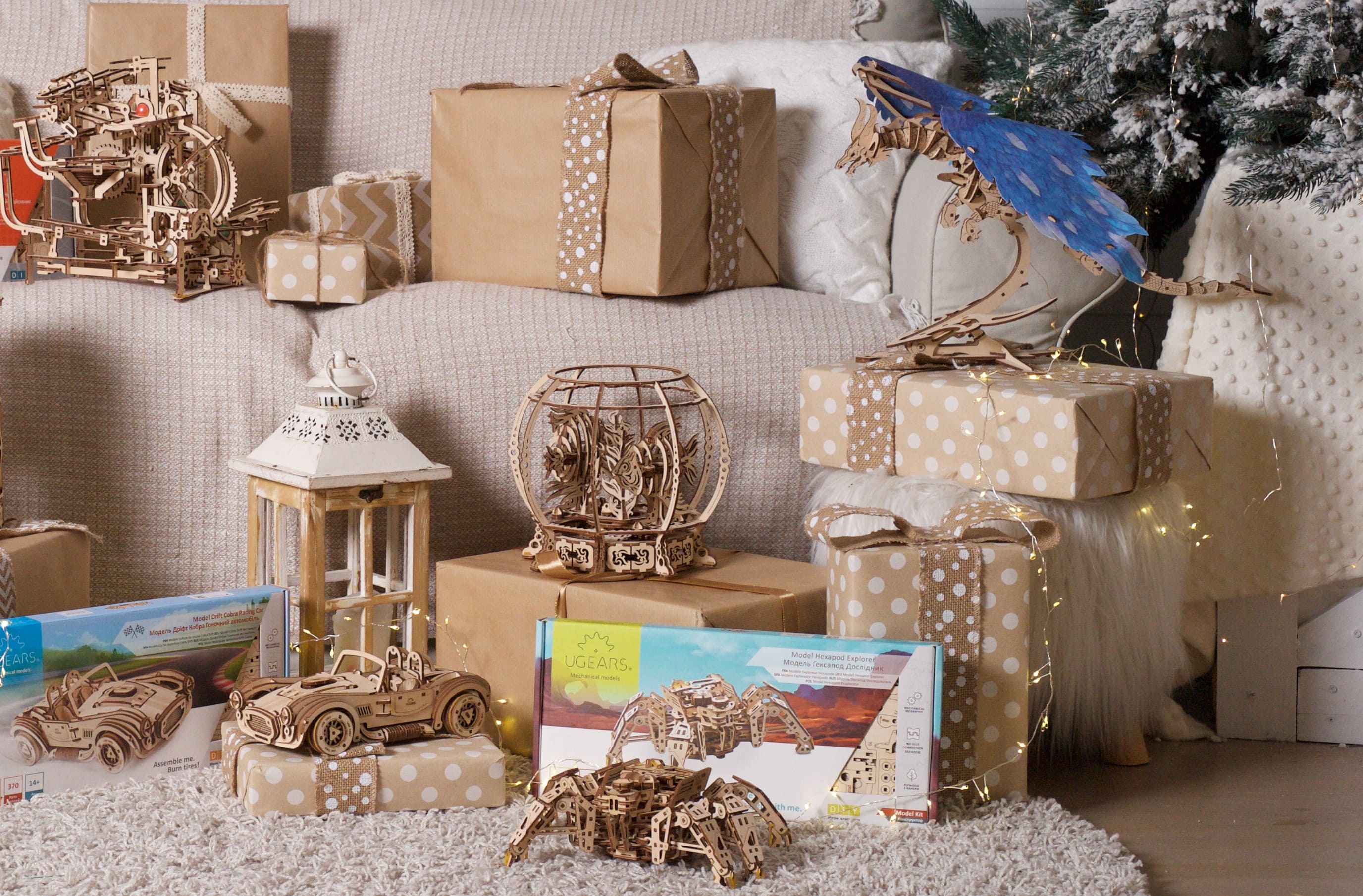 The Ugears catalog contains more than 100 models to suit every taste or interest—cars, planes, trains, ships, watches, chests, marble runs, robots, and automatons (for more info read our blog entry "What are automatons"), STEM Lab educational models, board game accessories, wooden coloring models for kids, and various fidgets. All models are assembled without glue or any additional tools—the parts are laser cut on a plywood board from which they are easily removed and connected.
The models have different difficulty levels, but even the challenging ones can be assembled by beginners with the help of detailed illustrated instructions in 11 languages (English, Spanish, French, German, Italian, Portuguese, Ukrainian, Polish, Chinese, Japanese, Korean). If any parts break during assembly, our support team will send you replacement parts absolutely free of charge.
We hope this 2022 Christmas Gift Guide has given you some great ideas! We wish you a Merry Christmas and Happy Holidays! And thank you for choosing Ugears!